Vietnam-Russia Tropical Centre helps HCM City with Covid-19 testing
The mobile container lab for Covid-19 testing of the Vietnam-Russia Tropical Centre has helped Ho Chi Minh City – the country's biggest Covid-19 hotspot at present, with testing.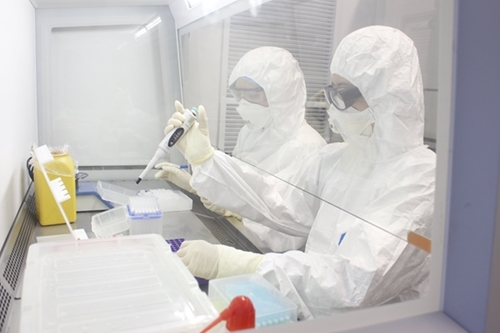 The Vietnam-Russia Tropical Centre's employees testing samples on the container lab. Photo: People's Army Newspaper
Earlier, upon receiving an order from the Ministry of National Defence, the centre sent its mobile container lab and personnel from Hanoi to Ho Chi Minh City to assist the southern hub's pandemic testing efforts.
The container lab is the most modern mobile testing vehicle in Vietnam and is sponsored by the Russian Supervision Agency, People's Army Newspaper reported.
It is equipped with Realtime PCR equipment and other modern equipment for detecting the SARS-CoV-2 virus. It can process about 400 samples a day.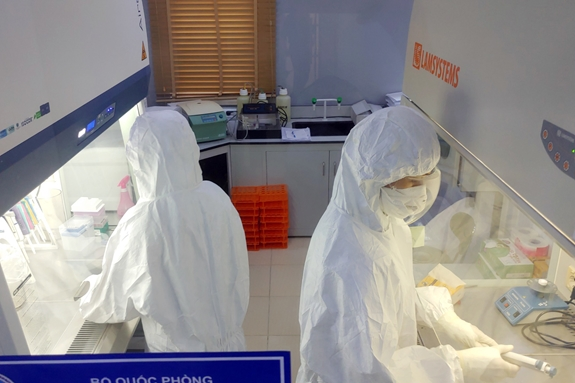 The Vietnam-Russia Tropical Centre's employees testing samples on the container lab. Photo: People's Army Newspaper
Previously, the Vietnam-Russia Tropical Centre sent a 25-staff team from the Institute of Tropical Biomedicine and its southern branch and testing equipment to assist HCM City in Covid-19 testing.
As a result, since July 5, the team has handled 3,000 pooled samples to help the city's Centre for Disease Prevention and Control issue timely prevention and control measures.
The mobile container lab and its available testing facilities in the southern branch are expected to raise HCM City's testing capability to 1,200 samples a day, thus helping the city respond to the pandemic in a quick and timely manner.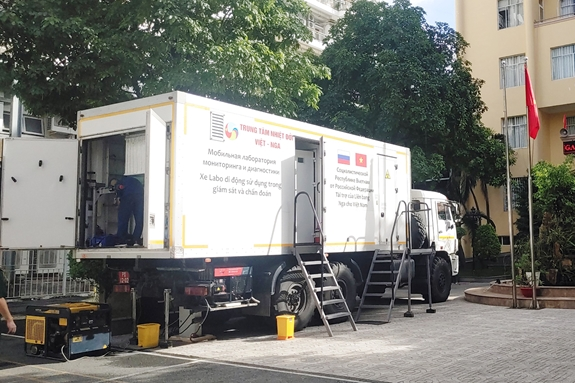 The mobile container lab for Covid-19 testing of the Vietnam-Russia Tropical Centre. Photo: People's Army Newspaper
HCM City recorded a total of 1,392 infections on July 12, the highest daily number since the pandemic broke out, according to VnExpress.
More than 13,000 infections have been detected in the southern metropolis since the fourth Covid-19 wave started late April.
The city is preparing to administer 1.1 million doses of Covid-19 vaccines in two to three weeks amid the swift rise in daily infections.
This would involve one million doses of the Moderna vaccine – part of two million doses donated by the US under the Covax facility and 100,000 doses of the AstraZeneca's vaccine provided by Japan.
Those prioritised for vaccine administration are "vulnerable people" located in areas deemed at very high risk and high risk as also priority groups approved by the government, the municipal Department of Health said.
People get Covid-19 vaccine shots at Phu Tho Stadium in District 11, HCMC, June 24, 2021. Photo: VnExpress
The city plans to organise about 630 vaccination sites in 312 wards and communes across the city. Each site will inject 120 people a day from 8 a.m. to 1 p.m. and from 3 p.m. to 8 p.m. to ensure social distancing.
The city has also designated several eligible hospitals to administer injections to groups of "vulnerable people," including those suffering from chronic diseases or at risk based on other factors.
Officials said the city will take advantage of the "golden" period of 15-day citywide social distancing campaign to deploy the vaccination program in parallel with mass testing and contact tracing to quickly contain the spread of the virus./.
The Vietnam-Russia Tropical Centre was founded on March 7, 1988 under an agreement between Vietnam's Ministry of National Defence and the Russian Academy of Sciences.
The centre operates in three main fields: tropical endurance, tropical ecology, and tropical biomedicine. It also works on the application and transfer of technology, provides scientific-technological services, and facilitates the training of scientists.
The centre is also in charge of coordinating collaboration among research organisations from Vietnam and Russia. More than 4,000 Russian scientists, including many leading experts, have worked at the centre. Coordination between the centre and its partners from the Republic of Korea, Canada, and Japan has proven effective.
National
Vietnam News Today (Jan. 20): Vietnam confirms 15,936 new local Covid cases; First Omicron infections in community reported in HCM City; Vietnam to facilitate procedures for foreign entrants; Hanoi capital cancels fireworks display on lunar New Year's Eve.