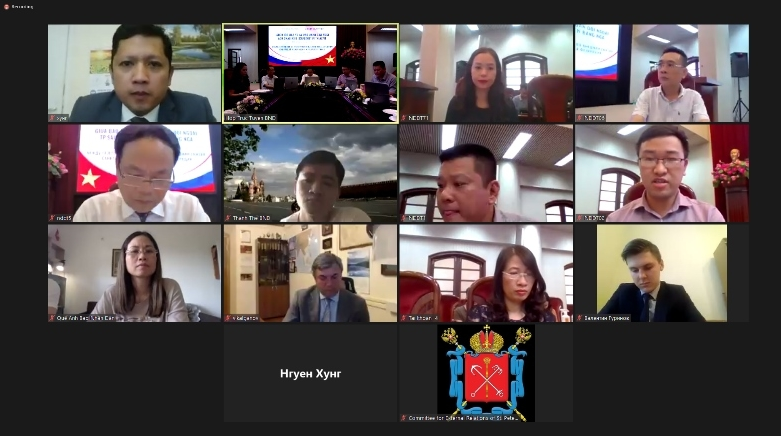 Screen capture image of the online meeting (Photo: Nhan Dan)
An online meeting between Nhan Dan (People) Newspaper and the Committee for External Relations of Saint-Petersburg (Russia) was held on August 20 to discuss their cooperation in the coming times.
The event was co-chaired by Deputy Editor-in-chief of Nhan Dan Newspaper Dinh Nhu Hoan and Vice Chairman of the Committee for External Relations of Saint-Petersburg Vyacheslav Kalganov.
At the meeting, Nhan Dan Newspaper's Deputy Editor-in-chief Dinh Nhu Hoan expressed his hope that the cooperation between the two sides will be actively deployed and put into practice, contributing to the consolidation and further deepening of the comprehensive strategic partnership between Vietnam and Russia.
For his part, Russian delegate Vyacheslav Kalganov appreciated Nhan Dan Newspaper's role in enhancing the mutual understanding between the peoples of the two countries.
He also hoped that the two sides will boost close cooperation to promptly and accurately provide information on the socio-economic development situation of both nations.
Deputy Editor-in-chief Dinh Nhu Hoan noted that in recent times, Nhan Dan Newspaper's publications strongly propagated the activities during Vietnam Year in Russia and Russia Year in Vietnam.
On the occasion, Nhan Dan Newspaper asked the Petersburg Diary Newspaper to enhance the communications on the land and people of Vietnam as well as its achievements over the past years.
Vietnam, Russia boost tourism cooperation

A memorandum of understanding on tourism cooperation for the 2019-2024 period has been signed between the Vietnamese Ministry of Culture, Sports and Tourism and the ...
Nhan Dan