Vietnam Seeks Further Cooperation with Germany's Cottbus city
A delegation from Vietnam Embassy in Germany led by Ambassador Vu Quang Minh and the Vietnamese Association in Cottbus city, Brandenburg state on June 1 met with Mayor Tobias Schick, discussing cooperation between Vietnam and the city.
Speaking at the meeting, the Ambassador said that the relationship between Vietnam and Germany is growing in all fields, especially after the visit to Vietnam last November by German Chancellor Olaf Scholz. That is a good premise for the two countries, as well as between Cottbus and Vietnamese localities, to continue promoting cooperation.
Minh said that he expects Cottbus will consider twinning with a Vietnamese city, thereby enhancing cooperation and people-to-people exchanges. In addition, the two sides can also promote cooperation in the field of higher education and vocational training, including nursing.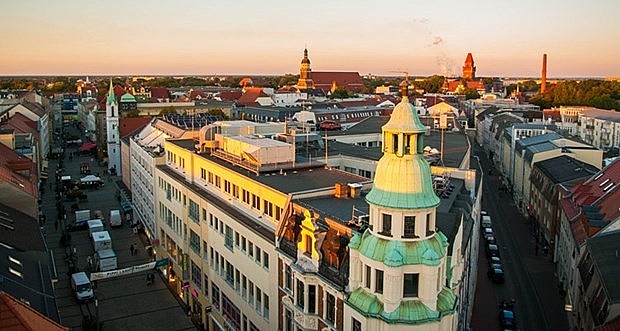 Cottbus city, Brandenburg state (Photo: wetalent.edu.vn)
For his part, Mayor Schick highly appreciated the integration and contribution of the Vietnamese community in Cottbus city, which joins creating the city's diversity and prosperity. The mayor expressed his respect for the hard-working Vietnamese community.
Mayor Schick expressed his desire to promote cooperation between Cottbus and Vietnam, especially in vocational training. He informed the guest that over 80 nurses are being trained and working in Cottbus. He also highly valued the idea of establishing a twinning relationship between Cottbus and a city in Vietnam.
The same day, Ambassador Minh and his wife Nguyen Minh Hanh attended a ceremony to welcome an elephant named "Don Chung" to the city's zoo. The elephant is a gift of Vietnam for Germany. It has been moved from Leipzig Zoo to Cottbus city.
VNA