Indian Defense Minister Concludes Three-Day Official Visit to Vietnam
Upon the completion of his visit to Vietnam on June 10, Indian Defense Minister Rajnath Singh departed for India.
The Indian Defense Minister conluded his three-day official visit to Vietnam and left on June 10. He was seen off at the Cam Ranh International Airpot by Indian Ambassador to Vietnam Pranay Verma.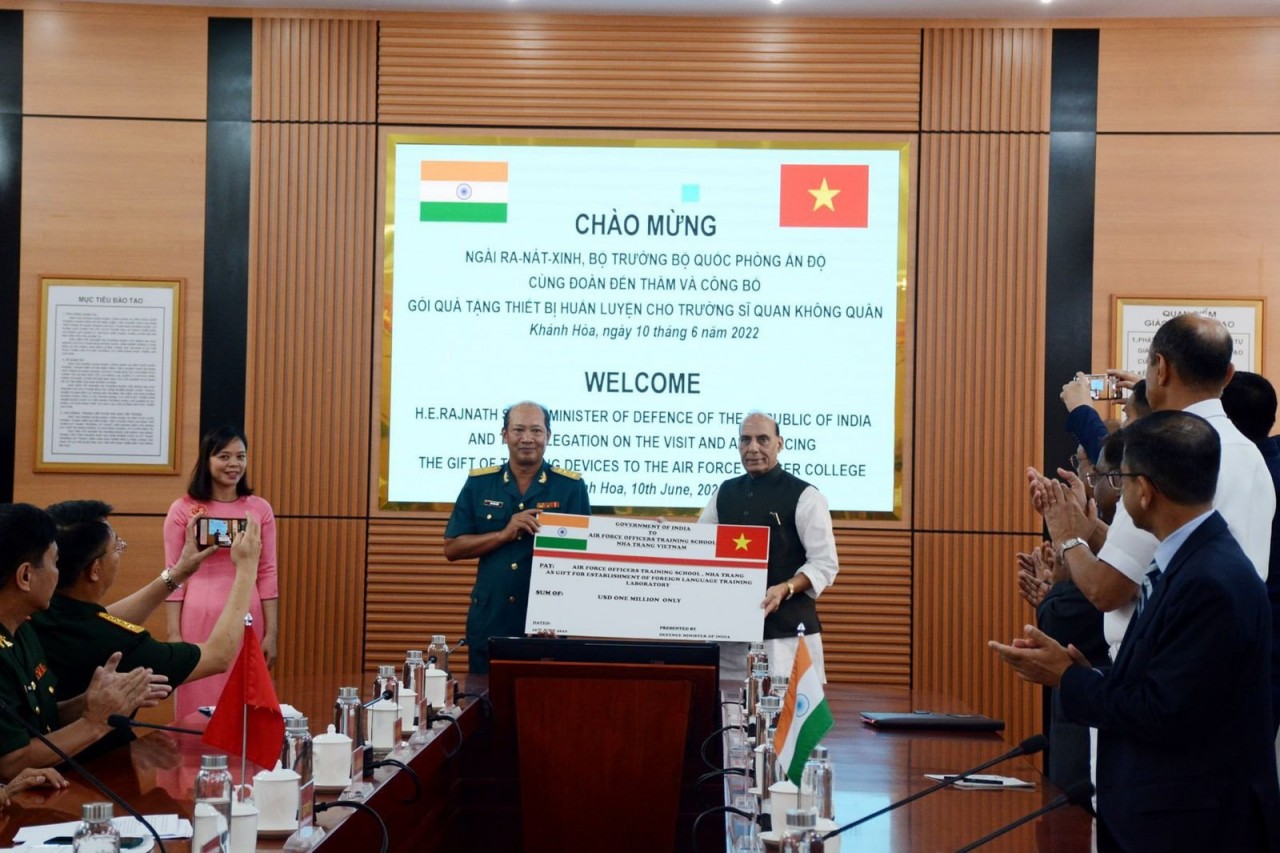 Indian Defense Minister Rajnath Singh at Air Force Officers Training School at Nha Trang. Source: Indian embassy in Vietnam
Rajnath Singh visited to Air Force Officers Training School in the central coastal province of Khanh Hoa's Nha Trang city on June 10 – the final day of his three-day official visit to the Southeast Asian country..
He handed over a gift of one million dollars on behalf of Government of India for the establishment of a language and IT laboratory in the school.
Addressing the officers at the school, he hoped that the laboratory would substantially contribute to sharpen the language and IT skills of Air Defence and Air Force personnel of Vietnam.
Later, Rajnath Singh visited the Telecommunications University in Nha Trang, where an Army Software Park is being established with the US$5 million grant from Government of India. The grant was announced during Prime Minister Shri Narendra Modi's visit to Vietnam in September 2016.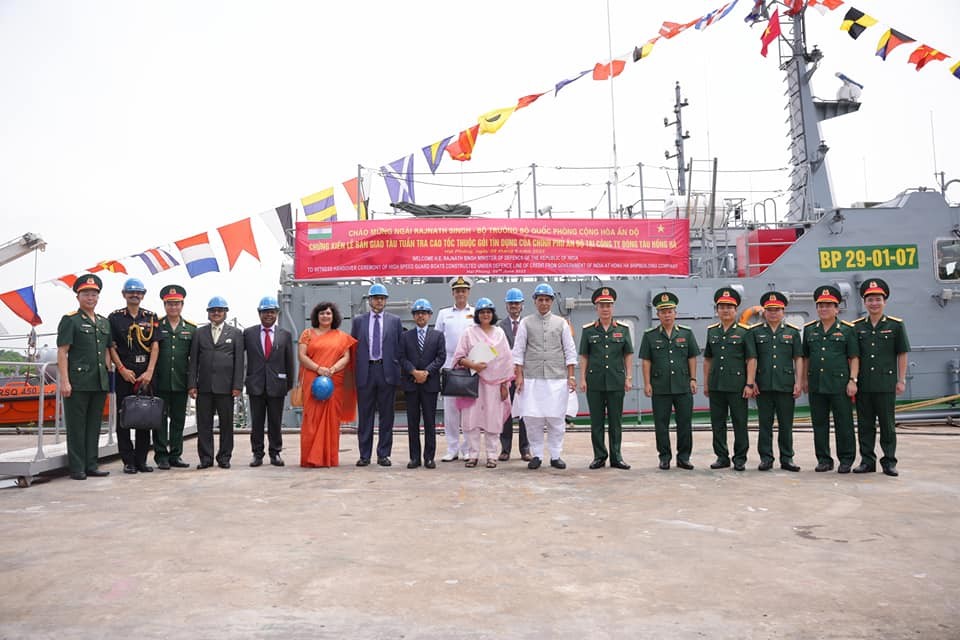 Rajnath Singh awards Vietnam 12 High Speed ​​Guard Boats during a visit to Hong Ha Shipyard in Hai Phong on June 9. Source: Indian embassy in Vietnam
Singh also visited Hong Ha Shipyard in Hai Phong on June 9, where he witnessed the of handover ceremony of 12 High Speed Guard Boats constructed under Government of India's US$100 million Defence Line of Credit.
The first five boats were built at Larsen & Toubro (L&T) Shipyard in India and seven others at Hong Ha Shipyard.
The Indian Defense Minister said that successful implementation of this project is a shining example of Government of India's vision of Aatma-Nirbhar Bharat and "Make in India, Make for the World".
During his visit to Vietnam, the Indian Defense Minister had held bilateral talks with Minister of National Defence General Phan Van Giang and called on State President Nguyen Xuan Phuc and Prime Minister Pham Minh Chinh.
The visit of Indian Defense Minister Rajnath Singh to Vietnam will contribute to promoting the traditional friendship and comprehensive strategic partnership between the two countries in general and the two ministries in particular for peace, stability and development in each country, in the region and the world, said Giang during the talks with his Indian counterpart at the headquarters of the Ministry of National Defense on June 8, according to PANO.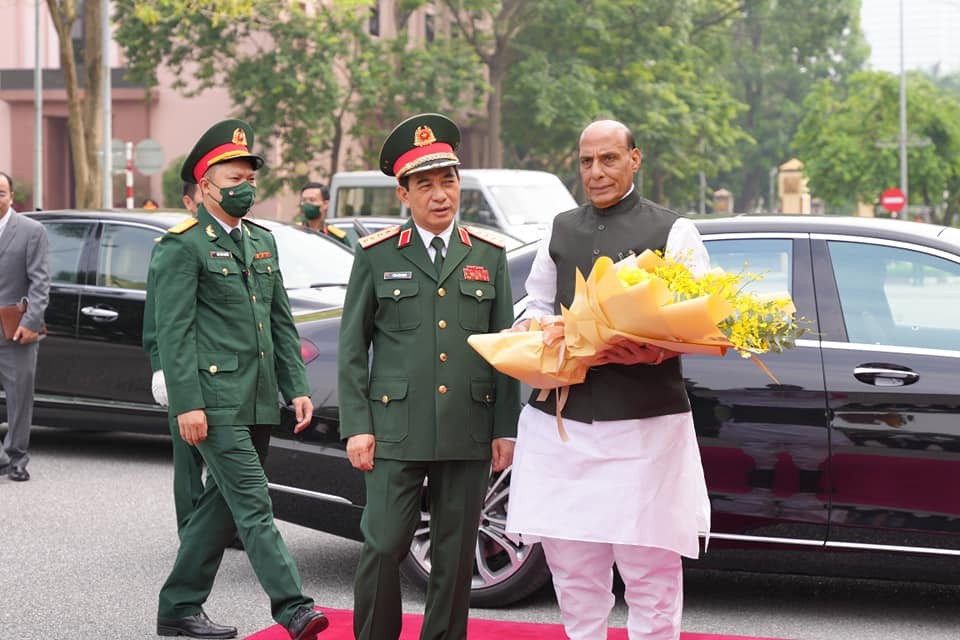 Vietnamese Defense Minister Phan Van Giang welcomes his Indian counterpart Rajnath Singh. Source: Indian embassy in Vietnam
Minister Rajnath Singh affirmed that India considers Vietnam an important partner in its Act East Policy. He evaluated that the bilateral cooperation has comprehensively developed in such fields as politics - diplomacy, economy - trade, defense – security, culture, education and training and people-to-people exchange.
Regarding bilateral defense cooperation, the two sides agreed that Vietnam and India have long-lasting relationship, which has been nurtured by Prime Minister Jawaharlal Nehru, President Ho Chi Minh and generations of leaders and people of the two countries. The relationship has steadily developed and obtained practical outcomes.
They evaluated that the bilateral defense cooperation has continuously expanded, deserving to be an important pillar in the Vietnam-India comprehensive strategic partnership.
On the basis of the Vietnam-India Joint Vision Statement for Peace, Prosperity and People adopted in December 2020, the two sides agreed to strengthen collaboration to fully and effectively implement signed agreements with a focus on increasing meetings and exchanges of delegations at all levels, especially high ones.
The two countries will also maintain and enhance the efficiency of dialogue and consultation mechanisms, especially the deputy ministerial-level defense policy consultation, while fostering partnership in personnel training and cooperation among arms and services as well as coordination in U.N. peacekeeping operations.
They will also strengthen coordination and consultations at multilateral forums.
Exchanging views on regional and international situation and issues of mutual concern, the two defense leaders said that peace, cooperation and development remain the major trend in the world.
The two sides shared their views on the significance of maintaining peace, stability, maritime and aviation security, safety and freedom in the East Sea (or South China Sea), as well as settling disputes through peaceful means in line with international law.
On the occasion, the Vietnamese Defense Minister invited leaders of the Indian Ministry of Defense and defense firms to the International Defense Exhibition that is slated for late 2022 in Vietnam.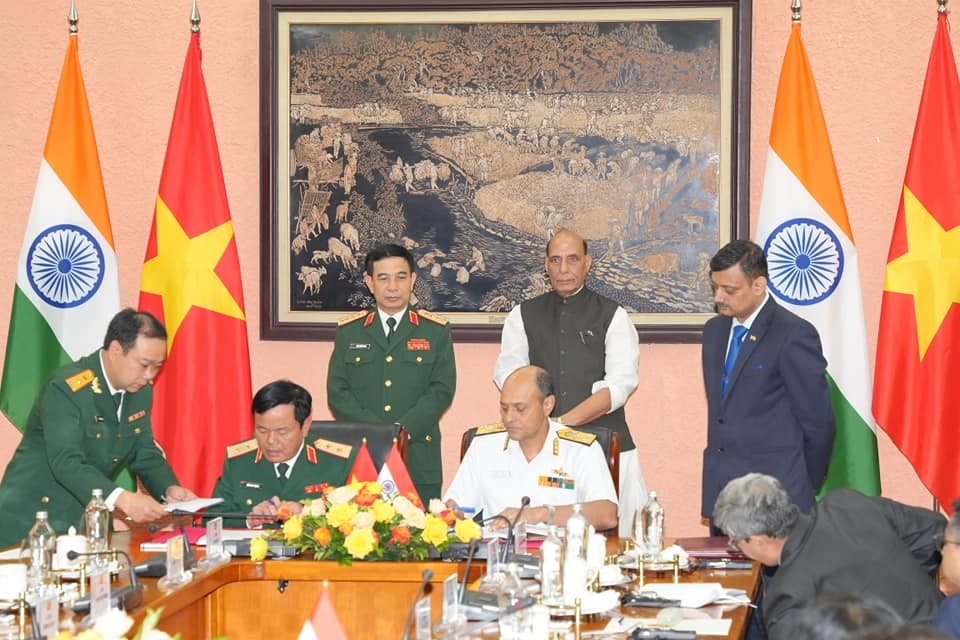 At the signing ceremony after the talks. Source: Indian embassy in Vietnam
Concluding the talks, the two ministers signed a statement on Vietnam-India defense partnership joint vision towards 2030 and a memorandum of understanding on mutual support in logistics between the two ministries.
Receiving Indian Defence Minister Rajnath Singh in Hanoi on June 8, President Nguyen Xuan Phuc noted Vietnam backs the Indian Government's Act East policy, as well as India's stronger strategic partnership with ASEAN and relations with regional countries, VNA reported.
President Phuc asked the two defence ministries to increase mutual consultation at multilateral forums and on regional issues while actively supporting and participating in multilateral activities held by each side, especially those within the framework of the ASEAN Defence Ministers' Meeting Plus and activities between ASEAN and India.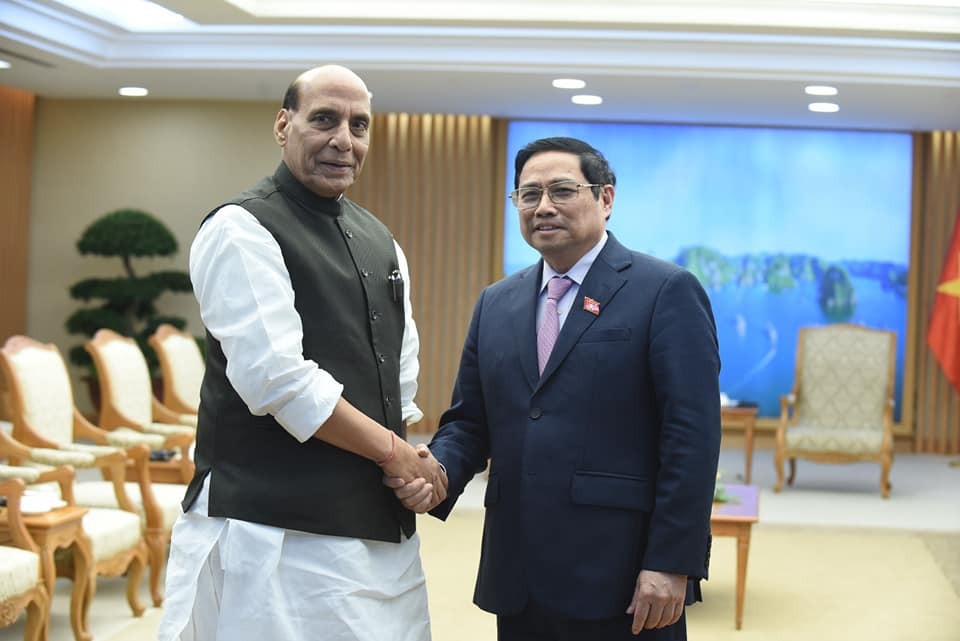 Prime Minister Pham Minh Chinh receives visiting Indian Defence Minister Rajnath Singh in Hanoi on June 8. Source: Indian embassy in Vietnam
Minister Rajnath Singh also called on Prime Minister Pham Minh Chinh on the same day during which he conveyed greetings from Indian PM Shri Narendra Modi to Vietnam's PM.
PM Chinh expressed his appreciation of the developments in India-Vietnam ties and conveyed Vietnam's commitment to further strengthen defence partnership with India.
Minister Rajnath Singh began his official visit on June 8 by paying homage to Late President Ho Chi Minh at his mausoleum in Hanoi. As a mark of respect to Vietnam's martyrs, Raksha Mantri laid a wreath at the the Monument to War Heroes and Martyrs.
He also paid a visit to Tran Quoc Pagoda and paid his tribute to the Bodhi tree, whose sapling was gifted to President Ho Chi Minh by India's first President Dr. Rajendra Prasad during his visit to Vietnam in 1959.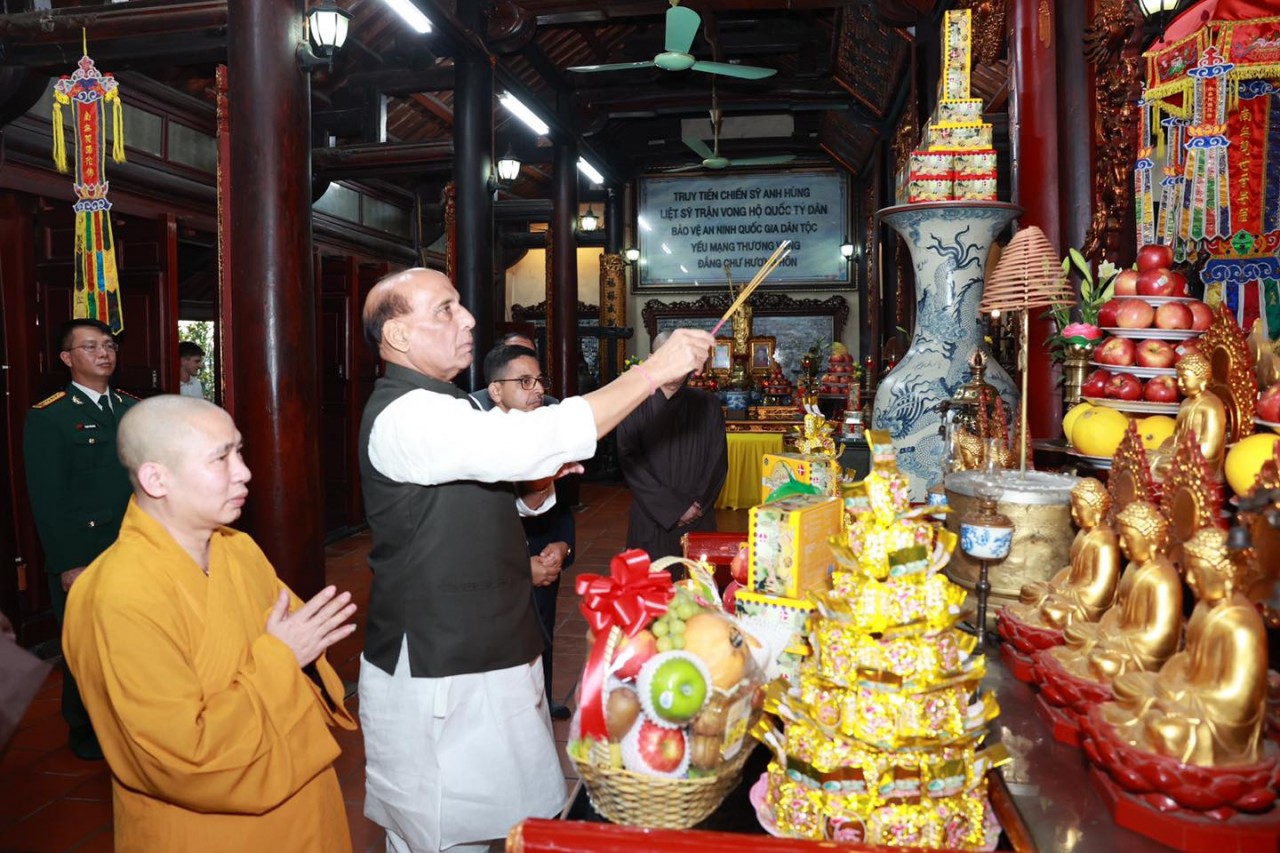 Indian Defense Minister Rajnath Singh visit Tran Quoc Pagoda in Hanoi. Source: Indian embassy in Vietnam