Vietnam sets to decide whether to extend social distancing order on April 15
Vietnam Prime Minister Nguyen Xuan Phuc will decide on whether to continue social distancing order or not today as Vietnam is making efforts to fight the coronavirus pandemic and putting people's health in top priority.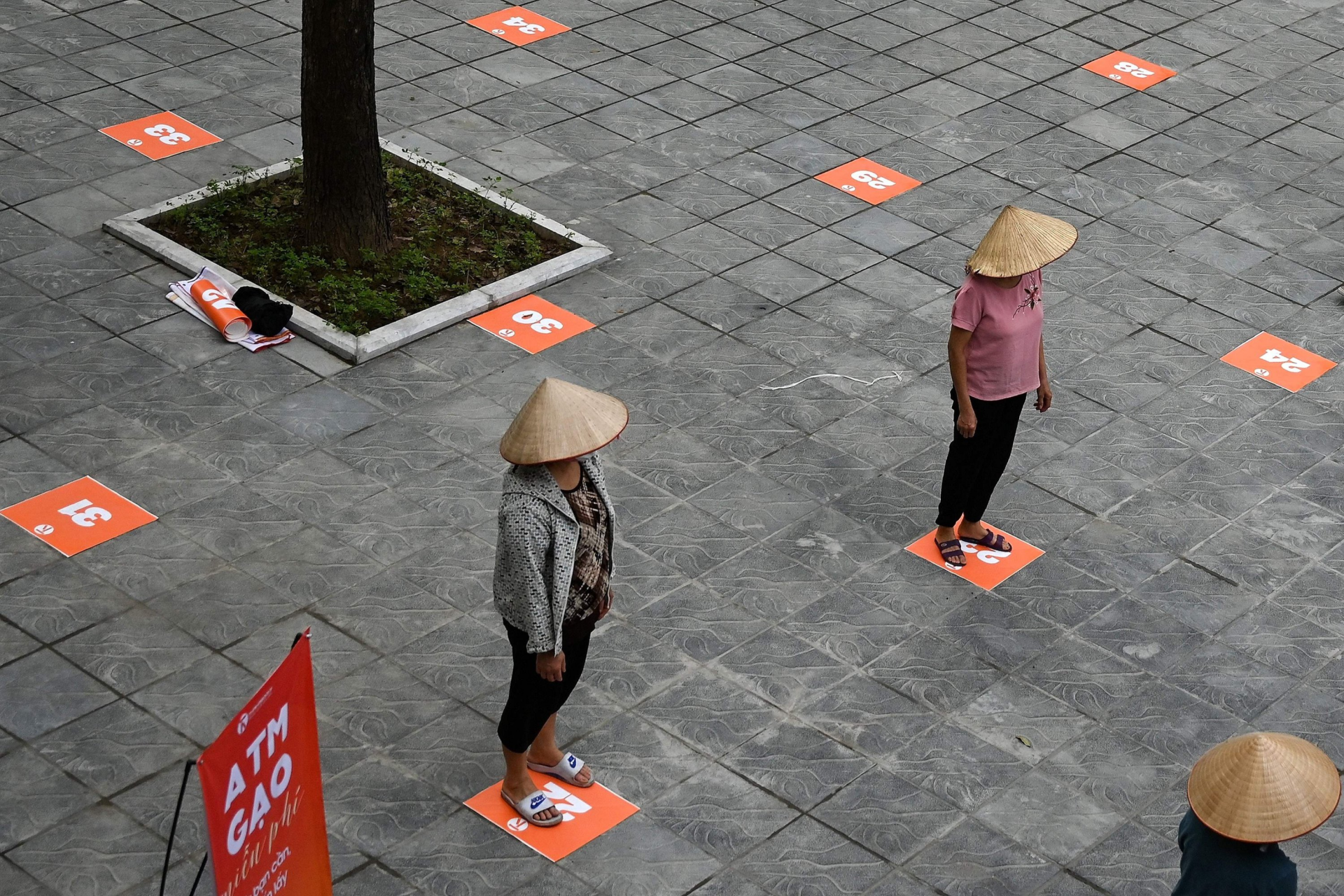 Residents wearing face masks practice social distancing as they wait in a queue for free rice, Hanoi, April 11, 2020. (AFP Photo)
Vietnam's 15-day social distancing order that requires people to mostly stay at home and keep pace with others has been taken into effect since April 1 and boats its great effectiveness as the country has witnessed the slow acceleration of Covid-19 infection cases, from an average of 10 cases a day in late March and early April to between one and four cases in recent days, VOV reported.
Earlier this week, series of localities including Ho Chi Minh City had proposed the government to prolong the social distancing order as the disease still features insidious risks with existing contagion potentials and there are undetected infection cases without showing symptoms in the community.
Hanoi also raised the idea of extending the social distancing order when the COVID-19 pandemic is demonstrating more complicated manifestations, such as longer incubation period (over 30 days), recurrence of illness after recovery and thousands of cases of screening for symptoms without final results.
The National Steering Committee for COVID-19 Prevention and Control on April 15 agreed to propose Prime Minister Nguyen Xuan Phuc extend the current social distancing rule for at least one more week in localities with high risks, VGP reported.
In a bid to achieve this uphill task, the government is to listen to key ministries, agencies, localities, and experts to devise appropriate solutions. Before the two-week social distancing period expires on April 15, experts suggested continuing with existing measures, taking into account the level of risk in localities and the effects on services.
The ongoing COVID-19 epidemic is set to take its toll on the national economy, with production businesses, tour operators, transport firms, and other service sectors being the hardest hit. At present the government's dual task is to bring the epidemic under control whilst simultaneously keeping the national economy on track.
According to Nhan Dan, until yesterday (April 14), Vietnam Fatherland Font (VFF) Central Committee President Tran Thanh Man received donations worth VND300 million (US$12,804) from the Ministry of Labour, Invalids and Social Affairs, VND 315 million (over US$13,444) from the Evangelical Church of Vietnam (North) and other donations from relevant businesses and agencies. Man said that donation from organisations, businesses and individuals nationwide and those abroad have climbed to over VND845 billion (over US$36 million) for the COVID-19 relief efforts so far, channelled to the VFF Central Committee.
National
Vietnam News Today (Jan. 20): Vietnam confirms 15,936 new local Covid cases; First Omicron infections in community reported in HCM City; Vietnam to facilitate procedures for foreign entrants; Hanoi capital cancels fireworks display on lunar New Year's Eve.