The Vietnamese Ambassador to India Pham Sanh Chau was in attendance for an online seminar regarding post-Covid-19 development policies organised by the International Chamber of Media and Entertainment Industry (ICMEI) along with the Armenian Ambassador to India Armen Martirosyan on May 7. The pair were joined by a further 100 representatives from India's entertainment and media industry.
The seminar offered Ambassador Chau a platform to share the country's successful experience in fighting against the COVID-19 pandemic, noting how the nation had won the first stage of the fight against the virus with the number of recovered patients making up roughly 90% of all cases. In order to achieve this statistic, the Vietnamese government and people unanimously agreed on the implementation of a range of measures aimed at preventing the pandemic from spreading to the wider community, including zoning and isolation. At present, the country is striving to keep in place safety measures in order to claim a total victory over the epidemic.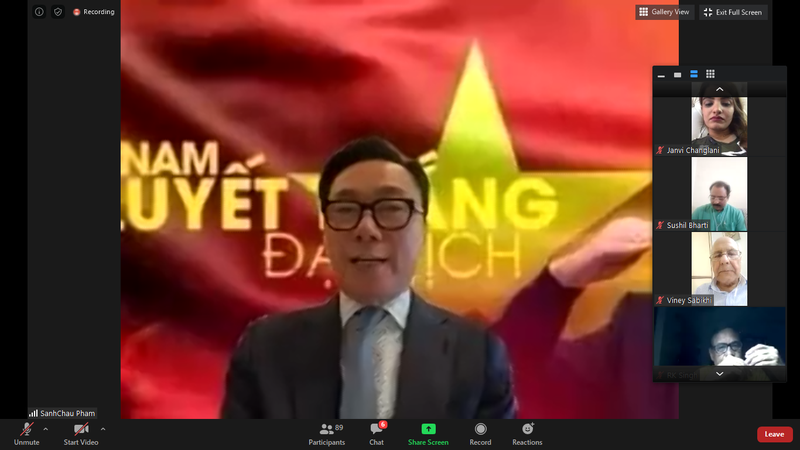 Vietnamese Ambassador to India Pham Sanh Chau attends an online seminar on post-Covid-19 development policies organized by International Chamber of Media and Entertainment Industry (ICMEI)
Moreover, as a means of minimising the impacts of the COVID-19 on economic sectors, the nation is moving to gradually reopen domestic business activities. This comes after Ambassador Chau announced that Vietnamese Prime Minister Nguyen Xuan Phuc will attend a meeting with local businesses on May 9 to deal with issues raised by them. According to forecasts by the World Bank, alongside China and India, Vietnam looks set to be one of the countries which enjoys a strong economic recovery following the conclusion of the pandemic.
The presentation given by Ambassador Martirosyan outlined that the world is facing an unprecedented situation in its history and is therefore a challenge to take comprehensive measures at this time. Currently, the majority of countries are focusing on two major issues, namely protecting the capacity of public health services in addition to preventing the further spread of the COVID-19.
According to Ambassador Martirosyan, the role of each governments in this period is pivotal in terms of dealing with declining economic growth along with facing the transformations to economic activities and the digital economy.
Sandeep Marwah, ICMEI President, offered congratulations to Vietnam on initially bringing the epidemic under control, while adding that the situation in India has changed drastically after nearly 60 days of nationwide lockdown. Therefore, the Indian government must devise fresh measures to adapt to the current situation. He also pointed out there are a number of sectors with great potential for strong growth following the conclusion of the virus, such as health care, insurance, digital industry, and media.
The seminar is viewed as an opportunity for the country to continue maintaining relations with partners in India as the South Asian giant enters its third national blockade which is set to run until May 17 due to the COVID-19 pandemic.
VOV