Vietnam, Singapore Pushes for Deeper Cooperation in Innovation Strategy and Economic Sustainability
On the occasion of the 50th establishing anniversary of Vietnam - Singapore diplomatic relations, 10 years of strategic partnership, Singaporean Ambassador to Vietnam Jaya Ratnam assessed some of the key cooperation sectors where the two sides can learn from each other's experiences and identified areas where the two sides can cooperate for mutual benefits
In a recent interview, Singaporean Ambassador to Vietnam Jaya Ratnam highlighted three areas where the two countries have made great strides throughout the 50 years of establishing diplomatic relations.
Fruitful results of continuing the close relationship between predecessors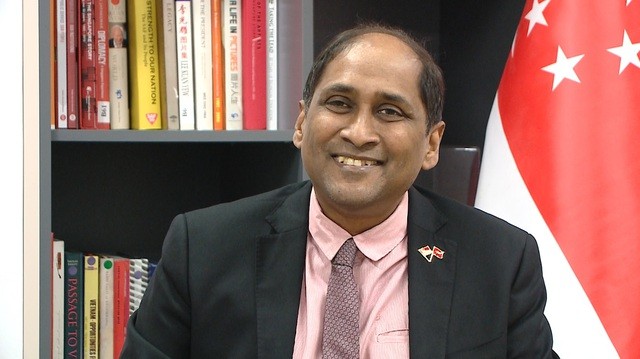 Vietnam, Singapore Pushes for Deeper Cooperation in Innovation Strategy and Economic Sustainability
"Firstly, the leaders of the two countries always trust each other, continuing the close relationship of their predecessors. Second, both countries prioritize economic development. One of the most important cooperation projects is the Vietnam – Singapore Industrial Park (VSIP). Third, our two countries agree to build a peaceful and prosperous Southeast Asia within the framework of ASEAN. In Southeast Asia, Vietnam, and Singapore share common views on many issues, recognizing the importance of multilateralism and international law. We are jointly committed to upholding the central role of ASEAN and united in upholding the international rules-based order." said the Singaporean Ambassador.
In 1994, Prime Minister Goh Chok Tong (Go Choc Tong) proposed the idea of ​​establishing VSIP industrial park to Prime Minister Vo Van Kiet. It can be seen that Vietnam has grown very rapidly since the beginning of Doi Moi in 1986 and the Vietnam-Singapore Industrial Park has taken advantage of the strengths of both countries in promoting economic growth.
According to Ambassador Jaya Ratnam, the relationship between the two countries is growing stronger and developing very quickly. He added that cooperation through the Party and State channels is constantly developing with the increasing exchange of delegations at all levels to learn from each other's experiences and identify areas where the two sides can cooperate for mutual benefits.
For example, Prime Minister Pham Minh Chinh paid an official visit to Singapore in February this year and in the near future, Prime Minister Lee Hsien Loong (Lee Hsien Loong) will visit Vietnam. In 2022, both countries had mutual State visits, and recently, Singaporean President Halimah Yacob (Halima Jacob) met with President Vo Van Thuong of Vietnam in London.
He also stressed that the good relationship between Vietnam and Singapore is developed based on many cooperation frameworks. The Framework Agreement on Connecting Singapore – Vietnam (CFA) launched in 2006, said Ambassador Jaya Ratnam, is considered the foundation for agencies of the two countries to work together, provide direction and monitor the process to deepen cooperation.
"To further meet On the occasion of the 50th establishing anniversary of Vietnam - Singapore diplomatic relations, 10 years of strategic partnership, Singaporean Ambassador to Vietnam Jaya Ratnam assessed some of the key sectors with growing bilateral cooperation agenda and identified where to further cooperate for mutual benefits. , the Framework Agreement on Singapore-Vietnam Connectivity now includes discussions and exchanges in areas such as innovation, energy, and digitalization," he said.
Economic cooperation - the foundation of the bilateral relationship
In the interview, Ambassador Jaya Ratnam reaffirmed that Singapore businesses believe in the long-term economic prospects of Vietnam.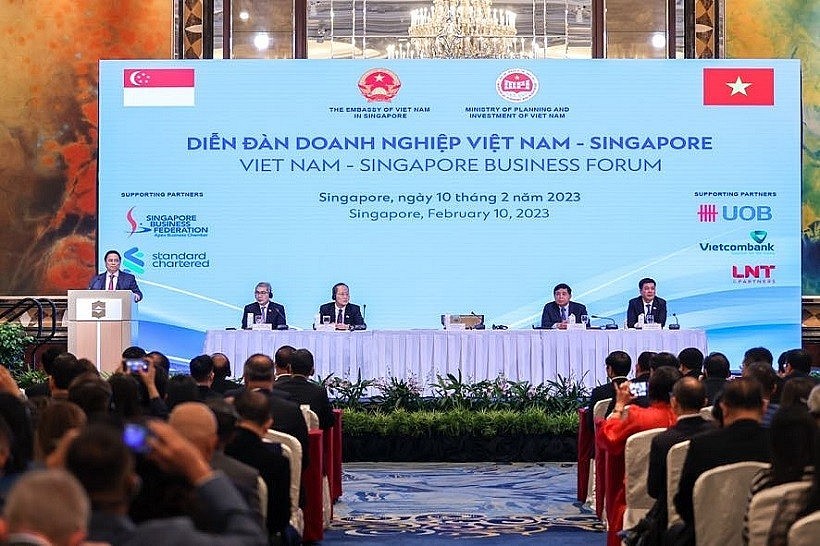 As of December 2022, Singapore is the second largest foreign investor in Vietnam (Photo: Ven.vn).
"[Vietnam is] one of the countries with the leading developed economies in Asia for many years. I am confident that economic cooperation between Vietnam and Singapore will grow stronger and stronger, especially as the two countries identify new priorities for growth under the framework of the Digital Economy and Green Economy Partnership (GDEP)," he said.
As of December 2022, Singapore is the second largest foreign investor in Vietnam with a total accumulated investment capital of US $70.8 billion. Our leading investment sectors in Vietnam are transportation – warehousing, manufacturing, real estate, accommodation services, catering, financial services – insurance, and wholesale–retail trade. Bilateral trade in 2022 increased by more than 16% over the same period last year, reaching SGD 31.3 billion (more than US $23.5 billion).
According to the Singaporean diplomat, there is potential for cooperation to bring the two countries' trade relations to a new height, especially in the digital economy, renewable energy, carbon credits, cybersecurity, and sustainable infrastructure.
During Prime Minister Pham Minh Chinh's visit to Singapore in February 2023, the two sides agreed to establish a Digital Economy and Green Economy Partnership. Under this framework, Ambassador Jaya Ratnam said, the two sides will upgrade their bilateral relationship in cooperation in many key areas such as energy, infrastructure, digital economy, and innovation, as well as connectivity.
He emphasized that innovation, energy connection, and sustainability will be the three areas where Singapore and Vietnam are pushing for deeper cooperation over the next decade.
Firstly, Singapore and Vietnam have a common goal of promoting economic growth through technology and innovation and will take this opportunity to jointly exploit each other's innovation ecosystems.
Secondly, working toward the goal of net zero emissions by 2050, the two countries will not only support decarbonization efforts but also strengthen infrastructure connectivity, which helps advance the region's sustainable energy goals.
Thirdly, the two sides urgently need to accelerate action and work together more closely to tackle climate change issues to meet the goals of the Paris Agreement, following the Memorandum of Understanding on cooperation on carbon credits signed in October 2022.
The most important pillar of Vietnam – Singapore partnership is people-to-people ties
On 28 July 2023, the Singapore Consulate-General in Ho Chi Minh City, together with Ho Chi Minh City People's Committee and various government agencies in Ho Chi Minh City, co-hosted a "50/10" cultural event to commemorate a significant milestone in the history of diplomatic relations between Singapore and Vietnam (Photo: Singapore Consulate-General in Ho Chi Minh City).
"Vietnam is also our leading partner in the Singapore Partnership Program (SCP). Over 21,000 Vietnamese officers have attended SCP courses. Singapore will continue to share experiences with Vietnamese provinces and cities to support development. The future of Singapore-Vietnam relations is bright and promising," he exclaimed.
Also, Vietnam and Singapore are working together to create more exchange programs for young people. The latest initiative is the Singapore-Vietnam Youth Leaders Exchange Program (SVYLEP) 2023 scheduled to take place in August 2023.
"The Singapore Spotlight event in Vietnam (SSV) is selected to close the 50th anniversary of diplomatic relations and 10 years of the Vietnam – Singapore strategic partnership. Accordingly, more than 200 young people, artists, and young entrepreneurs from Singapore will come to Hanoi and Ho Chi Minh City to participate in a series of cultural, sports, and business events from October 19-25," said Ambassador Jaya Ratnam.
After the COVID period, the two countries resumed tourism, education, and cultural exchanges. Vietnam has been and continues to be a favorite exchange programs and study tour destination for Singaporean students. On the other hand, Singapore always welcomes Vietnamese students, many of whom have contributed significantly to our country with both talent and enthusiasm.