Vietnam, Spain to Step up Cooperation in Various Fields
Deputy Prime Minister Tran Luu Quang is visiting Spain from March 1-3. It is the highest-level visit to Spain by a Vietnamese Government leader since 2017 due to the Covid-19 pandemic.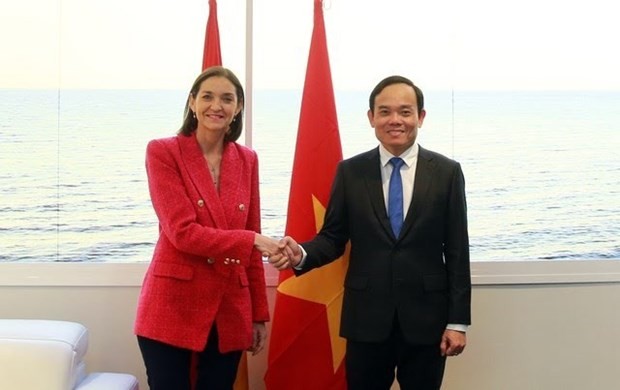 Deputy Prime Minister Tran Luu Quang (R) and Spanish Minister of Industry, Trade and Tourism Reyes Maroto. Photo: VNA
Deputy Prime Minister Tran Luu Quang has affirmed the determination to step up the extensive and practical development of Vietnam-Spain "strategic partnership towards the future", especially in trade and investment, to uphold each side's potential and strength, VNA reported Thursday.
Meeting with Spanish Minister of Industry, Trade and Tourism Reyes Maroto in Madrid on March 2 (local time), Quang suggested Spain encourage its businesses to shift their high-quality investments to Vietnam in areas that align with the two countries' strengths and development needs such as infrastructure, renewable energy, transport, information technology and tourism; enhance cooperation and technology transfer in food hygiene and safety, seafood processing to improve the value of Vietnamese seafood exports to Spain.
He also proposed Spain support the European Commission (EC)'s early removal of illegal, unreported, and unregulated (IUU) fishing yellow card against Vietnam's seafood exports.
Maroto, for her part, said a number of Spanish enterprises are interested in investing in infrastructure and renewable energy in Vietnam.
She agreed to create favourable conditions for Vietnam's agro-aquatic products to enter the Spanish market, carry out the Memorandum of Understanding (MoU) on economic, trade and investment cooperation signed in 2017 and set up a Joint Committee to create a mechanism for the periodic exchange of measures to remove obstacles and boost trade-investment ties.
Acknowledging Vietnam's efforts for sustainable fishing development, she promised to work with other EU member states to have the yellow card against Vietnam's seafood removed.
Spain was the first European Union country to establish strategic partnership with Vietnam in December 2009. Vietnam has become the biggest ASEAN trade partner of Spain with over USD 3 billion on average each year.
Last year alone, Vietnam's exports to Spain surpassed EUR 4 billion (USD 4.2 billion) while importing more than EUR 525 million from the European country. However, Spain's investment in Vietnam remains modest, with 88 projects worth over USD 143 million.
The two sides agreed to continue effectively realising the EU-Vietnam Free Trade Agreement (EVFTA) towards bringing two-way trade to USD 5 billion in the coming time, increase monitoring and promptly update on recommendations regarding technical requirements, quarantine, food hygiene and safety of each side.
They will accelerate the early signing of the Financial Cooperation Programme 6 while reinforcing collaboration in renewable energy, study the possibility of producing green hydrogen, which is Spain's leading strength area.
Quang asked Spain to provide training courses on tourism and technical assistance for Vietnam on sustainable tourism development and management.
Meanwhile, the Spanish minister affirmed that the potential for bilateral tourism cooperation remains huge. She promised to consider studying the possibility of opening a direct flight route to facilitate travelling of their citizens.
Following the meeting, the two officials co-chaired a seminar between Vietnamese and Spanish enterprises.
Previous, on March 1, Deputy PM Quang affirmed Vietnam's determination to work together with Spain in elevating the two countries' strategic partnership to a new period of development while meeting with President of the Congress of Deputies of Spain Meritxell Batet in Madrid.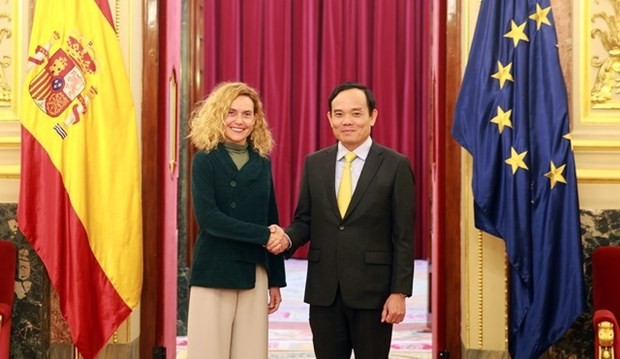 Deputy PM Tran Luu Quang (R) meets with President of the Congress of Deputies of Spain Meritxell Batet in Madrid on March 1. Photo: VGP
Welcoming the Vietnamese delegation, the host leader affirmed that Spain always treasures and wishes to enhance multifaceted ties with Vietnam, as well as the comprehensive partnership and cooperation between the EU and Vietnam, especially when her country will hold the EU Council Presidency in the latter half of 2023.
She applauded the progress in the two countries' multifaceted cooperation for the last more than 45 years, especially in economy and trade, and perceived that there remains much room for cooperation, particularly in culture and people-to-people exchange. She also welcomed Vietnam's proposal on increasing exchanges between the countries' parliamentarians to boost mutual understanding and parliamentary ties.
For his part, Deputy PM Quang thanked the Spanish parliament for early ratifying the EU - Vietnam Investment Protection Agreement (EVIPA) and asked Spain to push for other EU countries' parliaments' ratification of the deal, thus facilitating equal and mutually beneficial investment links between the two sides and helping create optimal conditions for Spanish firms to operate in Vietnam.
At the meeting, both host and guest agreed to step up mutual visits, including those between specialised committees of the two parliaments to share legislative information and experience, and support stronger ties at multilateral forums like the Inter-Parliamentary Union (IPU) and the Asia-Europe Parliamentary Partnership (ASEP) meeting.
They voiced their belief that the cooperation between the Vietnamese and Spanish parliaments will continue enjoying positive strides both in bilateral aspects and at multilateral forums.
The two sides also concurred in continuing to strongly promote the pillar of investment and trade; expanding cooperation to potential fields such as culture, sports, tourism, education - training, and agriculture; and jointly responding to global issues like food security and climate change.
The President of the Spanish lower house also recognised Vietnam's efforts, pledging support to persuade the European Council to soon lift the IUU fishing warning for Vietnam's fishery exports.
Quang and Batet exchanged viewpoints on the regional and global issues of common concern.
Regarding the Bien Dong Sea issue, they affirmed the support for guaranteeing security, safety, and freedom of navigation and overflight, and for peacefully resolving disputes in line with international law and the 1982 United Nations Convention on the Law of the Sea (UNCLOS).
On this occasion, Deputy PM Quang asked Spain to continue providing favourable conditions for the Vietnamese community to integrate into the host society and serve as a bridge for the bilateral friendship.
Also on March 1, he met with representatives of Vietnamese people in Spain.