Vietnam Strengthens Cooperation with Nograd County of Hungary
The seminar identified potential areas and opportunities for cooperation between the two sides, and proposed solutions to overcome business difficulties for Vietnamese and Hungarian businesses in general and Vietnam and Nograd province in particular.
A business seminar has been held in Nograd county of Hungary with a view to promoting economic and trade relations between Vietnam and the European country, VNA reported.
The November 7 event, held by the Embassy and Trade Office of Vietnam in Hungary, the Chamber of Commerce and Industry of Nograd, and the Hungarian - Vietnamese Business Council, looked into the two countries' economic and trade ties, identified potential areas and cooperation opportunities, and proposed solutions to difficulties facing the countries' businesses.
Attending the seminar were Ambassador Nguyen Thi Bich Thao; Counselor Le Trong Ha; Tran Ngoc Ha, Head of Trade Department, Vietnamese Embassy in Hungary; Tordai Peter, head of the Nográd Chamber of Commerce and Industry; Forintos Robert, Chairman of the Hungary-Vietnam Business Council; Pham Ngoc Chu, Chairman of the Vietnamese Business Association in Hungary, the Hungarian Trade Office in Vietnam, press agencies and many businesses on both sides.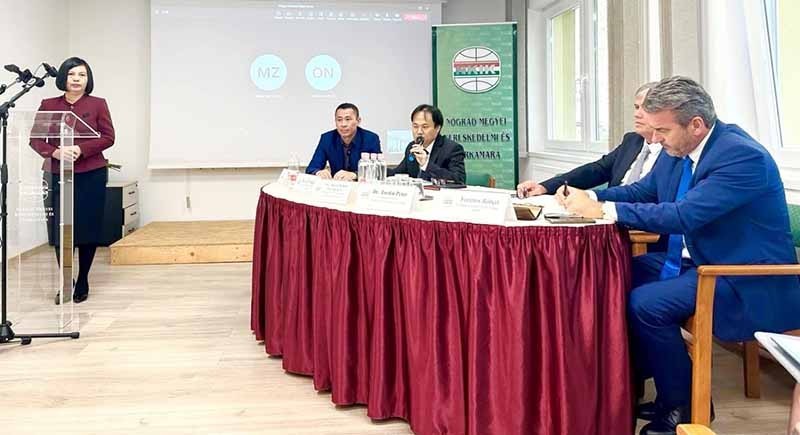 At the seminar. Source: TG&VN
In her remarks, Vietnamese Ambassador to Hungary Nguyen Thi Bich Thao affirmed that the Vietnamese Government attaches importance to the substantive enhancement of the traditional friendship and multifaceted cooperation with Hungary. The political trust between the two countries provides the fundamental base for them to step up ties in other spheres, especially economy and trade.
Despite its recent growth, she noted, bilateral trade has yet to match potential. Vietnam is a developing country which has big demand for modern machinery and equipment, and products with high added value. Besides, it is strong at producing and exporting agricultural and seafood products, apparel, footwear, and electronic components.
Given this, she suggested the two sides increase trading to tap into each other's strengths and export the products in demand in each other's markets.
Tordai Peter, head of the Nograd Chamber of Commerce and Industry, described the Vietnamese enterprises in Hungary as an indispensable part in the promotion of bilateral business partnerships.
He expressed his hope that more Vietnamese companies will come to Nograd to seek business chances in the coming time.
Giving a presentation of the Vietnamese market, Tran Ngoc Ha, head of the Vietnamese Trade Office in Hungary, held that as both sides are encountering many challenges, they should make joint efforts to surmount difficulties and bolster economic and trade ties.
He suggested stepping up the connectivity between their enterprises, calling on the commerce and industry chambers of Nograd and other Hungarian localities, as well as the Hungarian - Vietnamese Business Council to cooperate with the Trade Office of Vietnam to share information and help connect businesses.

Participants in the business seminar in Nograd county of Hungary on November 7. Source: TG&VN
The two sides should send more business delegations to fairs and exhibitions to help them explore markets and seek partners, Ha continued, adding that they can also enhance labor cooperation as Hungary is facing a labor shortage while Vietnam has an abundant, industrious, and skilled workforce.
Vietnam only began sending guest workers to Hungary in 2018, and their total number has to date surpassed 2,700, which has been gradually increasing over the years. It reached 465 in 2021, 775 in 2022 and 1,148 in the first nine months of this year.
The Vietnamese side always creates the best possible conditions for both sides' enterprises to promote economic and trade relations, the official affirmed.
Also within the framework of the seminar, businesses from both sides had the opportunity to directly discuss with each other, promising many business cooperation opportunities in the future.