Vietnam Striving to Master Technology in Renewable Energy
The draft Power Development Planning (PDP) VIII has demonstrated the trend of developing clean and renewable energy in line with commitments to cutting carbon emissions as made at the 26th United Nations Climate Change Conference (COP26).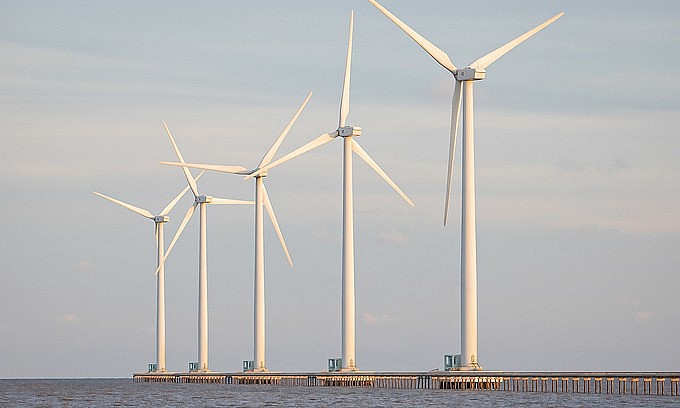 Wind turbines in the province of Bac Lieu, southern Vietnam. Photo: VnExpress
Under the planning, offshore wind power will be given priority in the near future.
CEO of the Global Wind Energy Council Ben Backwell expressed his belief that Vietnam will draw a huge amount of capital when financial organisations are switching their investment from fossil fuels to renewable energy.
Vietnam should tap this opportunity to turn itself into a clean power hub in Southeast Asia as it will bring a considerable strategic advantage to the country in the region, he said, as cited by Nhan dan (People) newspaper.
Director of the State Agency for Technology Innovation Ta Viet Dung said Vietnam has advantages in wind and power solar but needs modern technologies to serve value chain, starting from manufacturing technology and material production.
Director of the Ministry of Industry and Trade's Electricity and Renewable Energy Department Hoang Tien Dung said Vietnam is gradually mastering advanced technologies, developing human resources and investing in important technical infrastructure to lay a solid foundation for energy application and development.
He added that Vietnam still much relies on imported technology to develop wind power so that the country needs to stay more active in building projects and producing spare parts, towards increasing the rate of domestically-made items.
Dung also suggested developing biomass and geothermal energy, and even energy derived from tides and sea waves in the future.
According to him, apart from developing a smart grid, technology related to energy storage is also a good orientation. When renewable energy is developed at a high level, it is possible to consider hydro producing and storing, he said.
Green energy to account for 70% of total output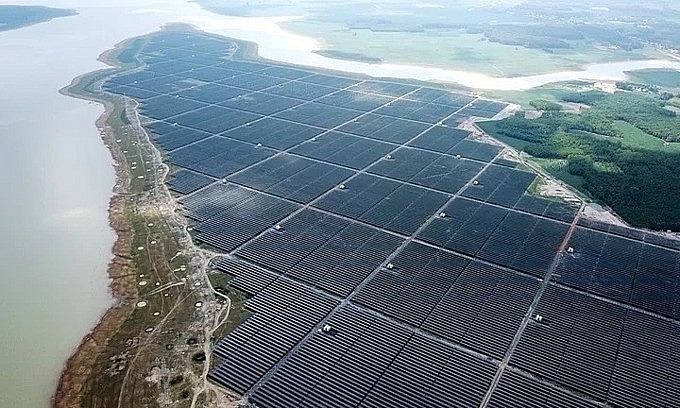 Solar panels seen at Dau Tieng Solar Power Complex in the southern Tay Ninh Province in September, 2019. Photo: VnExpress
Hoang Tien Dung, Director of the Ministry of Industry and Trade (MoIT)'s Electricity and Renewable Energy Authority, said the National Power Development Plan VIII (PDP8) for the 2021 – 2030 period has placed focus on the renewables, such as wind power, offshore wind power and solar energy.
Provided with supporting policies, green energy generation is expected to account for about 70% of the total output, Dung said, adding that Vietnam is in the early stage of shifting from fossil fuels to renewables.
Smart grids and integrated energy storage technologies are the future of Vietnam's energy sector, he said, adding that Vietnam should start thinking about producing hydro and hydro storage technology in the coming time when it is able to maintain large-scale renewable power generation.
According to the updated report of 'non-hydro' renewable energy sources of Vietnam Energy Magazine - VER (August 2020), Vietnam's total onshore wind power potential is estimated at about 217 GW, and its offshore wind power potential is around 160 GW.
Meanwhile, the potential of solar power nationwide stays at some 386 GW, mainly in the South, the South-central region and the Central Highlands, according to VietnamPlus./.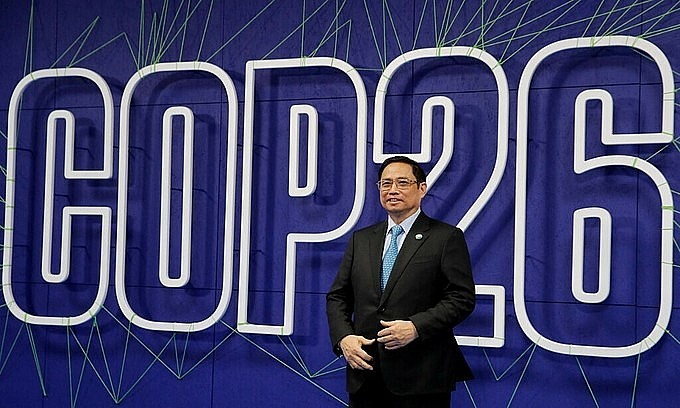 Vietnam Prime Minister Pham Minh Chinh arrives at the opening ceremony of the 2021 U.N. Climate Change Conference, November 1, 2021. Photo: AFP
Addressing the COP26 in Glasgow, the UK, Prime Minister Pham Minh Chinh said Vietnam is committed to supporting global initiatives to respond to climate change.
He said climate change is a global issue and as a responsible member of the international community, Vietnam must have a strong commitment to fighting it though it still faces many difficulties itself.
He said he had met COP26 President Alok Sharma and discussed cutting emissions and told him that the transformation of energy sources in Vietnam must be appropriate for the country's situation and ensure social security for workers.
Vietnam had been involved in wars and faced energy shortages, and "how could we have developed our economy if we had not built coal-fired power plants since the hydropower capacity is limited?"
The life cycle of a coal-fired power plant is 10-20 years and when converting to a new energy source, there must be a roadmap to settle contracts with investors and employees, he said.
There are more than 100,000 employees in the coal industry.
"But it is not because of such challenges that Vietnam will not make committments to the international community or provide a roadmap toward 2050 to bring emissions to zero," Chinh said, as quoted by VnExpress.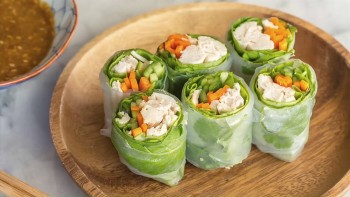 Travel
Rolls are a easy-to-make dish that is loved by many Vietnamese diners as well as Korean stars.