Vietnam to raise retirement age, add one more public holiday
Retirement age will be increased to 62 for men, 60 for women; laborers will have one more public holiday, according to the freshly-approved Labor Code.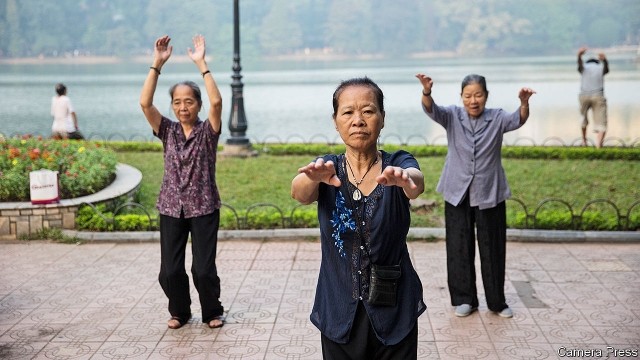 Elderly people doing exercise in Hanoi
The National Assembly on November 20 passed the Labor Code (amended), which consists of 17 chapters and 220 articles, defining labor standards, rights, obligations and responsibilities of employees, employers, employees' representative organizations and employers' representative organizations in industrial relations and other relations directly related to industrial relations and state management of labor.
The current retirement age is 60 for men and 55 for women.
From 2021 and on, the retirement age will be increased by three months for a male employee at normal working conditions, and four months for a female employee annually.
An employee whose working capacity is reduced or subject to extremely heavy, dangerous, or hazardous working conditions, or working at disadvantaged areas may retire sooner but not five years less than the regulations, unless otherwise provided by laws.
Skilled laborers or some special cases may retire at older age but not more than five years than the regulations defined at clause 2, unless otherwise provided by laws.
One more day off
According to the amended Labor Code, employees shall be entitled to fully paid days off for such holidays and festivals as Calendar New Year Holiday: 1 day (January 1 of the calendar year), Lunar New Year Holidays: 5 days, the Independence Day: 1 day (April 30 of the calendar year), Labor Day: 1 day (May 1 of the calendar year), Commemorative Celebration of Viet Nam's Forefather – Kings Hung: 1 day (the tenth of March of the lunar year) and the National Day: 2 days (September 2 of each calendar year and one day before or after September 2).
This makes for a total of 10 days a year, excluding Tet weekends.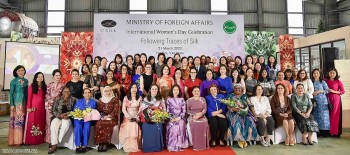 Friendship
Female ambassadors, representatives from diplomatic corps and international organizations, along with spouses of diplomats in Vietnam gathered together to find about more about silk weaving and silk products in Vietnam.