Vietnam Trade Surplus Sees Impressive Figure In First Month Of Lunar New Year
The country recorded a trade surplus of nearly US$1.4 billion in the first month of Lunar New Year.
The nation's imports and exports achieved an impressive figure of more than US$60 billion during the first month of the lunar New Year, in which the country recorded a trade surplus of nearly US$1.4 billion.
According to Vietnamnet, this represents a far better result than previously forecasted by the General Statistics Office (GSO), with exports reaching US$29 billion, imports at US$29.5 billion, and the country's trade deficit at US$500 million.
Specifically, export turnover hit US$30.845 billion, up 8.1% over the same period from 2021. There were seven groups of export goods with a turnover of US$1 billion or more in the first month of the year, in which some groups enjoyed high double-digit growth, such as textiles and garments, wood and wood products, means of transport and spare parts, seafood, coffee, pepper, and rice.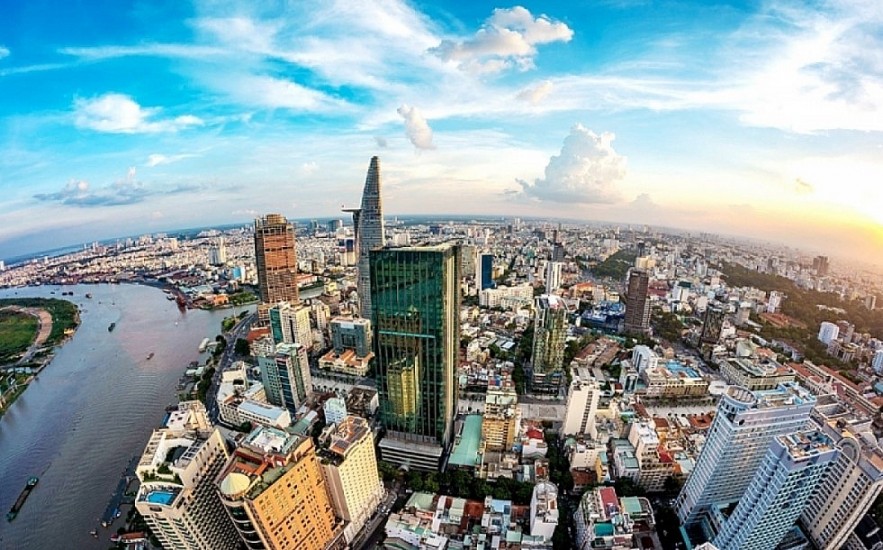 Trade Surplus Sees Impressive Figure In First Month Of Lunar New Year. Photo: Public Security News.
In the opposite direction, import turnover in January reached US$29.45 billion, a rise of 11.3% over the same period from last year. In line with this, there were six commodity groups with a turnover from US$1 billion, with computers, electronic products and components achieving the highest figure of US$7.12 billion, representing an annual rise of 25.8%.
Most notably, as VOV News reported, during the nine-day period of the first lunar month, Vietnamese goods were exported to a total of 109 countries and territories, with the majority going to the Chinese market reaching a figure of US$400 million, trailed by the United States, the Republic of Korea, Hong Kong (China), and Japan.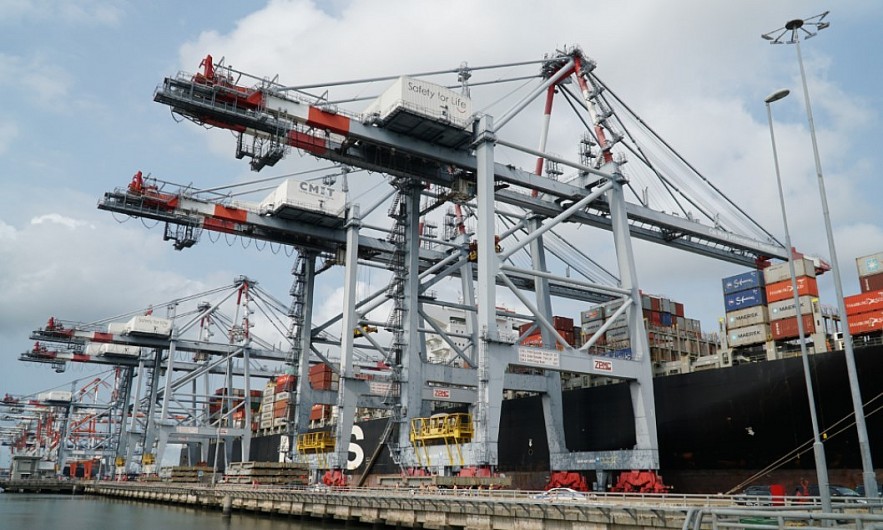 A container ship docks at Tan Cang Cai Mep Terminal in Ba Ria Vung Tau Province in March 2021. Photo by VnExpress/Dang Khoa
Promoting the results achieved in import and export activities in 2021, this year the Ministry of Industry and Trade aims to exploit and take advantage of opportunities from free trade agreements (FTAs) in a bid find solutions which can boost market development. This is in addition to removing barriers to gain entry into new markets and closely monitoring the global developments relating to the COVID-19 pandemic to take timely response measures.
The Ministry will primarily focus on diversifying export and import markets, especially small and niche one, along with the structure of export products to improve the competitiveness of export products, and promoting brand building.
Trade Surplus Sees Impressive Figure In First Month Of Lunar New Year. Photo: VOV News.
According to Public Security News, Alexander Rogozhin, head of the Group of Economic Problems Staff Member Center for Development and Modernization Studies, said the country has recorded a string of amazing socio-economic development achievements, particularly as the COVID-19 pandemic has dealt a heavy blow to the global economy.
The country's dynamic and stable economic development can largely be attributed to its effective policy openness coupled with the implementation of a range of free trade agreements signed with other countries.
Additional factors include openness in the Investment Law along with political stability, a highly-skilled, young and cheap workforce, which has served to attract a number of foreign enterprises and capital inflows into the country, he noted.
Friendship
In Da Nang, the Vietnam-Laos Solidarity and Friendship Year 2022 was celebrated on July 2. Collectives and individuals of the Lao Women's Union were also awarded medals of Vietnam.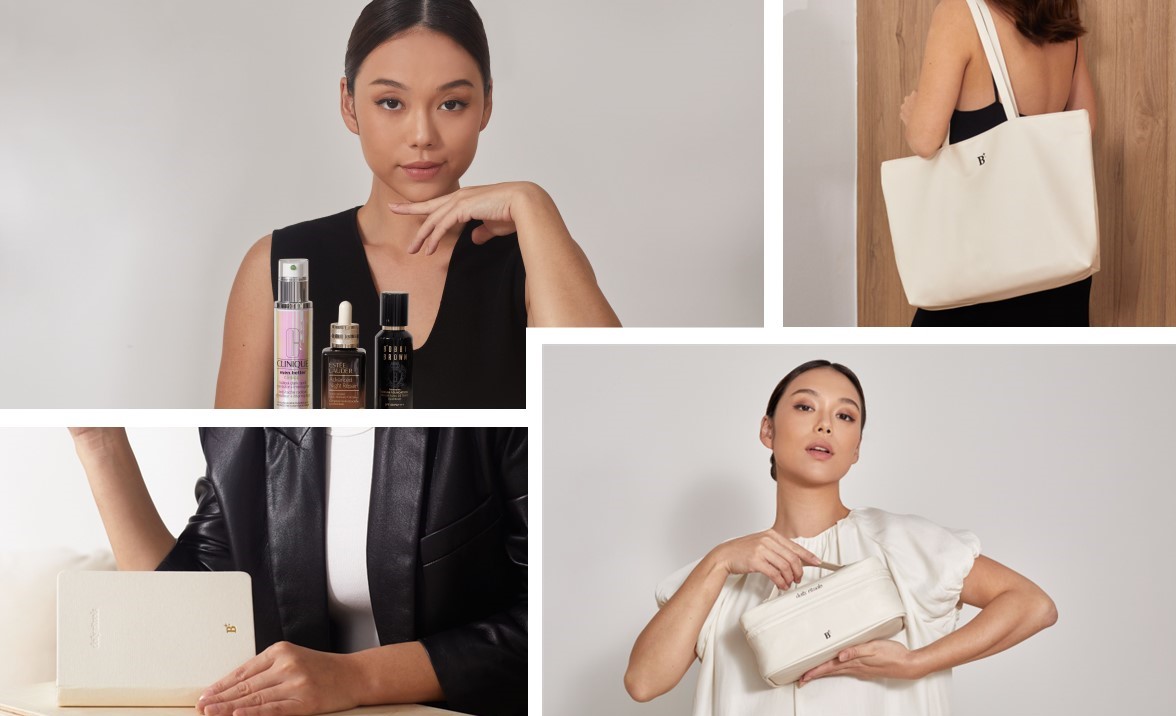 Economy
SINGAPORE - Media OutReach - 1 July 2022 - From 1 – 31 July, iShopChangi will be featuring one of its most exciting collaborations to-date, boosting its premier shopping destination for exclusives. Singaporean lifestyle influencer, Andrea Chong (@dreachong), has collaborated with BEAUTIQUE by iShopChangi to design an exclusive three-part merchandise range that is matched with some of handpicked skincare favourites in a specially coined Daily Rituals beauty collection.
July 01, 2022 | 10:00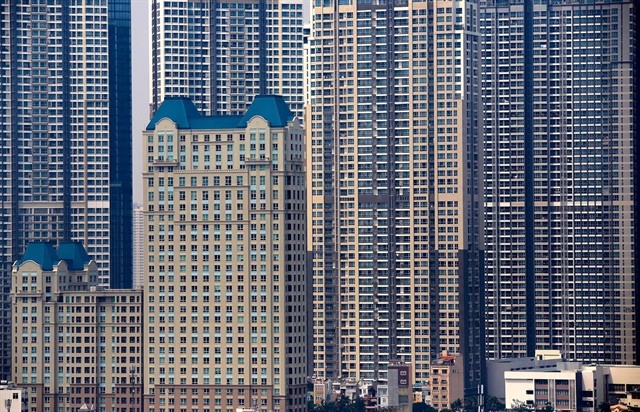 Economy
The United Overseas Bank (UOB) has revised up Vietnam's 2022 GDP growth forecast to 7.0% from 6.5%, assuming no further severe domestic disruptions from Covid-19, and projected growth of around 7.6 – 7.8% in the second half of the year (H2).
July 01, 2022 | 07:23