Vietnam, UK Discuss Cooperation Against Human trafficking
Vietnam and the UK recenlt held the first Immigration and Migration Dialogue, aimed at improving migration cooperation and combating human trafficking.
Vietnam and the United Kingdom held the inaugural migration dialogue on August 15 in Hanoi, the first of its kind, under the chair of UK Home Office Permanent Under-Secretary Matthew Rycroft and Vietnamese Deputy Minister of Public Security Senior Lieutenant General Luong Tam Quang. The dialogue is part of Permanent Under-Secretary Rycroft's two-day visit to Vietnam.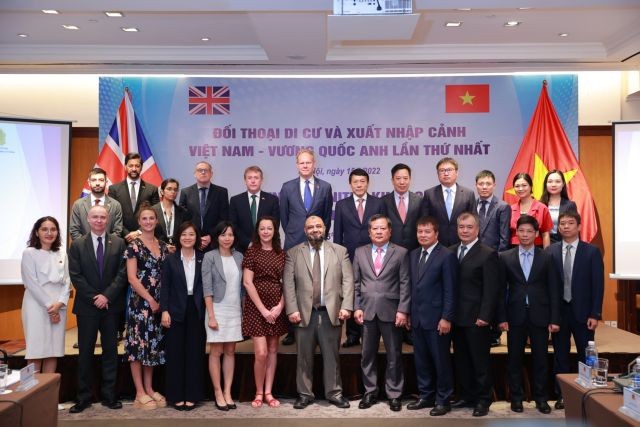 On August 15, Vietnam and the United Kingdom held the inaugural migration dialogue in Hanoi (Photo: VNA).
The topics of discussion between the two sides were communication on immigration and safe migration, migrant returns, the issue of fraudulent documents, updated policies on immigration as well as addressing human trafficking.
In the field of transnational security, leaders of the two sides regularly hold talks and exchange high-level delegations to share experiences and strengthen cooperation in preventing and combating transnational crimes, including crimes against immigration, illegal migration, and human trafficking, making an important contribution to promoting the cooperation relationship between Vietnam and the UK in general and the relationship between the Vietnamese Ministry of Public Security and the British Ministry of Home Affairs in particular.
The two sides also propose solutions to prevent illegal immigration and migration; encourage safe and legal entry and exit through communication activities, training to improve immigration capacity and information exchange; continue to maintain and improve the effectiveness of close cooperation in repatriation work.
The Permanent Under-Secretary Matthew Rycroft underlined the UK's continued interest in strengthening this collaboration with Vietnam, together addressing challenges and bringing mutual benefits to both countries.
"Apart from collaborations in trade, education, research, technology innovation, and climate change, tackling illegal migration and human trafficking is hugely important and mutually beneficial to both countries. We are committed to working together on ensuring safe and legal routes to the UK as well as protecting victims of human trafficking, and putting an end to this awful crime," he said.
In response, Deputy Minister Quang highly appreciated the close and effective cooperation of the UK authorities and the UK Embassy in Vietnam, which have implemented many cooperation activities to share experiences, support Việt Nam's immigration authorities, promote cooperation in the field of migration and immigration and receive citizens back within the framework of the Memorandum of Understanding between the two governments on migration and human trafficking prevention and control.
The Vietnamese official expressed his belief that this Dialogue would open many opportunities for the two sides to promote cooperation on migration and solve difficulties and challenges in the new situation.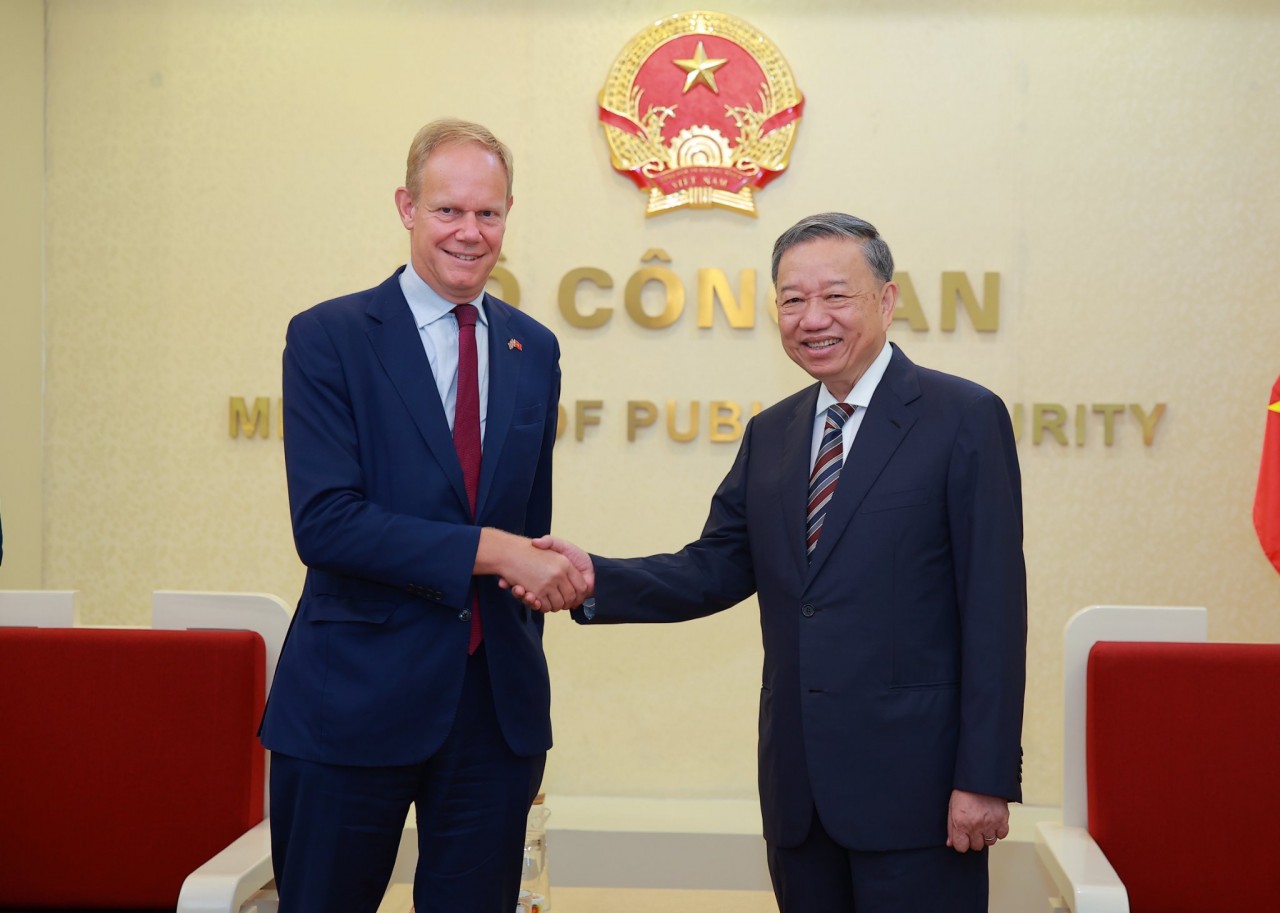 Vietnam's Minister of Public Security To Lam (right) and the UK Home Office Permanent Under-Secretary Matthew Rycroft (Photo: UK Embassy in Vietnam).
Continuing his two-day visit to Viet Nam, Rycroft had meetings with Vietnam's Minister of Public Security To Lam, Vice Minister of National Defence Hoang Xuan Chien, and Vice Minister of Labour, Invalids and Social Affairs Nguyen Van Hoi. The two sides discussed collaboration in tackling serious organized crime with a focus on human trafficking crimes.
During the meetings, the British diplomat underlined the effective partnerships fostered between the UK Home Office with the respective Ministries of Public Security, National Defence and Labour, Invalids, and Social Affairs of Vietnam. The two sides explored more opportunities to cooperate further in capacity-building in identifying, protecting, and supporting victims of human trafficking. Collaboration between Vietnam and the UK will also seek to increase skilled laborers to match market demand; reduce youth unemployment; and encourage employers' engagement in vocational training.
Vietnam placed third in the Top 10 nationalities that were referred into the UK National Referral Mechanism as suspected victims of human trafficking in 2021, which illustrates the dangers Vietnamese nationals may face as irregular migrants, vulnerable to exploitation, cited from the UK Embassy in Vietnam.
In 2021, the UK and Vietnam have a strong relationship on migration issues – from jointly investigating the lorry tragedy in Essex to securing three successful charter return flights admist the Covid-19 pandemic.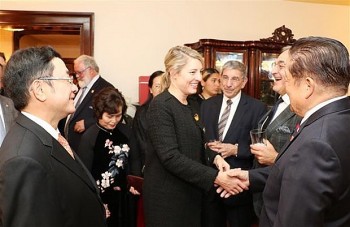 Friendship
Canadian Foreign Minister Melanie Joly believes in a prosperous future between Canada and Vietnam.