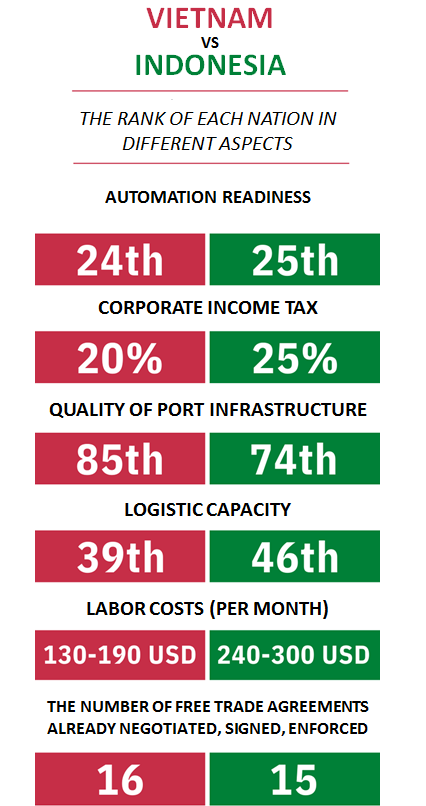 Photo: Cafef translated by Vietnam Times
Statistics suggest that Vietnam has an advantage over Indonesia with high readiness level of automation, low labor costs, attractive corporate income tax, and highly appreciated logistics capacity as well as more free trade agreements, especially the recent EVFTA.
However, the infrastructure in Vietnam is still considered inferior compared to that in Indonesia, which partly results from the broader coastal line of Indonesia.
"The process of granting investment licenses to foreigners in Vietnam is really convenient, which absolutely facilitates investors. If a foreign investor enters Vietnam, there are only 2 licenses that it needs to obtain, investment approval and business registration ", said the Ambassador of the Republic of Indonesia to Vietnam, Ibnu Hadi. "It is important for us to accelerate trade cooperation, for example through the Free Trade Agreement (FTA) and expand the market so that we do not fall behind", Mr. Hadi told CNBC Indonesia.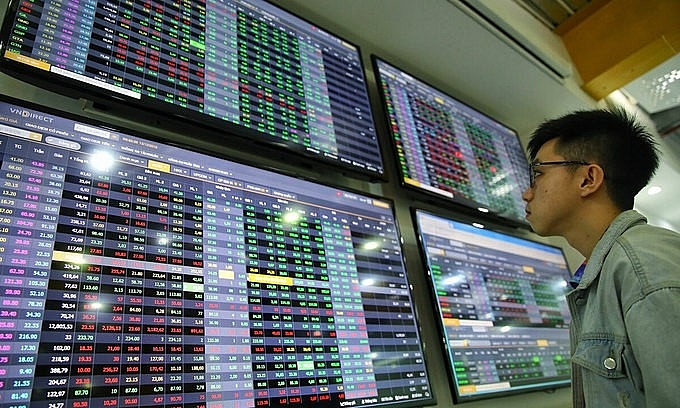 An investor looks at stock prices on the screens at a brokerage in Ho Chi Minh City. (Photo: Huu Khoa)
The period of April 2018 to August 2019 witnessed 56 manufacturers shifting away from China in which 26 manufacturers decided to move to Vietnam, 11 to Taiwan, 8 to Thailand and only 2 of them chose Indonesia as their destination.
As reported by CNBC, despite Indonesia's significant GDP growth rate compared to that of other robust economies, this Southeast Asian nation has not reached its full potential in attracting FDI, claimed by economic experts. This is the reason why this nation is referred to as "The Quiet Giant".
According to vnexpress, Vietnam's business has found opportunities with more and more enterprises rushing to the nation since the U.S. and China entangled in a nasty trade war as well as since the Covid-19 pandemic outbreak took place in China. Vietnam, therefore, has become a secure, less affected by the pandemic destination with a great deal of favorable policies from the State. It should be the time for Vietnam to shine and attempt to overcome its currently existing obstacles to replace China as the world's factory floor.
"Though hurting less than other Asian economies, the epidemic could drag down Vietnam's GDP growth by 0.41 percent to a seven-year low of 5.96 percent, the Asian Development Bank (ADB) has said. Last year's growth was 7.02 percent, the second-highest in a decade.
Annie Nguyen