Vietnam weather forecast next week
Vietnam weather forecast next week: heatwave to ease in the north
The scorching heatwave that have baked northern provinces during the past days is expected to ease as from July 20.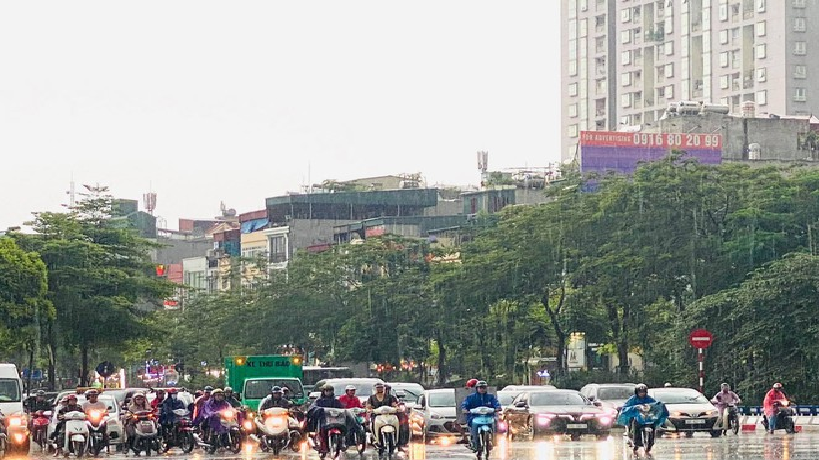 Rains are in forecast for northern provinces July 19 night (Photo: tienphong)
The scorching heatwave that have baked northern provinces during the past days is expected to ease as from July 20, with rains in forecast for tonight (July 19) and temperatures dropping by 4-5C to 34C.
However, the National Centre for Hydro-Meteorological Forecasting said the hot weather will resume in northern delta and midland provinces as from Thursday (July 23), with temperatures from 35-37C, even exceeding 37C in some places.
Downpours are forecast for northern mountainous localities, and Lai Chau, Dien Bien, Ha Giang, Lao Cai and Yen Bai provinces will face the risks of floods and landslides.
Several heatwaves will hit the north by the end of July but they are not too severe, with common temperatures from 35-37. More rains will come in August, helping to cool down the region.
Meanwhile, the hot weather is predicted to continue sweep the central region in the next days.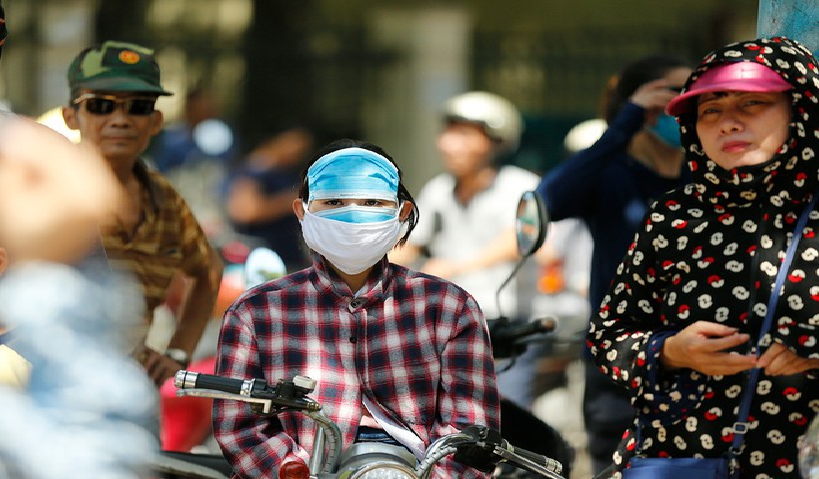 Hot weather to persist in central region till end of July (Photo: tienphong)
Hanoi weather forecast
According to the US's Accuweather, the capital city is forecast to experience temperatures from 27-34C on July 20, and 27-33C on July 21. The temperatures then increase by 1-2C each day.
Weather forecast for provinces from Thanh Hoa to Thua Thien Hue
The provinces will continue to face a widespread heatwave, with the highest temperatures hovering around 36-37C, evening reaching 38C in the western part of the north central region.
The hot weather is expected to dominate the central region until the end of July.
Weather forecast for southern and Central Highlands regions
Showers continue to lash the regions in late afternoon. Temperatures in the south range from 33-34C, and in Central Highlands, from 29-33.
Hot spells affect local production and daily life
The central provinces of Thanh Hoa, Nghe An and Ha Tinh continued to suffer high temperatures, badly affecting local production and daily life, VietnamPlus reported.
Thousands of hectares of rice have been lost because of the prolonged hot weather, while many rice fields have been abandoned due to lack of water. Saline intrusion was affecting many areas.
Thanh Hoa province had planted more than 112,000ha of rice out of total 116,000ha.
According to the Thanh Hoa Irrigation Sub-department, water levels in 241 out of 610 reservoirs have fallen, with some reservoirs drying up.
At present, 7,500ha of rice lacked water. The local authorities had to install hundreds of pumps to save the crops.
In coastal districts of Quang Xuong and Tinh Gia, the saline intrusion occurred along the Y and Hoang Rivers. Pumping water from the rivers to rice fields was risky.
In the difficult situation, the farmers were asked not to continue planting rice on the remaining fields.
Dang Tien Dung, Deputy Director of the provincial Department of Agriculture and Rural Development, said: "The remaining water was just used for the current rice fields. For areas at high-risk of water shortage, the local farmers should change to other crops."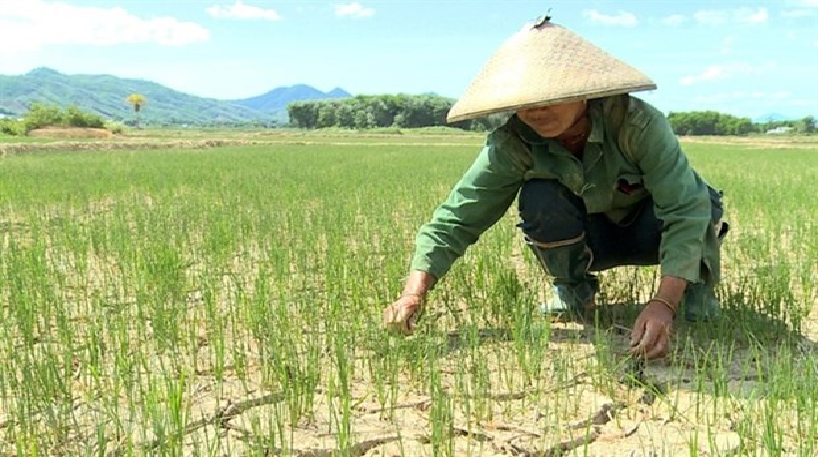 A farmer in Thanh Hoa province in her dried rice field. (Photo: vov.vn)
Meanwhile, in Ha Tinh province, the hot weather and drought had caused many crops to wither.
Huong Khe and Huong Son districts are the localities facing the worst drought.
The local government and agriculture and rural development department had carried out measures on drought control such as dredging canals and digging wells.
Similar to Thanh Hoa and Ha Tinh provinces, Nghe An had faced seven bouts of hot weather since earlier this year.
In May and June, temperatures hit 39.5 to 41.5 degrees Celsius. The heatwaves caused severe drought and water shortages, causing difficulties for residents.
So far, about 13,000ha of rice crop had lacked water because hundreds of dams, lakes and reservoirs was drying up./.