More rains to lash northern mountainous provinces
Vietnam weather this week: Three killed in floods in Ha Giang, more rains to lash northern mountainous provinces
More heavy rains are expected to battle the northern mountainous provinces of Lai Chau, Lao Cai and Ha Giang provinces in the coming days.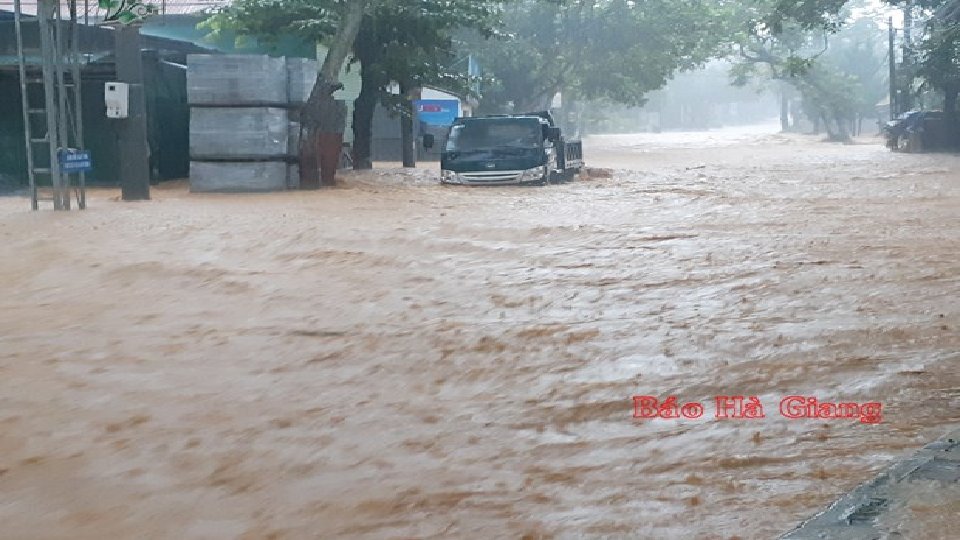 A flooded road in Ha Giang province (Photo: Bao Ha Giang)
More heavy rains are expected to battle the northern mountainous provinces of Lai Chau, Lao Cai and Ha Giang provinces in the coming days, according to the Central Steering Committee for Natural Disaster Prevention and Control.
Floods and landslides may also occur in these localities, the committee added.
Hanoi weather forecast
The National Centre for Hydro-Meteorological Forecasting said showers and thunderstorms are in forecast for the capital city on July 21 night and July 22. However, the city is set to endure another heatwave on July 23-24, with the highest temperatures from 35-37C, even passing 37C in some places.
According to the Intergovernmental Panel on Climate Change, Vietnam is expected to lose 5.7 percent of its GDP to excessive heat by 2030, with unprecedented temperatures costing it 85 billion USD in productivity loss, as the climate makes outdoor work near impossible in the summer months.
Weather forecast for central region
Hot weather will continue to ravage the region on July 21-24, with the highest temperatures from 34-37C. Provinces from Thanh Hoa to Quang Tri are forecast to face extreme heat with temperatures reaching 35-38C, even exceeding 39C in some places.
The UV index in Da Nang stays at 8-10 which threatens the health of the travellers.
Hot weather has caused acute shortage of irrigation water across the provinces, as well as a series of forest fires.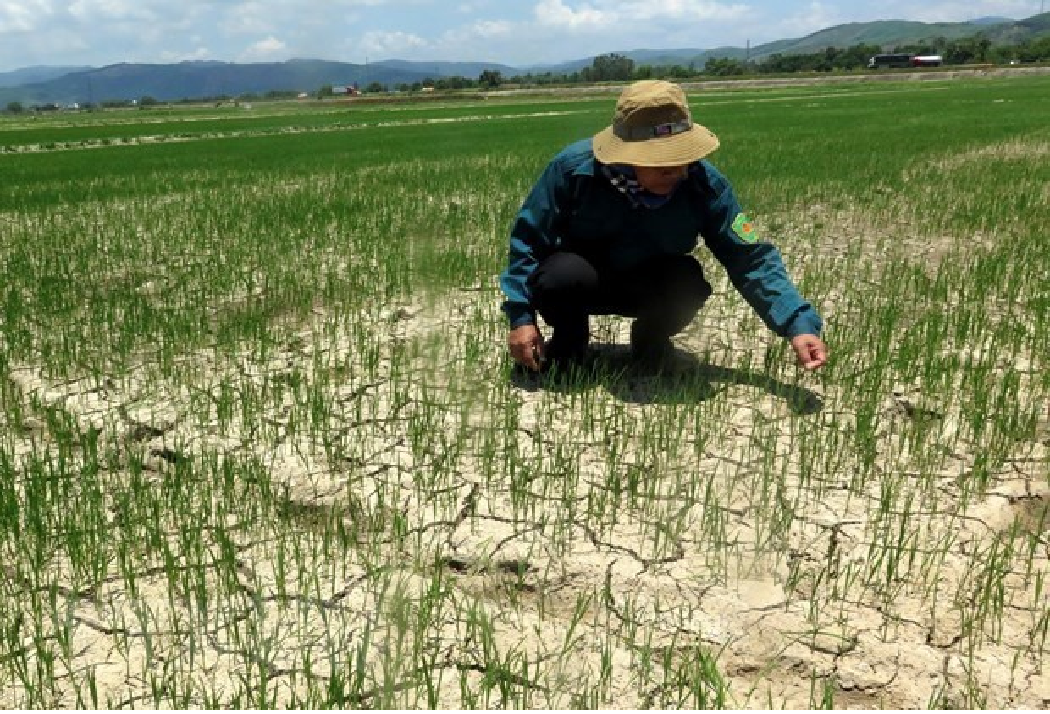 Many hectares of rice may be destroyed due to lack of water (Photo: VNA)
Close to 55,000 ha of crops in the central region are lacking in water, according to the Directorate of Water Resources at the Ministry of Agriculture and Rural Development.
Some 21,200 ha in the central and north-central regions are suffering from the effects of drought, primarily in the provinces of Thanh Hoa, Nghe An, Ha Tinh, Quang Binh, and Quang Tri.
A total of 8,200 ha has been narrowed or switched to other crops, while the figure is 25,300 ha in the south-central region.
The hardest-hit localities have been Khanh Hoa, Ninh Thuan, and Binh Thuan.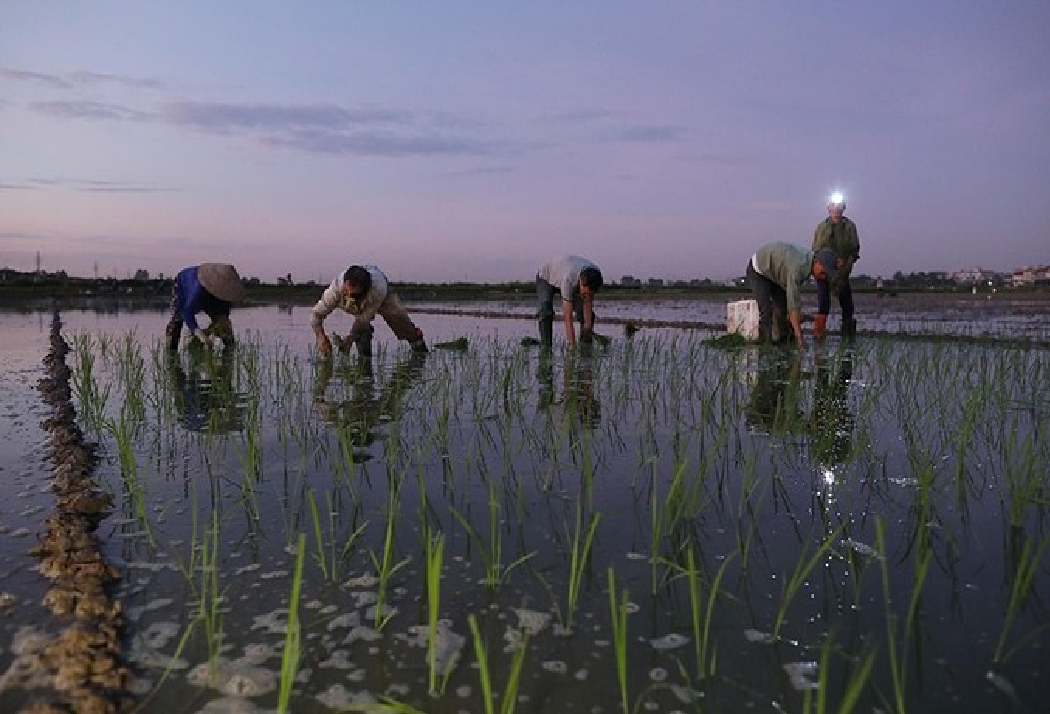 Farmers work on a paddy field during early hours to avoid the heat in Hanoi on June 25, 2020. (Photo: VnExpress)
Average capacity at reservoirs in the north-central region is forecast to stand at 36 percent of designed capacity by late July, the office has said.
In the peak of the 2020 summer-autumn crop, up to 30,000 plants will face water shortages, accounting for 6-7 percent of the total cultivation area.
Reservoirs in the south-central region are projected to provide sufficient water for the upcoming crop. Some locations along the Vu Gia - Thu Bon river basin in Quang Nam province and Da Nang and surrounding areas, however, may also be affected by saline intrusion, according to VietnamPlus.
Weather forecast for Central Highlands and southern regions
The Central Highlands and the southern regions will still have rains at night from July 21-27. The highest temperatures in the Central Highlands are 29-32 degrees and 31-34 degrees in the southern region.
Floods, landslides kill three in northern Vietnam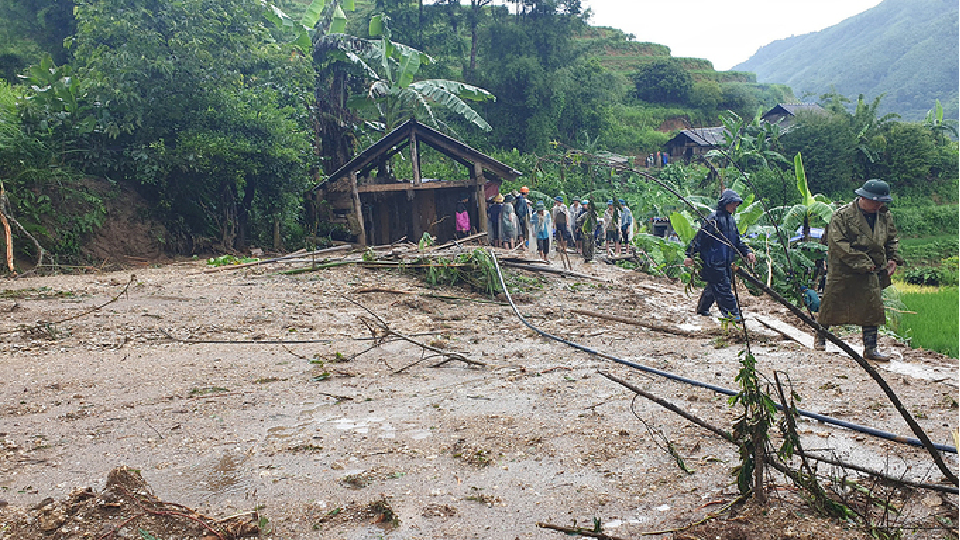 A small hut is left after most of a house has been buried under rocks and soil following heavy rains in house in Hoang Su Phi district, Ha Giang province, July 21, 2020. (Photo: VnExpress)
Several northern Vietnamese areas have seen heavy rains since last week, including Ha Giang and Bac Giang provinces, meteorologists said.
Three people in the northern mountainous province of Ha Giang died Tuesday (July 21) amid heavy flooding in the region due to prolonged rain.
A 44-year-old woman and her 15-year-old daughter were asleep in their house in Hoang Su Phi district when rocks collapsed onto the house at around 5 a.m. Authorities tried to rescue the two, but failed, VnExpress reported.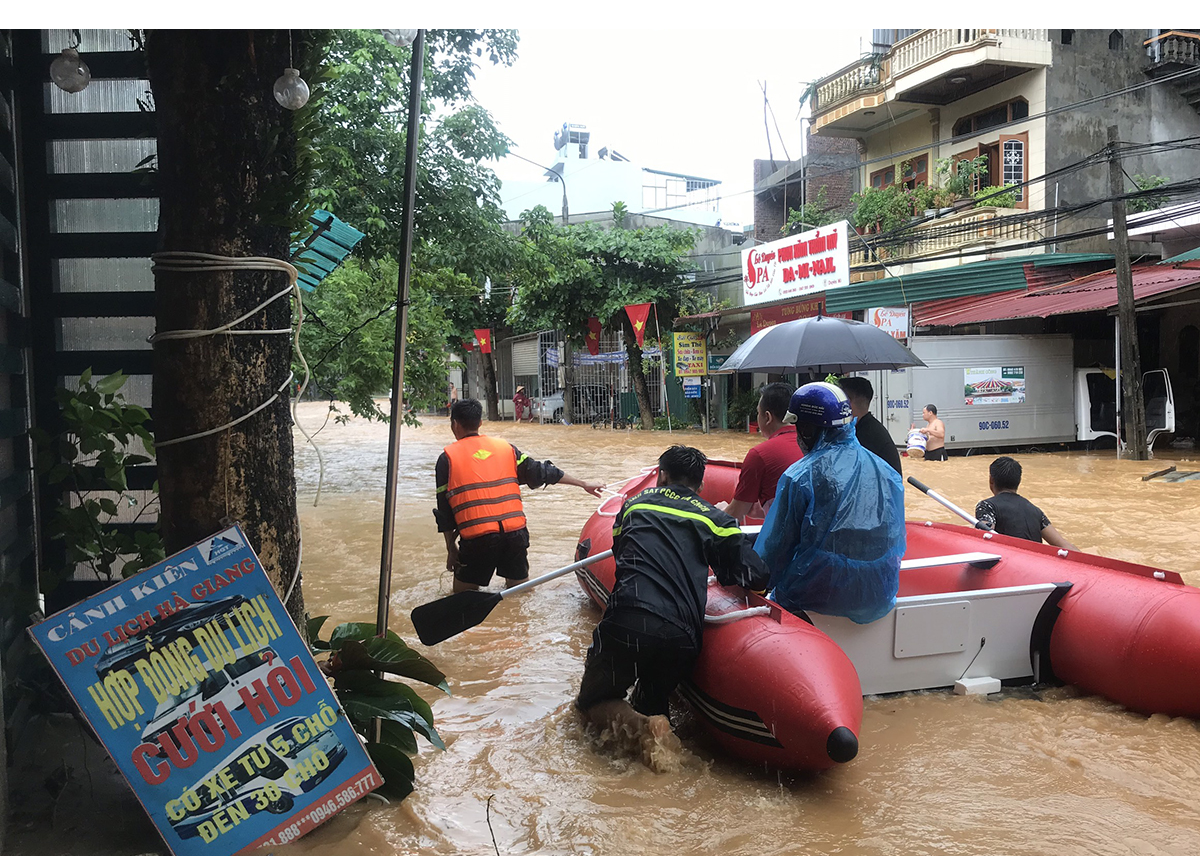 Ha Giang authorities evacuate locals from heavily flooded areas, July 21, 2020. (Photo: VnExpress)
Meanwhile, a truck passing a spillway in Bac Me district at around 7 a.m. slid into a nearby stream with the driver still stuck inside. Authorities had deployed bulldozers to recover the vehicle, only to find the driver dead. The truck was transporting minerals at the time of the incident.
Ha Giang town, the capital of the province, has experienced flooding the past three days due to heavy rains, causing traffic jams and landslides in several areas. Most streets were flooded about a meter deep, while cars could not traverse a section of National Highway 2 due to a collapsed city gate. Two cars were also swept away into the Lo River.
Meanwhile in Quan Ba district, about 50 km from Hoang Su Phi, heavy rains had also brought floods and landslides that buried several structures in Thai An Hydropower Plant, pausing operations./.