Vietnam Welcomes Unilateral Ceasefire By Central African Republic Government
Vietnam welcomed the declaration of a unilateral ceasefire by the Central African Republic government at the United Nations Security Council (UNSC) meeting on October 18 on the situation in the Central African Republic.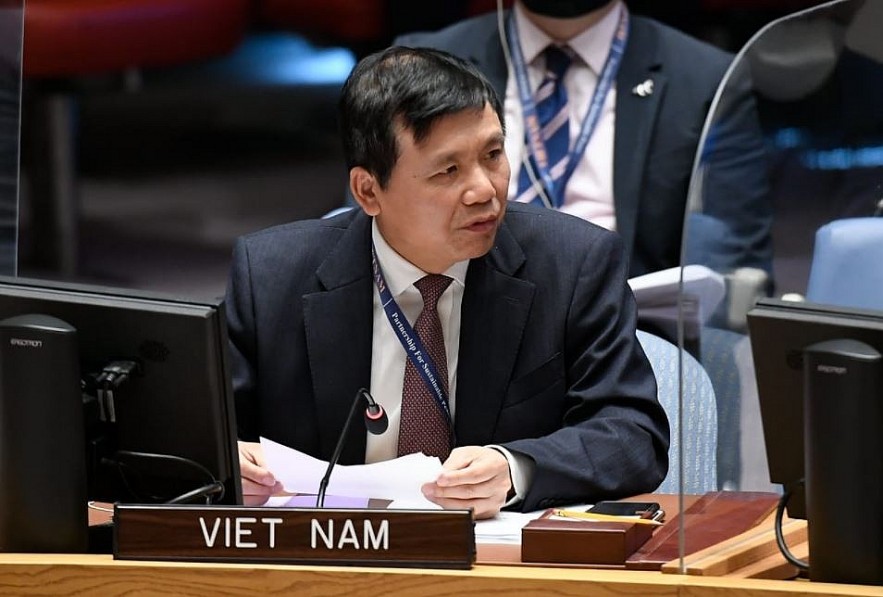 Ambassador Dang Dinh Quy, permanent representative of Vietnam to the UN (Photo: Baoquocte)
During the meeting with President Faustin-Archange Touadera with representatives of the African Union and the European Union in attendance, Ambassador Dang Dinh Quy, permanent representative of Vietnam to the UN, and UNSC members welcomed the unilateral ceasefire declaration by the Central African Republic's Government on October 15 and called on armed groups to issue similar statements.
The local diplomat expressed concern regarding the difficulties facing the people of the Central African Republic amid challenges caused by insecurity, poverty, loss of homes, and sexual violence taking place in conflicts.
In order to ensure lasting peace, Ambassador Quy called on concerned parties to promote trust-building and dialogue exercises, while also highlighting the importance of regional cooperation in a bid to address the root causes of conflicts.
He added calls for increased international support to citizens of the African nation for the sake of stability and development.
Reporting to the UN Security Council, Mankeur Ndiaye, special representative of the UN Secretary-General and Head of the UN Multidimensional Integrated Stabilization Mission in the Central African Republic (MINUSCA), announced the results of the International Conference on the Great Lakes Region (ICGLR) which was held on September 16.
During the conference, ICGLR countries adopted a joint plan for peace in the Central African Republic, which ultimately called for a ceasefire in order to promote the peace process.
On that basis, the President of the Central African Republic declared a unilateral ceasefire nationwide on October 15 whilst expressing a wish to accelerate the implementation of the Peace Agreement and strengthen dialogues.
According to the special representative, the security situation in the Central African Republic remains fragile due to continued fighting between the country's army and the gathering of armed opposition groups since the beginning of the presidential election process which took place in late December of last year.
Insecurity and the severe impact on socio-economic development are therefore worsening the humanitarian situation in the nation. As a result, it is estimated that currently 3.1 million people, or 63% of the national population, are in need of humanitarian assistance.
Upon addressing the meeting, Central African Republic President Touadera emphasised that the recent ceasefire declaration aims to "open the door" for dialogue and negotiations in order to find a long-term political solution to the situation in the African country.
President Touadera announced the Government's commitment to carrying out the Peace Agreement, promoting legal reform, and implementing security force reform schemes. He also called on the UNSC to pay closer attention to and support the Government and people of the Central African Republic during this period.
VOV