Vietnam works to tackle alarming smoking issues
Every year, Vietnam records approximately 40,000 smoking-related deaths. The figure is forecast to hit 70,000 in 2030.
Support hotlines have been set up and a tax hike has been mooted to tackle smoking in Vietnam, where more than 100 people are killed by smoking-related diseases per day.
In 2015, Vietnamese smokers spent VND 31 trillion (USD 1.36 billion) on tobacco, while total treatment expenses for smoking-related diseases exceeded VND 23 trillion (USD 1.01 billion).
Experts believe the low prices of tobacco products are the main cause leading to its widespread use. An average tobacco pack is sold in Vietnam at fewer than VND 20,000 (USD 0.87), with the lowest price of VND 6,000 a pack. According to the World Health Organization's 2017 data, Vietnam was among 15 countries worldwide with lowest prices set for tobacco.
Smoking-related data in Vietnam
The low prices result from the country's small tax on tobacco. The tax per retail price in Vietnam is about 35 – 40 percent, compared to the world average of 56 percent and the WHO's recommendation of 70 percent.
The Ministry of Health has proposed raising the tax on a pack of cigarettes to VND 2,000 (USD 0.088).
Meanwhile, the draft law on Special Consumption Tax, which will come into effect in 2020, plans to put a tax of VND 1,000 (USD 0.044) on a pack of 20 cigarettes or increase the tax from 75 to 80 percent of the tobacco's price from 2020 onwards and from 80 to 85 percent from 2021 onwards. Currently, tax on tobacco products is 70 percent of the price set by producers.
The taxation policy aims to gain additional tobacco tax revenue of VND 6.3 trillion (USD 280 million) per year, decreasing the rate of male smokers by three percent and reducing 300,000 early deaths caused by smoking.
According to the latest report from the Ministry of Health, all 63 provinces and cities in Vietnam have developed non-smoking areas, while 1,200 training courses on non-smoking have been held.
Smoking bans were instituted at 1,200 schools nationwide, and 51,000 laborers have given up smoking.
Since 2016, the Tobacco Consequences Prevention Fund under the Ministry of Health has assisted the operation of free hotlines supporting cigarette addicts at Bach Mai hospital in Hanoi and Gia Dinh People's Hospital in Ho Chi Minh City, while helping eight other health facilities run consultations for people who want to quit smoking.
In 2017, more than 7,000 phone calls were placed for help on smoking addiction, while 8,400 patients were treated for cigarette addiction at nine hospitals./.
( VNF/VNA )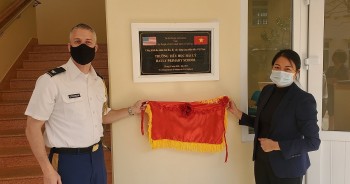 Friendship
US built school in a commune of the Red River Delta province of Nam Dinh