Vietnamese-American veterans meeting shines the light of healing
Standing shoulder to shoulder to sign on a flag carrying the message of reconciliation, handing gifts to former adversaries, sharing ideas of how to heal the wound of war together, etc, these are touching moments of a recent Vietnam-US veterans meeting.
The meeting was jointly organized by the Vietnam-USA Society (VUS) under the Vietnam Union of Friendship Organization (VUFO) and Valor Administration, an organization dedicating to assist American veterans in seamlessly reintegrating with society.
The six veterans, together with other five members and partners of Valor are on a visit to Vietnam from October 31st to November 11th.
In the afternoon of November 3, they took part in a roundtable themed "Vietnamese and American veterans: Lessons from the past, building a better future".The event brought them the chance to meet face-to-face with Vietnamese former officers and soldiers of different units and family member of a fallen hero.
Among the six US veterans coming to Vietnam, there are three former soldiers from the 173rd Airborne Brigade (ABN), which was considered US's most decorated military unit. 173rd ABN was the first American unit arriving in Vietnam and also the last one that left Vietnam after the war.
Each veteran has a unique memory of Vietnam. Some have been back to the country for many times after the war, even earlier than the Vietnam-US relations normalization took place, such as Head of the delegation, Sergeant Paul Reed (71 years old); whilst some have never been back to Vietnam since the end of the war, like Lieutenant Colonel James Williams, who was shot down by a Vietnamese pilot in 1972.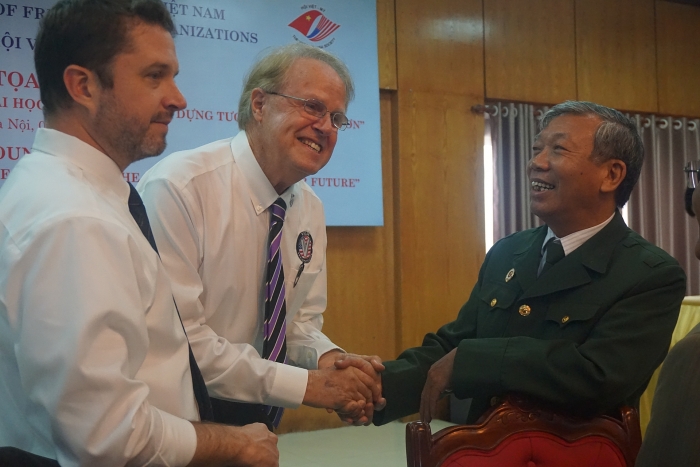 Head of Valor delegation, Paul Reed (middle) and his son in a delightful talk with Brigardier Nguyen Van Han, President of Thai Binh province's Veterans Association (right). When he was based in Kon Tum (Central Highland), Paul came across a diary of a Vietnamese soldier named Nguyen Van Nghia by chance. After returning to US, Paul tried to find the owner of the diary and traveled to Thai Binh province, Nghia's hometown to hand over the diary to him in 1993. As Nghia was struggling with several health issues, Paul has used his own money and mobilized supports from other US veterans to take Nghia to US for treatment.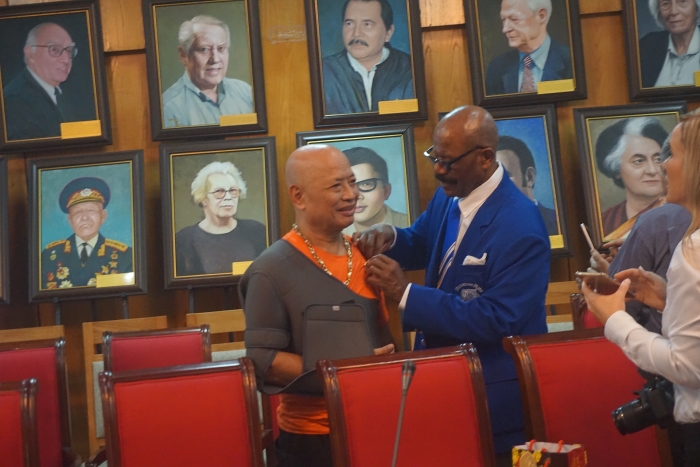 Despite he was a pilot in the Vietnam war, to James Williams, Vietnamese soldiers were never enemies, as "I understand they were fighting to defend their country". In the picture, James is presenting a symbolic pin of his unit to the heroic pilot Nguyen Hong My, the one who shot down the first F4, the most formidable jet flighter of US in January 1972
In this visit, the Valor delegation has prepared gifts for the Vietnamese veterans, who used to be their adversaries and now have become friends.
In nearly 50 years, veteran Pham Cong Huong has been relentlessly searching for the remains of his 16 comrades killed in a battle in Kham Duc airport, August 1970. He brings to the gathering photos capturing the scene of the fight, seeking support from US veterans for his searching effort.
In their visit to Vietnam, the US veterans bring with them two flags of ABN 173, and sincerely invite the Vietnamese veterans to join them to sign on these flags.
President VUS Nguyen Tam Chien (left) helps translate for a conversation of Vietnamese and American veterans.
( P.Y )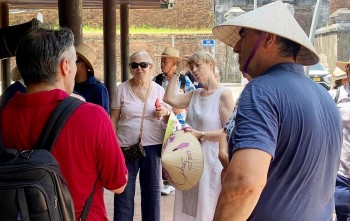 National
Vietnam News Today (Mar. 29): Vietnam to issue e-visa to foreigners of all countries; Vietnam, China beef up defence ties; Outbound tours prove popular during April holiday; Vietnam International Travel Mart 2023 to spotlight cultural tourism.