Vietnamese Animation Entertains Chinese Audiences
The famous animated film Wolfoo, produced and copyrighted by Sconnect Vietnam, has officially been licensed by the China National Radio and Television Administration to broadcast on television systems throughout the territory of the country of billions of people.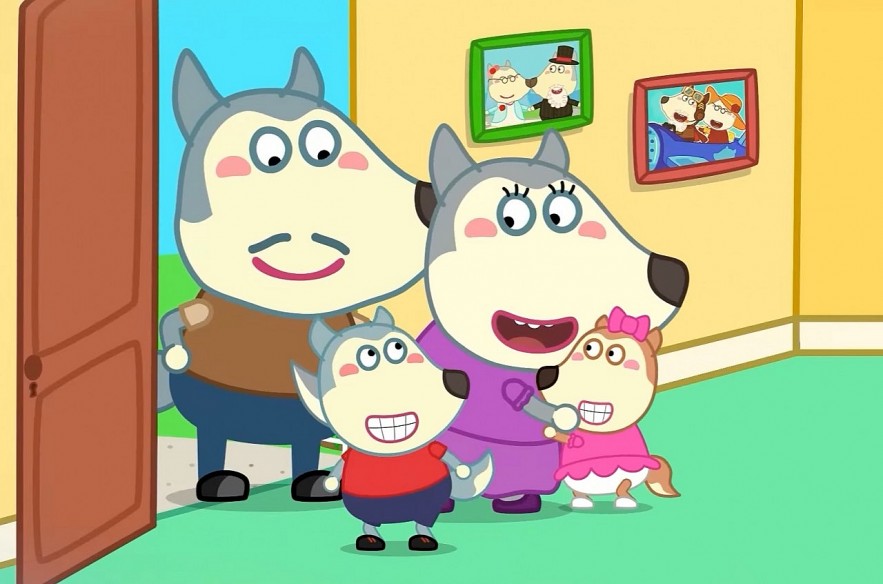 The Wolfoo wolf animation is licensed to be shown on television in China. Photo: Sconnect Vietnam
According to the animation distribution license issued on September 1, 2023, the animated film "Wolfoo Happy Family" is approved to broadcast on television nationwide in China, with a duration of three minutes per episode, with 100 episodes.
Before appearing on Chinese television, Wolfoo was broadcast on more than 40 VOD, OTT and IPTV platforms in the world's most populous country, including Huawei, Wechat, Tencent Video, iQiYi, SkyWorth, Youku, Kidslearn.
Since 2015, China's State Administration of Press, Publication, Radio, Film and Television issued censorship regulations for all foreign programs broadcast in the country.
Accordingly, foreign programs that want to appear on Chinese television must register with management agencies and undergo an extremely strict censorship process to ensure healthy television content according to their standards.
Wolfoo is an animated film released by Sconnect since 2018 in the US market. Immediately after that, the film quickly won the love of a large audience of children around the world.
Currently, the film has 3,700 episodes, translated into 20 languages and is being broadcast on many social networking, television, and OTT/IPTV platforms in many countries. Wolfoo has more than 100 million regular viewers and reaches an average of more than three billion views per month, of which the largest audiences are in the US and Europe, China, and India.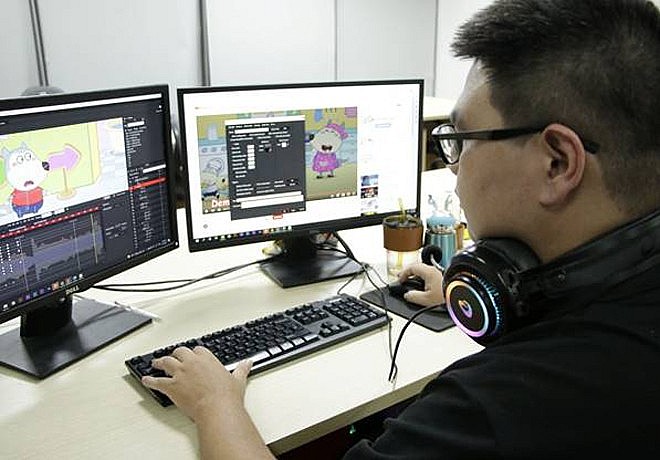 Wolfoo is produced at Sconnect's studio in Hanoi. Photo: VNN
China is the most populous country in the world. The fact that a "Made in Vietnam" animated fil conquered the Chinese market marks an important development of the Vietnamese animation industry.
"Chinese children love the animated film Wolfoo," said Brie Yan, Leadjoy's global marketing director, Sconnect's strategic partner in the Chinese market.
"Not only Wolfoo, other famous Sconnect cartoon character sets such as Max's Puppy Dog, Fairy Tales, Lego, Doll Crafts or Tiny Claymixer are also being distributed by Leadjoy on nearly 40 Chinese VOD, OTT and IPTV platforms," Brie Yan said.
As a film with a combination of entertainment and educational content for children aged 3 - 8 years old, the stories in the film revolve around Wolfoo's life with family and friends, meeting 12 standards for comprehensive capacity development for young children.
Sconnect constantly researches and improves products suitable for the mental and physical development of children globally. Therefore, it is trusted by parents in many countries.
After the success of Wolfoo 2D, currently, Sconnect is focusing on investing in high-quality Wolfoo 3D products with animation and music product lines, expanding cooperation to develop franchise products, and high-class entertainment area.
Being allowed to appear on Chinese television is a big step for Sconnect on the path of bringing Vietnamese intellectual products to conquer international audiences.
This is a testament to the quality and educational value of Wolfoo, which is fully capable of conquering audiences around the world. It is also a huge advantage for Sconnect to achieve its goal of developing the Wolfoo ecosystem in China.
Sconnect also owns 13 sets of animated characters, applying today's most advanced technologies such as 2D, 3D, 2D Frame by Frame, Stopmotion or Live action. The company's development orientation is to build a comprehensive ecosystem for the digital content creation community, promoting the development of Vietnam's industry and reaching out globally.