Vietnamese artisan who walks through history
Quynh Boissez, a Vietnamese-French writer and translator, had her interest piqued six years ago after receiving a gift from a friend in Hanoi: a pair of rubber sandals made from old Boeing 747 tyres with her name carved on to one of the straps. Since then, whenever she has had the chance to visit the capital, she makes sure she buys some sandals for herself and her family and friends.
Artisan Pham Quang Xuan has spent most of his 80 years making sandals from rubber tyres.
Artisan Pham Quang Xuan (source: An ninh tien te)
'The "Uncle Ho" rubber sandals are not only of great historical significance but are also very beautiful, durable and friendly on the environment, as they are made from used aircraft or car tyres,' she said. 'They also have adjustable straps you can loosen or tighten for comfort.'
The sandals were the favoured footwear of President Ho Chi Minh and so became known as 'Uncle Ho sandals'. All these years later, the amazingly durable footwear remain popular among adventurous Vietnamese and foreign travellers.
Rubber sandals in the past (documentary)
Rubber tyre sandals were used extensively by liberation forces during Vietnam's wars with France and the US from the mid-1940s to 1975. In the face of equipment shortages, soldiers turned old truck tyres into footwear and quickly saw how better they were suited to jungle warfare than boots.
Vietnamese jungles are harsh environments and only rubber sandals outlasted the weather conditions. Not only lightweight and perfect for walking through mud and water, they also offered protection from barbed wire and fire.
A life making sandals
Pham Quang Xuan is the only 'artisan' in Hanoi still making rubber tyre sandals. It takes him just 30 minutes to put a pair together by hand. He prefers used Boeing 747, 777 and 787 tyres or tyres from the giant trucks that carry coal in Quang Ninh province. For his talent, he's often referred to as the 'King of Rubber Sandals'.
His story began in 1960, when, as an 18-year-old, he began working at the Truong Son Tyre Sandal Factory in Hanoi. 'The factory made its sandals on a production line,' he recalled. 'Those who cut up old tyres did that all day, those who shaped the sole did nothing else, and those who inserted the sandal straps had only this job to do.' Curious and hardworking, he watched others work when he could and picked up all of the steps involved. He then became probably the only person who could make a pair of rubber sandals from beginning to end.
The end of the 'trend' of wearing rubber sandals came in the mid-1980s, as competition came from plastic sandals made mostly in the south of the country. With the end of his career in the rubber sandal-making business, Mr Xuan then worked as a mechanic, a clock repairer, and an interior decorator. In his spare time, though, he still made sandals for his children and relatives and, sometimes, for actors playing Uncle Ho in films. He officially returned to the business in 2010, adopting the brand name 'Vua dep lop', or 'King of Rubber Sandals'. His sandals have increased in popularity and are sold widely online in Vietnam and overseas.
'The best sandals are made from recycled front tyres on Boeing aircraft,' he explained. 'This tyre is still nice and glossy because it only runs on smooth parts of the runway.' The soles are usually 1.5 to 2.2 cm thick and at first glance look deceptively thick and heavy. But their elastic straps mean they actually feel quite light and comfortable.
Rubber sandal made by Pham Quang Xuan (source: depcaosu.com)
He makes about 40 types of rubber sandals and slippers, but the 'Legend' line is the most popular. This series consists of seven types. The 'Uncle Ho 1947', with or without straps, are for men only. Uncle Ho wore this type for more than 20 years, from 1947 until his death in 1969. It became so famous that even the Americans called them 'Ho Chi Minh sandals'. Replicas are only display at museums around the country and at the President Ho Chi Minh Palace in Hanoi.
The 'Dien Bien Phu' sandals, meanwhile, were worn by Vietnamese soldiers during the battle against the French at Dien Bien Phu in 1954 and has four straps, making them suitable for pulling artillery through jungles. The 'Khe Sanh' sandals, also with four straps and for men and women, was popular around 1968, while the '1975 Liberation Sandal' has five straps and were worn by soldiers in the days leading up to liberation on 30 April 1975. There are also some sandals and slippers in other colours, not just black.
'I was determined to keep this craft going to show how hard-working and meticulous Vietnamese people are,' Mr Xuan said. 'I also hope that young people will be more aware of the country's struggle to protect its sovereignty and gain independence.'
Despite his age and with help from his son and nephew, he still spends several hours a day carving out sandals from rubber of suitable thickness then cutting and trimming the edges and soles. He's not sure, however, how many more years he can continue making the sandals, as finding youngsters interested in learning the craft has been difficult./.
( VNF/The Guide )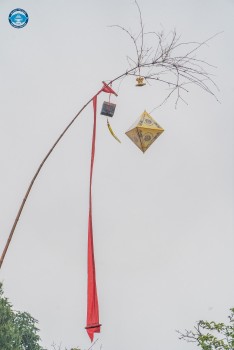 Viet's Home
In the past, the Neu pole (a tall bamboo pole with red garment strips used to ward off evil spirits during the lunar New Year) lowering ceremony at the royal palace of the Nguyen Dynasty was performed to mark the end of the New Year holiday and prepare to enter a new working year.