Vietnamese Artist Showcases Stories of Japan Through Photography
The exhibition "While in Japan" by Hai Thanh presented 94 photos of colorful, candid moments from Thanh's personal experience with his trusty camera in the foreign land.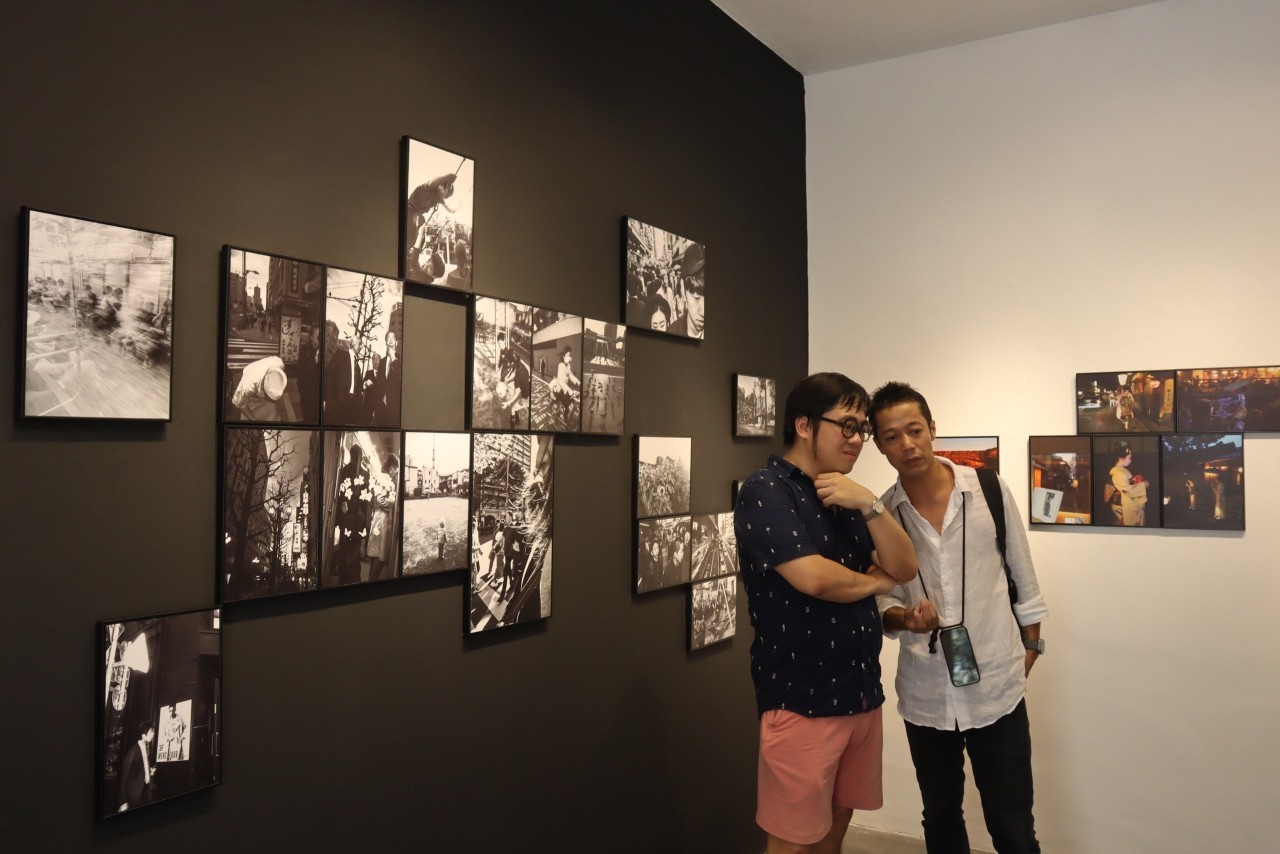 Visitors at the "While in Japan" Photography exhibition by Hai Thanh (Photo: Tran Hanh)
Photographer Hai Thanh said at the opening of the exhibition that there are 94 photos displayed, which are all personal views from the authors when travellling to Japan in 2016, 2018 and 2019.
"Those are the experiences I had from being able to live a quiet, everyday life like a Japanese," said Thanh.
Profile on Photographer Hai Thanh
Hai Thanh is a Hanoi-born independent photographer currently based in Ho Chi Minh City. He got a bachelor's degree in graphic design at the Hanoi Industrial Fine Arts University in 1996 and worked in the industry for a couple of years afterward.

Photography in the beginning was just one of his hobbies, but with time, it became his key medium for self-expression and communication of his messages to society. After a stint as a freelance photojournalist for local and international news agencies and participating twice (in 2007 and 2010) in the Indochina Media Memorial Foundation (IMMF), an organization dedicated to improving photojournalism knowledge and skills for young Vietnamese photojournalists across the country, Hai Thanh became a professional photographer.

Hai Thanh is now devoting much of his time to organizing workshops for amateur and professional young photography lovers. Since starting his photography career in the early 2000s until now, Hai Thanh has held numerous group and solo exhibitions in Vietnam and abroad to critical acclaim.
The strong impressions of the first time visit to Japan made Thanh want to come back, to see and learn more about the lifestyle, the urban landscape, as well as the order and logic, harmony and opposition in everyday settings. Most of the photos are taken in Tokyo.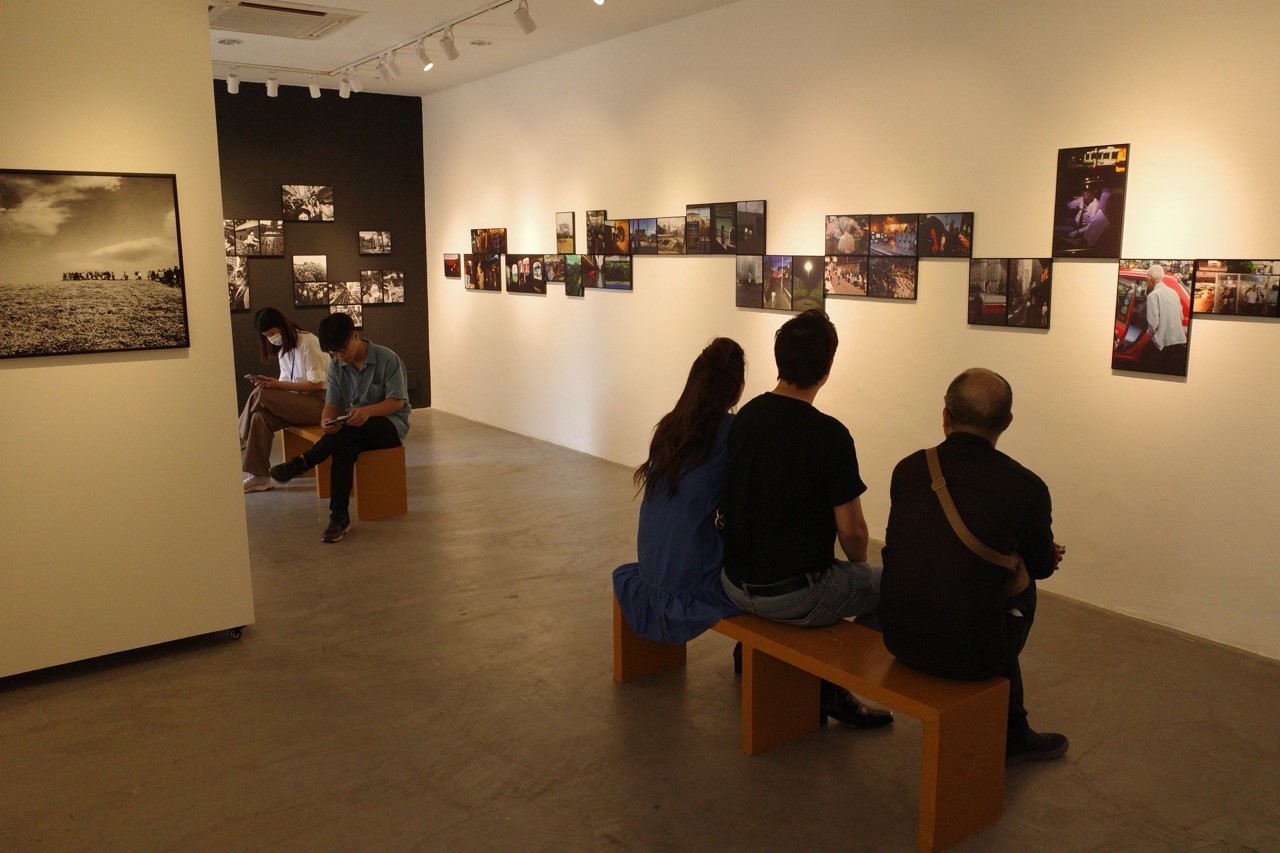 Photo: The Japan Foundation Center for Cultural Exchange in Vietnam
"I took photos of several other places besides Tokyo, but the capital left a big impression on me, because many diverse cultural colors, not framed by any form or rules expression can be found nowhere esle [but Tokyo]," exclaimed Thanh.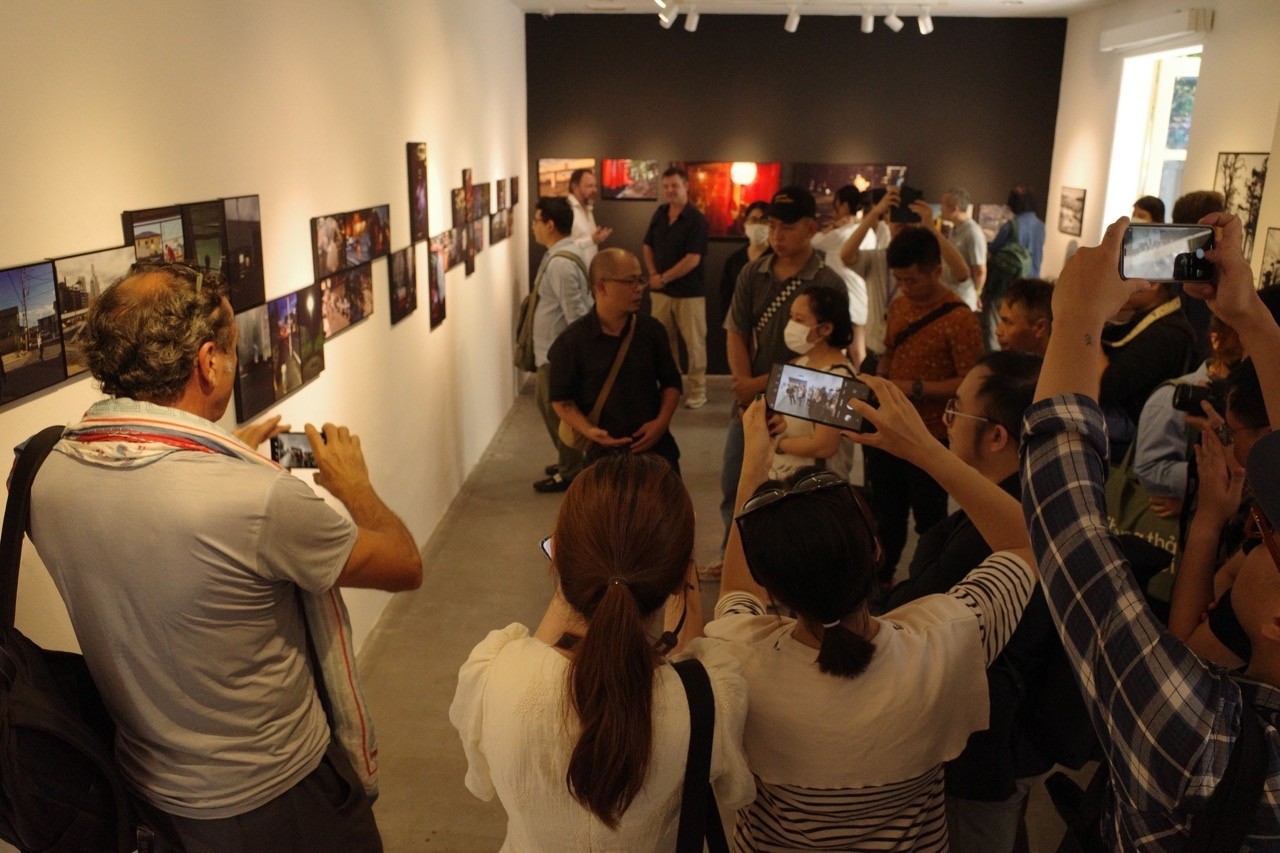 Photo: The Japan Foundation Center for Cultural Exchange in Vietnam
"While in Japan" is also Thanh's message to people that there are many more unique beautiful moments in Japan other than what is often seen through the mainstream media.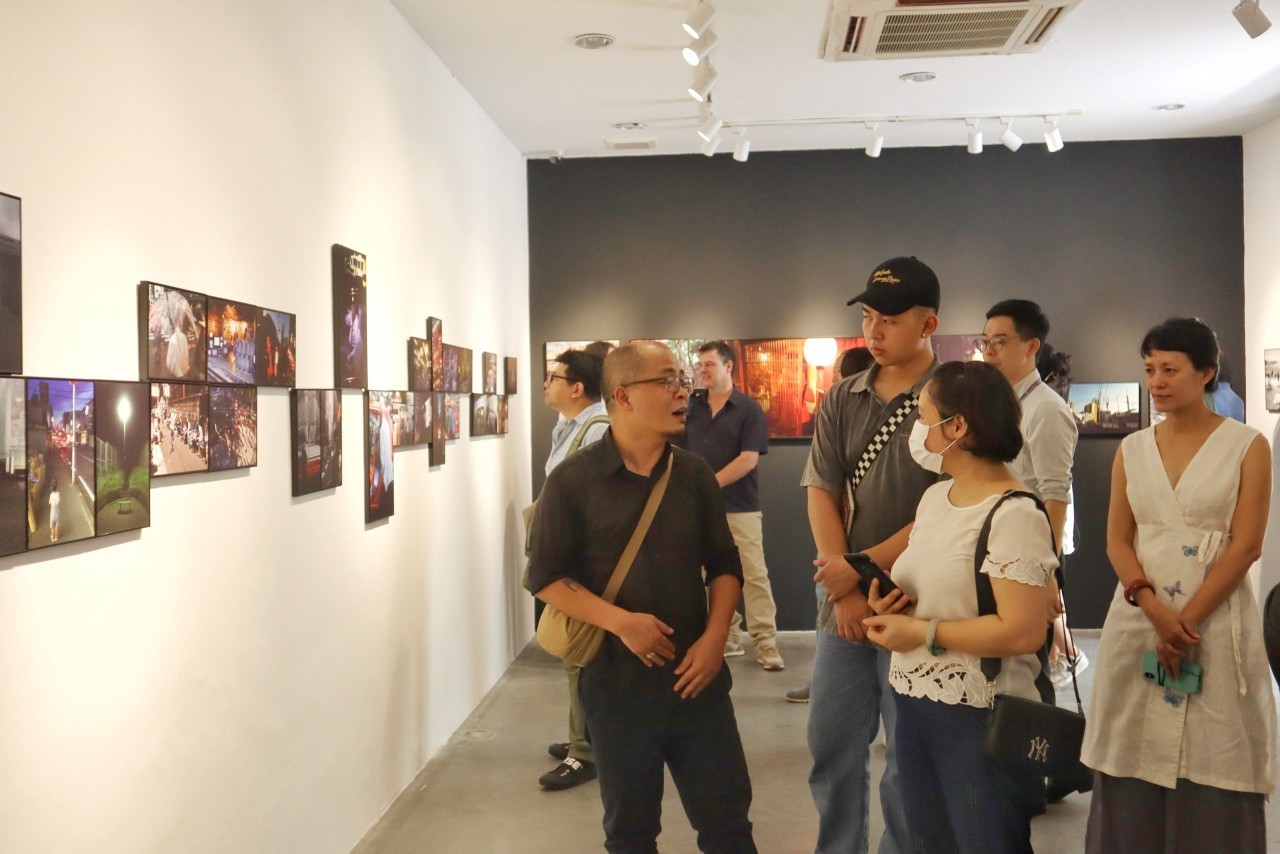 Photo: Tran Hanh
"I want to share my experiences with viewers and if you have the opportunity, please come to the place to feel it firsthand", said the photographer.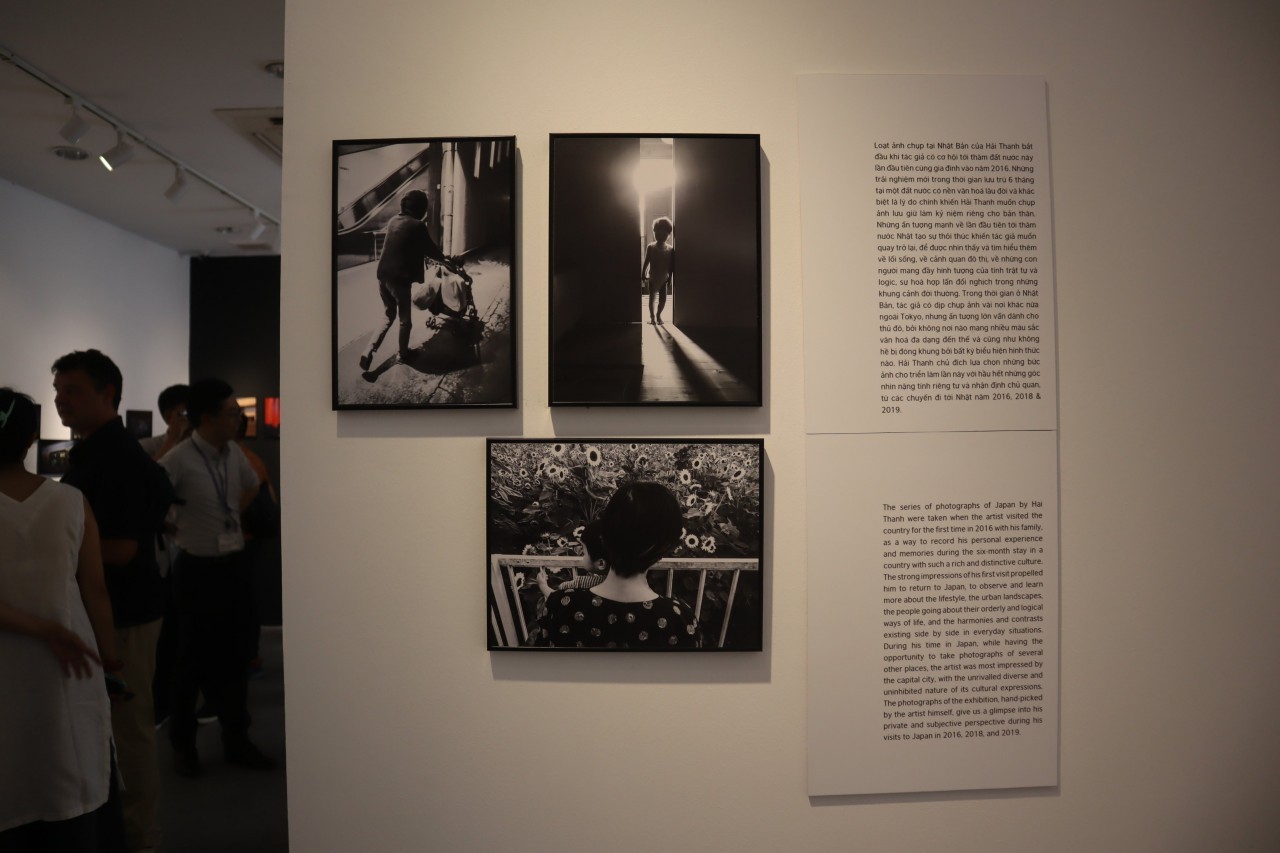 There is only a general introduction of the exhibtion (Photo: Tran Hanh)
Another interesting thing about 94 photos in the collection is that none of them are titled. Since the photographer's inner thoughts is reflected in the arts, viewers are encouraged to do the same by viewing, asking themselve questions and answering them.
Photo: Tran Hanh
At the opening ceremony, Director of the Center for Japanese Cultural Exchange in Vietnam Doi Katsuma said that the Center organizes many exhibitions not only from Japanese artists but also from Vietnamese artists. He hoped that, through the photos of photographer Hai Thanh, the public can know many aspects of Japanese culture, especially the creativity of Japanese culture.
Photo: Tran Hanh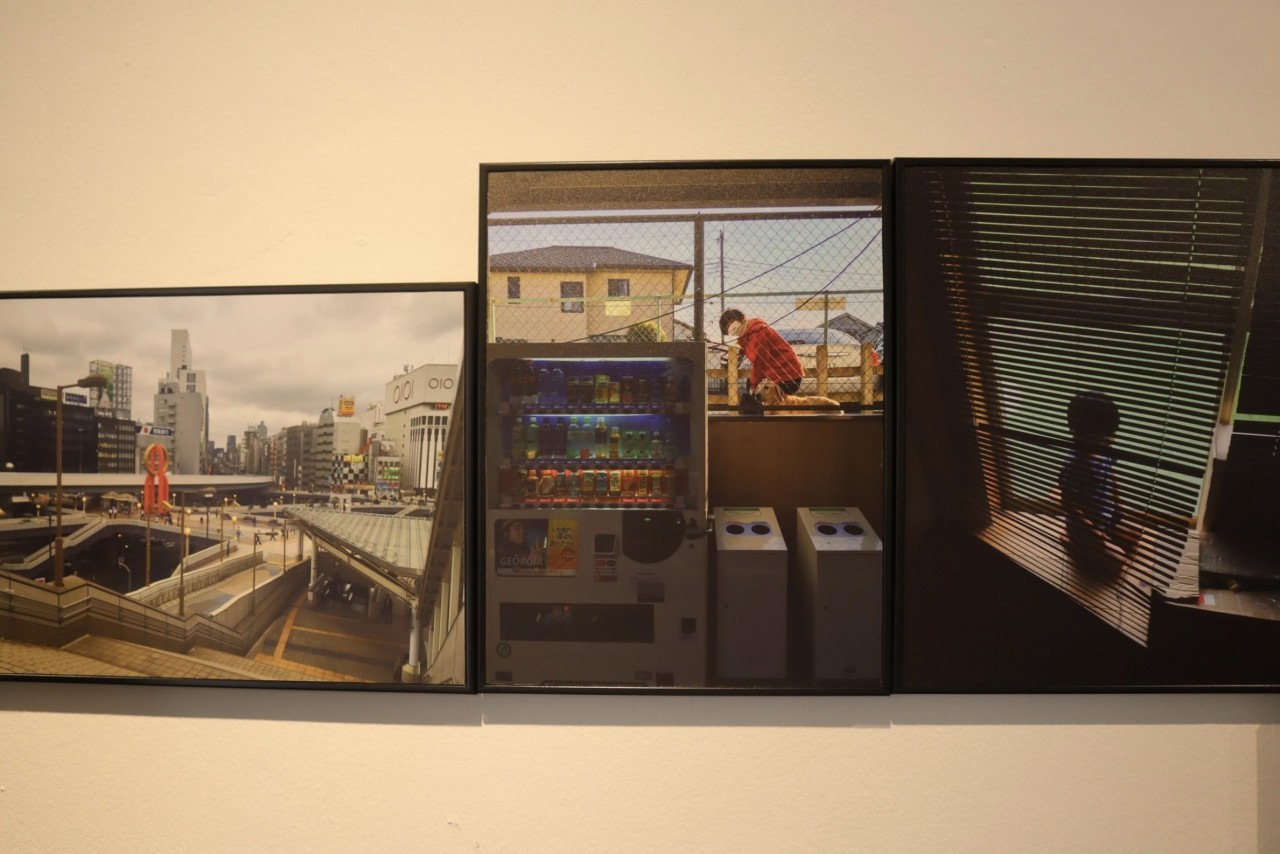 Photo: Tran Hanh
As the side event of the exhibition, photograher Hai Thanh and the Center for Japanese Cultural Exchange in Vietnam co-hosted a "porfolio review" (PR) in the afternoon of May 21. There were about 10 participants, mostly immature or hobby photographers.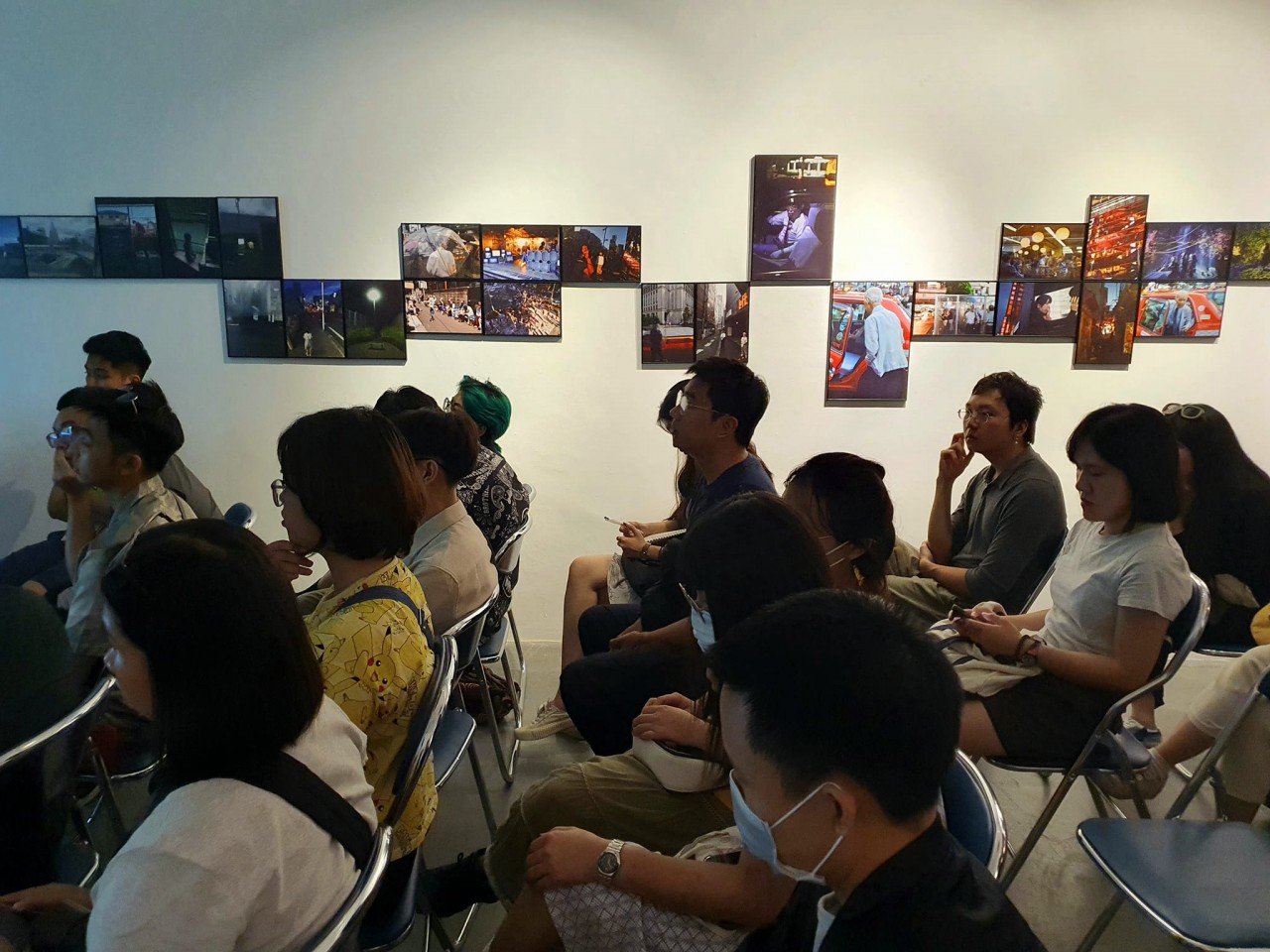 At the porfolio review (Photo: Facebook Hai Thanh)
The general formula of PR is that one or several experts with diverse photography experience join the consulting team.
For 3 hours, each participant showcase a collections of photos to the host and discussed the stories behind. Photographer Hai Thanh spent 20-25 minutes each to review the collections and have Q&A session with the participants.
The host said that the number of participants was higher than expected but the result was positive thanks to the lively participants. They are encouraged to work on not only skills, said Thanh, but also research to find their own styles and voices through photography.
'Portfolio review' is a popular professional activity in the photographic industry, especially at events such as photo festivals, exhibitions, seminars…that calls for authors to bring their work (completed or in progress), to meet with experts to review, discuss and receive suggestions for improvement.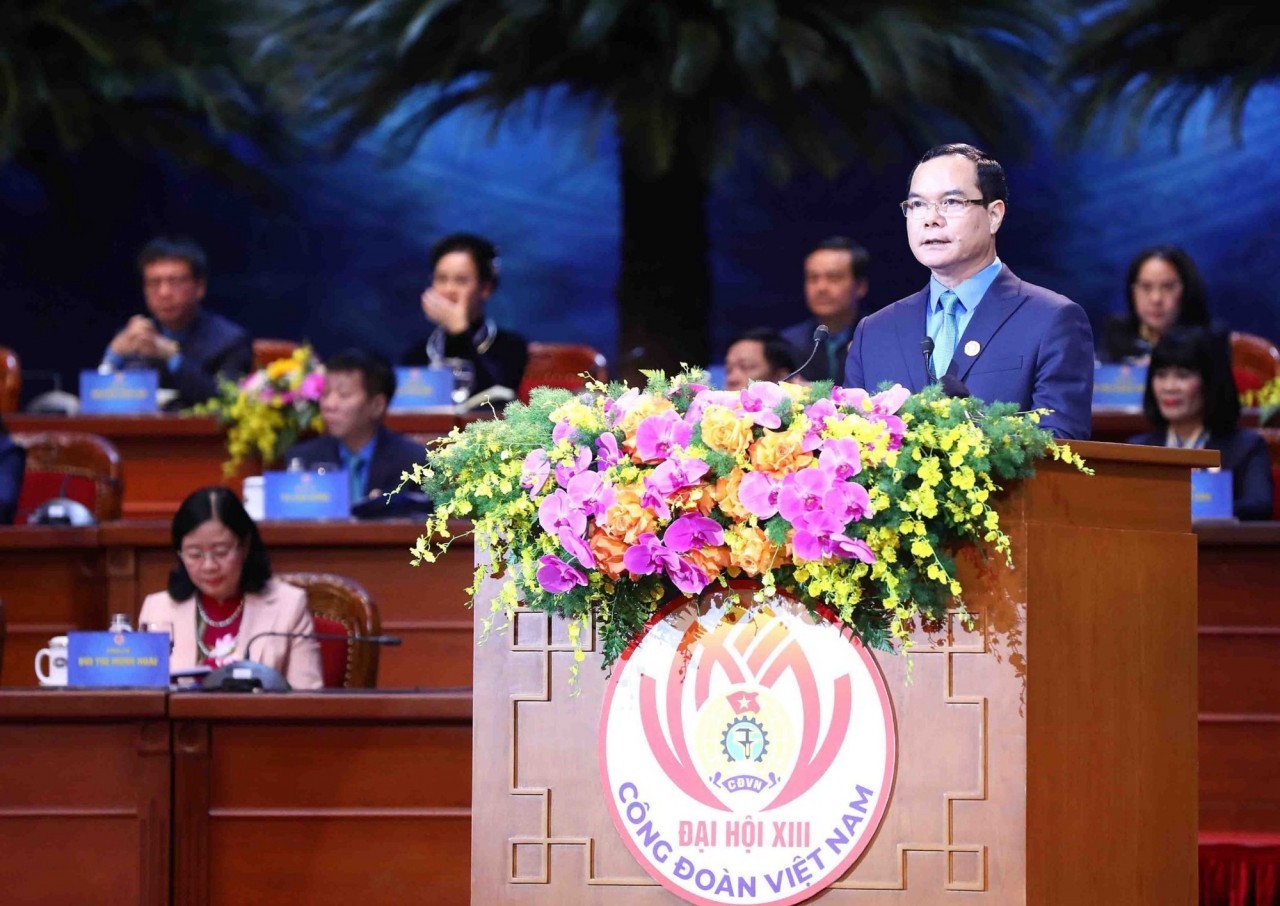 Viet's Home
"The overall goal of the 2023 - 2028 term is to innovate trade union organization and activities, build a comprehensively strong Vietnam Trade Union, performing functions and tasks well, meeting the requirements of the new situation, focusing on representing, caring for, protecting the legal, legitimate rights and interests of union members and workers."
December 02, 2023 | 22:33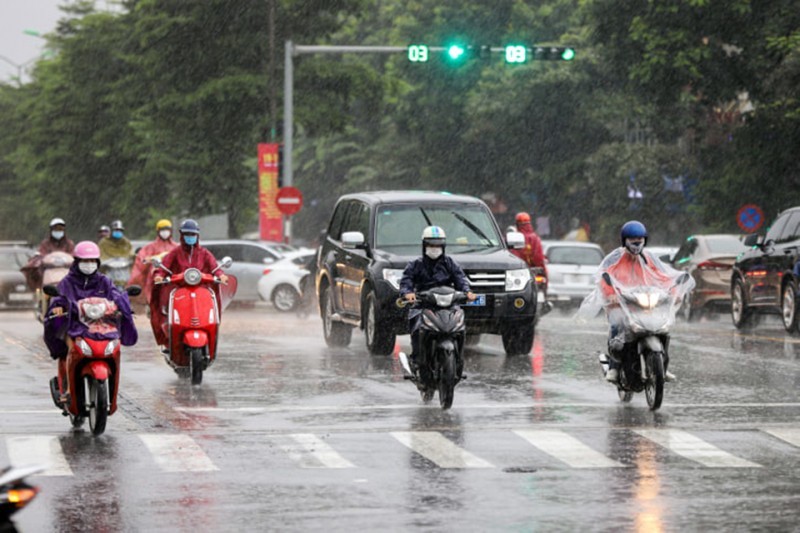 Viet's Home
On December 4, Vietnam's weather forecast is predicted to be extremely cold with low temperatures, while the Central region will have rain all weekend.
December 02, 2023 | 21:58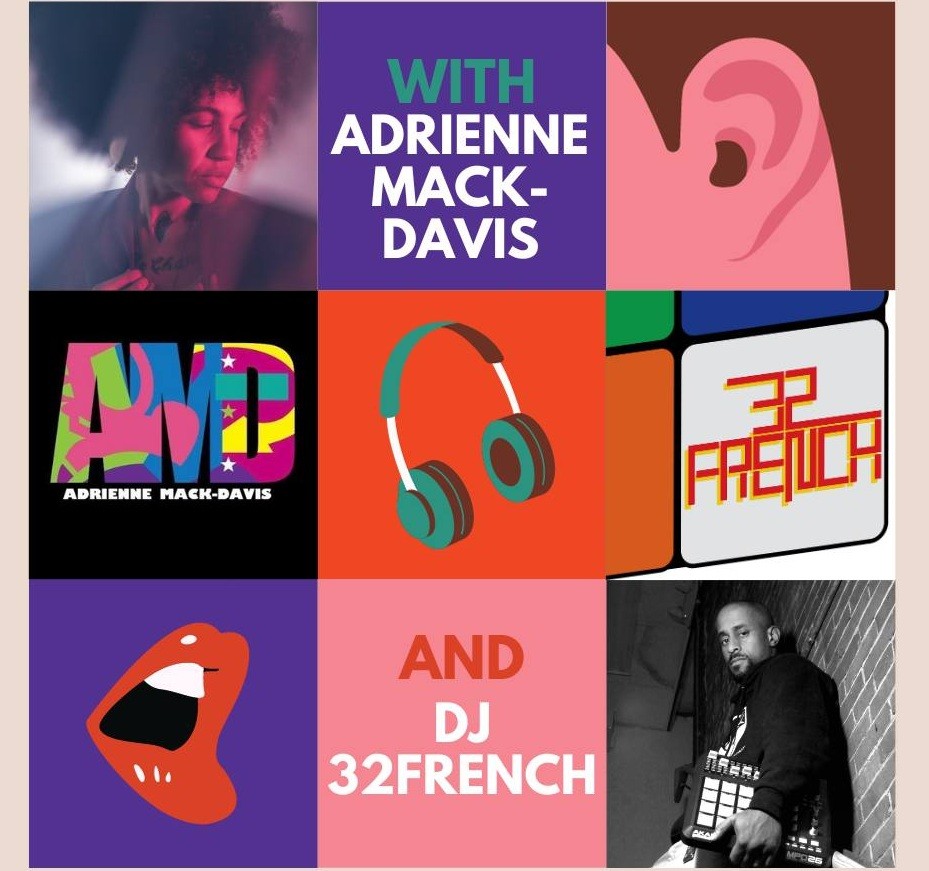 Viet's Home
Art troupes from the US, France, Korea, Belgium and Vietnam, including Wallonie-Bruxelles and Grand Poitiers, will join together in different performances titled 'Four Season melody', Hue-Winter at Imperial Citadel.
December 02, 2023 | 13:13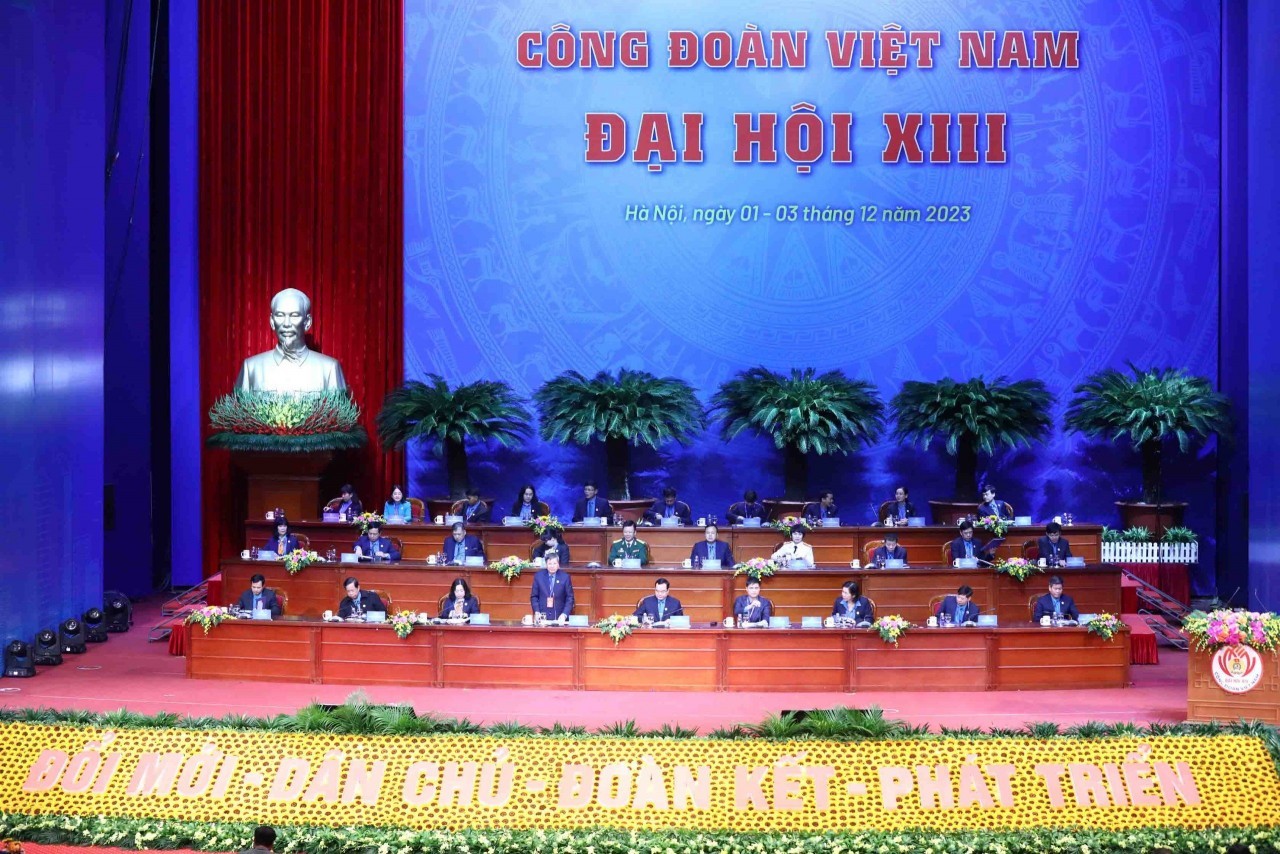 Viet's Home
According to Nguyen Dinh Khang, president of the Vietnam General Confederation of Labor, more than 11 million trade union members and workers nationwide are looking toward the 13th Vietnam Trade Union Congress. They place all their trust and expectations in the wise decisions of the Congress.
December 01, 2023 | 22:01