Vietnamese, Chinese Excited About Resuming Entry-Exit Activities
Vietnamese and Chinese people are excited about resuming the operation of border gates and paths after nearly three years of Covid-19 closures and restrictions.
All are excited by the fact that the two countries Vietnam and China have agreed to resuming the operation of border gates and paths after nearly three years of hiatus because of Covid-19.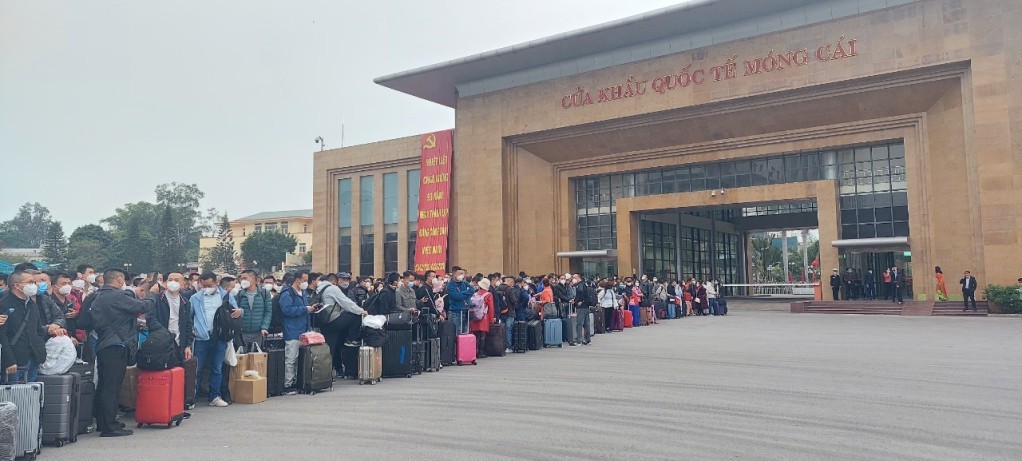 A queue of people entering and leaving at Mong Cai border gate. Photo: Quang Ninh newspaper
In the early morning of January 8, although it was not time for exit procedures, Mong Cai Border Gate in the northern province of Quang Ninh saw thousands of Chinese queuing up to return to their country for Lunar New Year holiday.
Up to 9am, more than 100 Chinese citizens have been allowed to cross the border, mainly experts, workers, and workers working in industrial parks in Quang Ninh and Hai Phong. If you have enough passports, valid visas and PCR test results within 48 hours, you will be able to cross the border gate.
Though China reopened its borders after nearly three years of Covid-19 lockdowns, it has not yet allowed tourists in either direction and has yet to issue visas.
For customs clearance activities at Bac Luan II Bridge, temporary pontoon bridge Km3+4, Ka Long - Dong Hung border gate, the regulations on decentralization and management zoning will be completely abolished.
At the same time, abolishing the regulation of disinfecting the vehicles carrying goods from China and at the freight forwarding area; the requirement for Covid-19 RT-PCR testing, disinfection and 30 minutes waiting for vehicles carrying dry goods and frozen goods. The vehicles do not require to be put into a centralized management and supervision warehouse.
Removing all closed management regulations for all employees working at border gates, markets, and do not perform daily RT-PCR tests.
More than 3,000 Chinese return home
Huu Nghi and Tan Thanh border gates in Lang Son province on the morning of January 8 were vibrant with people of the two countries on the first day that China eased pandemic control.
According to records, as of 9am January 8 morning, there were about 3,000 Chinese citizens cross into their home country China. Lang Son Border Guard forces coordinate with local forces to prepare for the reception and carry out procedures to make the crossing of the border gate flexibly, conveniently and quickly.
Lang Son Province shares 231 kilometers of border with China with four border gates. This is a key trading hub between Vietnam and China, with goods being delivered to even Central Asia and Europe.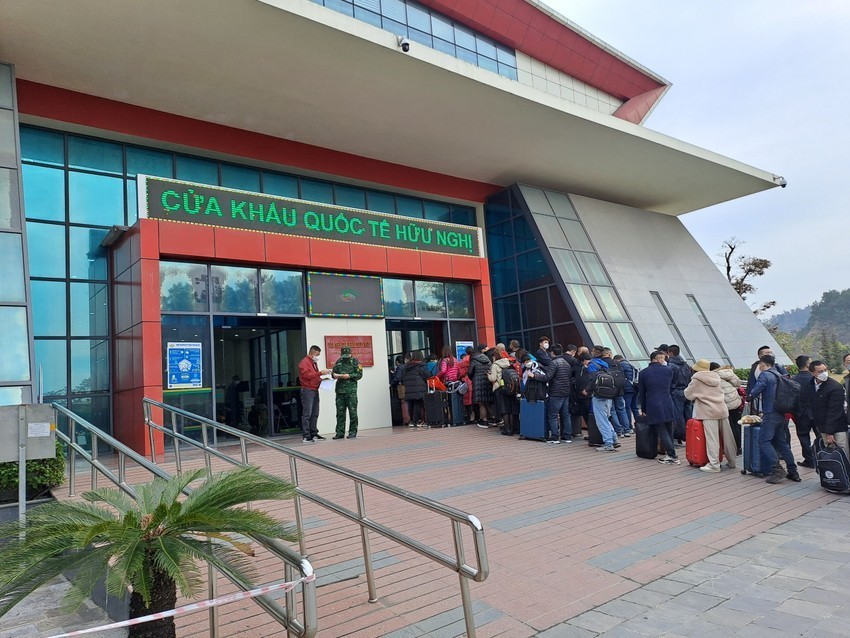 Customs officials keep the queues organized. Source: Phap luat (Law) newspaper
For import and export activities, currently, about 800 vehicles waiting to export goods across the border at Xuan Cuong bus station and parking lots along National Highway 1A.
At Tan Thanh border gate, immigration activities have not taken place, but from the morning, import and export activities have been quite bustling. Long lines of vehicles are waiting for import and export procedures through this border gate.
First enter through Lao Cai International Border Gate
Ar 7am, Lao Cai International Border Gate has become hectic, many people queued up to do procedures, eager to cross the border. Most people enter and exit for the purpose of work, study, work and visit relatives.
At 9:30am, the Management Board of Lao Cai Economic Zone welcomed the first tourists and border residents pass through Lao Cai International Border Gate. People entering Vietnam only need to monitor their body temperature, if they exhibit signs and symptoms of coronavirus, they will undergo quick test and handle according to regulations in case results show up positive.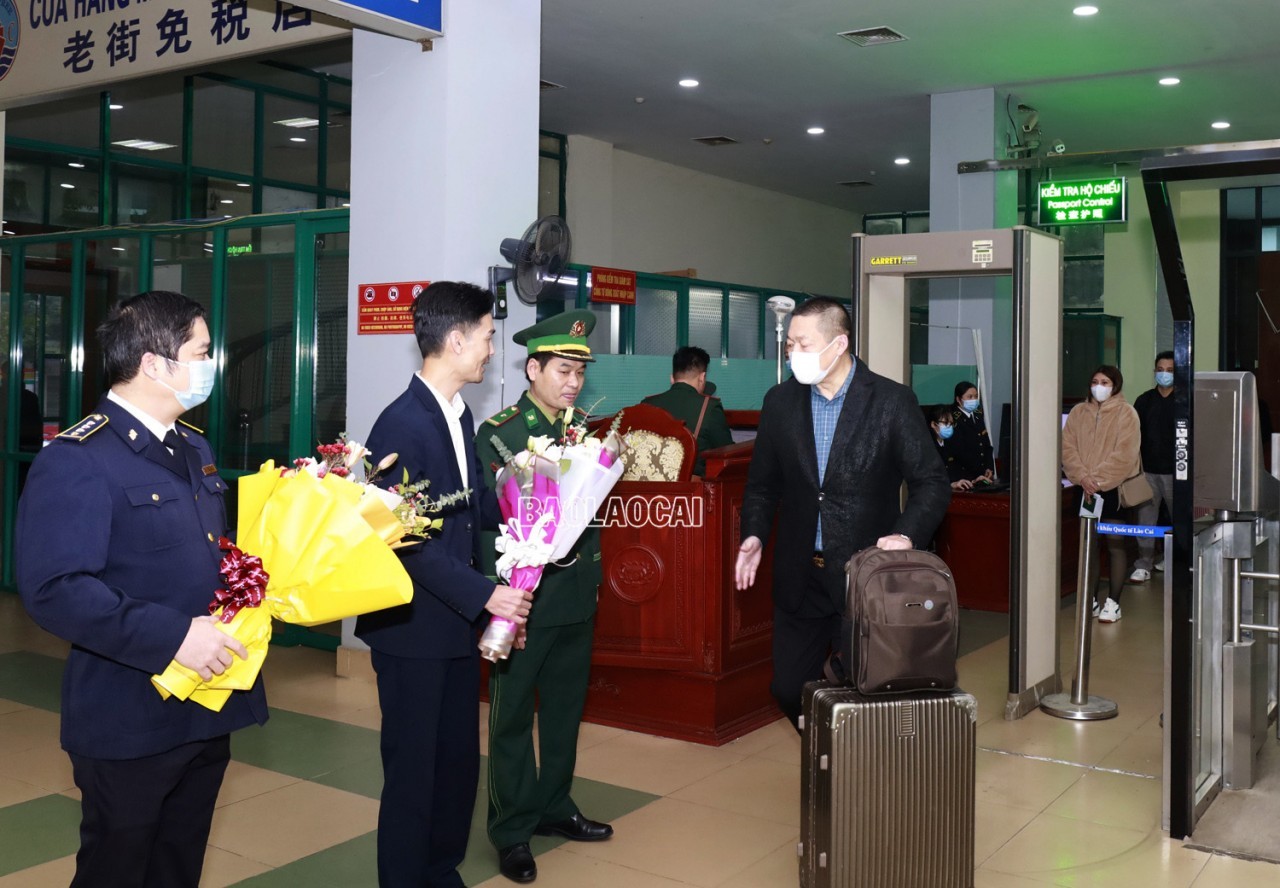 The resumption of travel across the border was held at the Lao Cai - Hekou international border gate in the northern border province of Lao Cai. Source: Lao Cai newspaper
Exciting she could return to her country after three years, Tan Lo May (Muong Hum commune, Bat Xat district) shared that she's married and working in Sichuan province, China. She usually go home once a year, but when Covid-19 broke out, entry and exit activities were suspended, it's the first time she return home after three years. "I was really happy and excited. I'm about to see my family and friends again."
In the same mood, Wen, one of the first Chinese people to enter Vietnam through Lao Cai International Border Gate, said that it has been a long time since she could visited friends in Vietnam. "We are very close, but separated by the pandemic." She thanks the Governments of the two countries for creating favorable conditions for entry and exit activities to resume.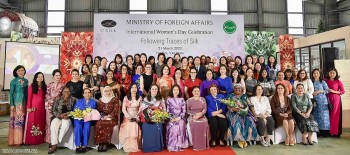 Friendship
Female ambassadors, representatives from diplomatic corps and international organizations, along with spouses of diplomats in Vietnam gathered together to find about more about silk weaving and silk products in Vietnam.