Vietnamese-Colombian Couple Makes Wheelchairs for Handicapped Pets
A Vietnamese-Colombian couple in Ho Chi Minh City has been making wheelchairs for dogs and cats with disabilities for years.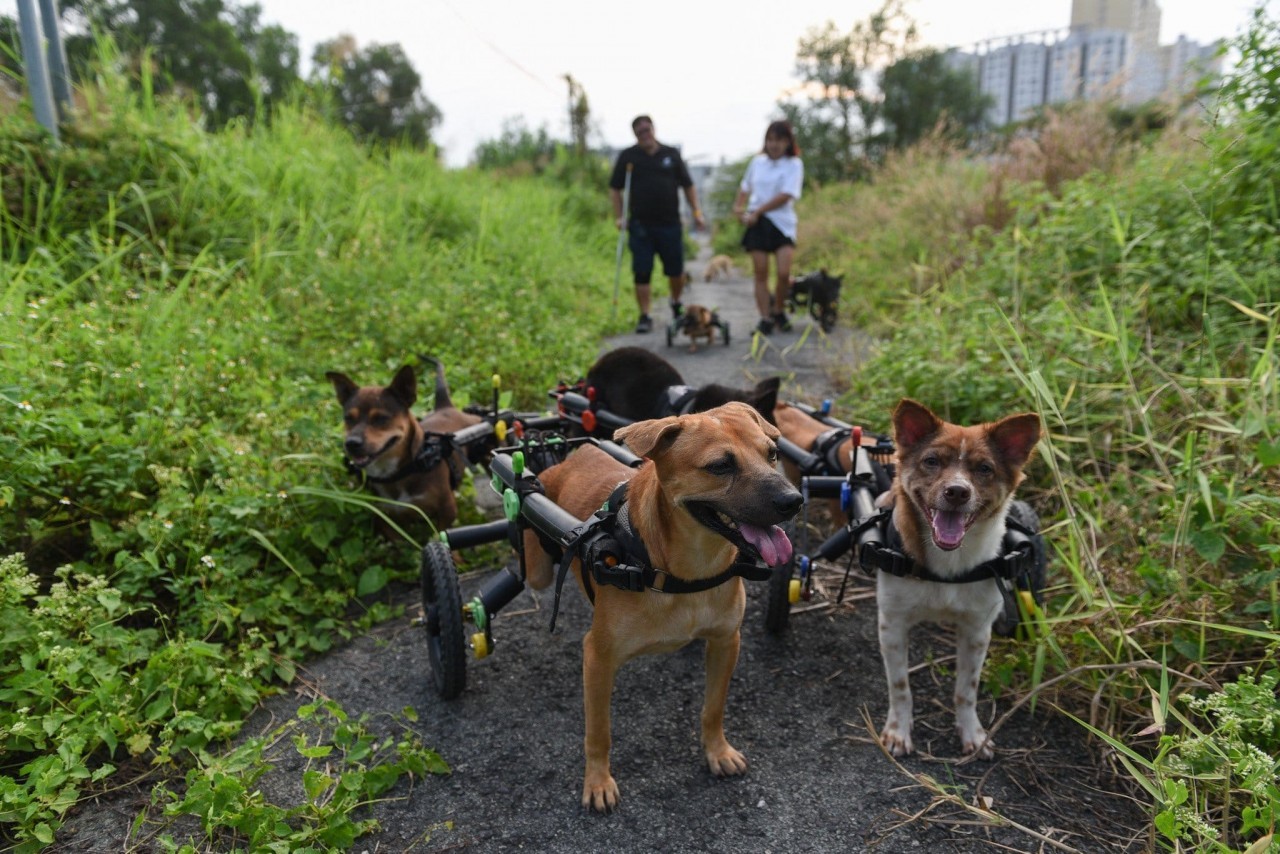 Forever Wheelchair is run by Oscar Fernando Ruiz Bonilla and his wife Tran Anh Thu, who are currently the parents of a household of rescued cats, dogs, and a monkey with disabilities. Source: Forever Wheelchair/FB
Over the past six years, Anh Thu and her Colombian husband Oscar Fernando Ruiz Bonilla, living in Ho Chi Minh City, have spent time researching and designing wheelchairs and prosthetics to help dogs and cats with disabilities walk, run, and jump normally.
Every morning, Thu and Oscar take a pack of more than a dozen dogs and cats, of which more than half are disabled.
Thu is a general practitioner in Ho Chi Minh City. Before meeting her husband, Thu raised two dogs and wanted to find a man who would love her who would also be an animal lover. Then she happened to meet Oscar. When they learned that he was a wheelchair worker for cats and dogs, the two began to get to know him and have been friends ever since.
Meanwhile, Oscar, 46, first came to Vietnam in 2016, when he opened a restaurant. He then adopted Moto, a pug suffering from a leg impairment, and began making pet wheelchairs.
During the period it took to rehabilitate Moto, Fernando built more than 10 different wheelchair prototypes while also finding inspiration from Moto's progress.
In 2017, he launched a charity programme called Forever Wheelchair to make wheelchairs for other disabled pets.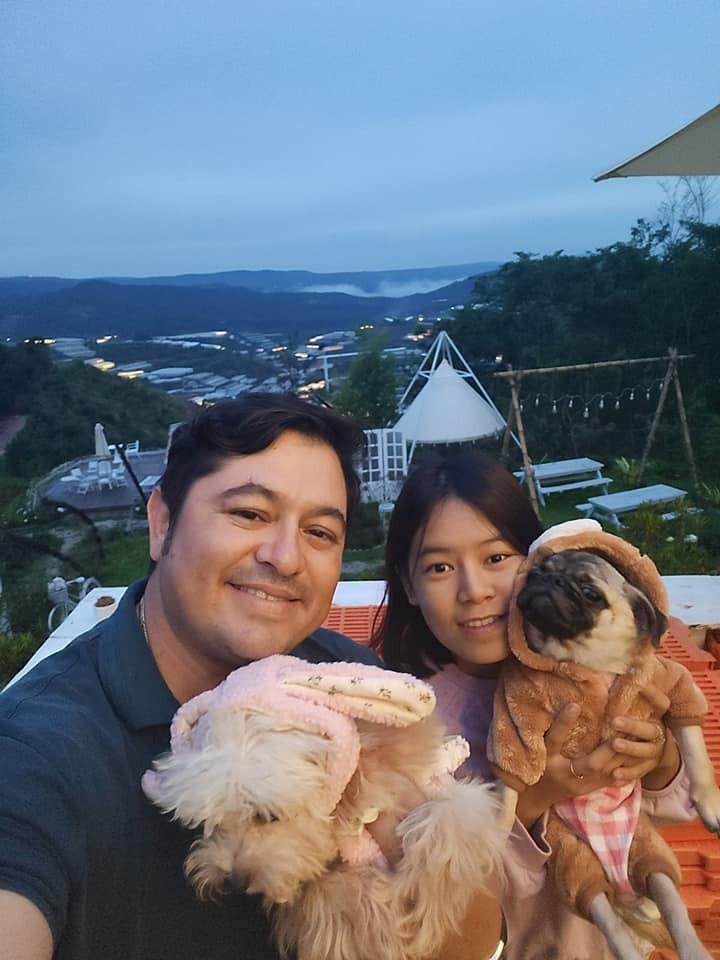 Oscar and Thu resorted to using their pocket money to support the animals when times were tough. Source: Forever Wheelchair/FB
Wanting to focus more on helping animals, he closed his restaurant in 2019 to pay full attention to Forever Wheelchair. Then in 2020, he set up his company with the same name, while still maintaining his charity activity.
Based on his experience with his adopted disabled pets, he has designed his wheelchairs to be as comfortable as possible, with suspension forks, stable bars, and lightweight parts to help handicapped pets move about freely over different types of terrain, without fear of tumbling over.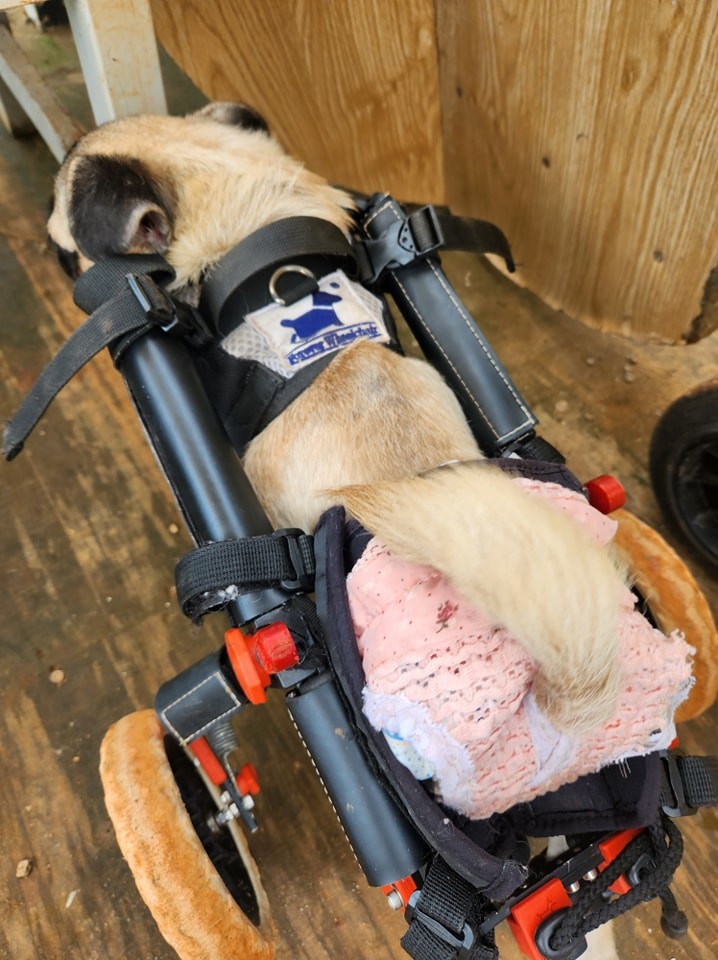 Forever Wheelchair installs springs between the joints of the wheelchair, a simple but effective change to the design that allows four-legged users to move with ease and balance regardless of the type of terrain. Source: Forever Wheelchair/FB
Currently, the couple has more than 10 dogs and cats, of which more than half are disabled. Their Forever Wheelchair based in District 9, is a place to build wheelchairs, and prostheses and raise funds to save abused, abandoned, and disabled pets.
The wheelchairs range in price, anywhere from VND 3 million and up, depending on the problem with the dog and its size. While it used to take longer, Fernando can finish building a typical wheelchair in one or two days. To date, Oscar and his wife have designed 10 different models of cars, dedicated to dogs and cats, two-wheelers front, two rear wheels and four-wheelers for each case.
Despite being more specialized in making wheelchairs for dogs and cats, Forever Wheelchair also extends support to other members of the fauna kingdom such as birds and monkeys. They even received requests from a farm in Da Lat city in the Central Highlands province of Lam Dong to make prosthetics for their llamas.