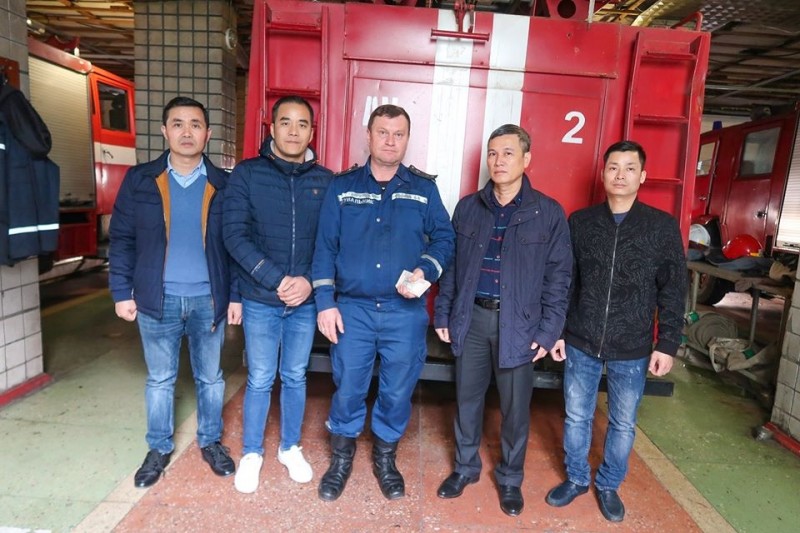 Representatives of Vietnamese associations in Ukraine hand over the donation to Nicolai Bortyuk – Anna's husband. (Photo: Nguoivietodessa)
43-year-old Anna Bortyuk saved dozens of students whom she helped to leave the building. She didn't find the way out after having returned to the building for the third time to take more students out. Her body was found under the rubble on December 5.
After knew her heroic story, the Vietnamese Association in Odessa have taken actions to help Anna's family.
Nicolai Bortyuk – Anna's husband, who is also a firefighter, expressed his appreciation for the donation from the Vietnamese community.
Before that, the Vietnamese community raised 30.000 griv (USD 1.226) to support the rescue operation.
The donation manifests the sentiment and responsibility of the Vietnamese living and working there to the host country, helps raise their image and strengthen the friendship between the two nations.
On December 4, 2019 a fire started in an old historic building at the junction of Pushkin and Troitskaya streets. It has been a building of residence, later – of offices. Currently a college of economics, law and hotel business, the archeology institute at the Ukrainian Academy of Science as well as a number of firms were located in the complex.
The fire spread so fast that many people could not find a way to rescue. Furthermore, people were cut off by heavy smoke.
28 people, including 7 firefighters, were hospitalized with serious injuries. 10 people, both teenagers and adults, died.
In January, Presient Volodymyr Zelensky awarded the title of Hero of Ukraine and the Golden Star Order to Anna and a rescuer who died in the fire./.
VNF