Vietnamese Cultural Celebrities to Convey the Image of People and Nation
Through images of national heroes, cultural celebrities, and well-known individuals such as President Ho Chi Minh, Nguyen Trai, Nguyen Du, Chu Van An, and others, international friends better understand the country and people of Vietnam. This is one effective way to promote the cultural values ​​and images of the country and people of Vietnam to the world as outlined in the Strategy for Cultural Diplomacy to 2030.
It is shown that the images of national heroes, cultural celebrities, and well-known individuals have made an important contribution to promoting to international friends in a vivid and convincing way about the heroic history, Vietnamese culture, uniqueness, friendly country, and people who love peace, respect for others and take responsibility for the common work of the world.
Over the years, many Vietnamese cultural celebrities have been honored by UNESCO and celebrated their year of birth and death such as President Ho Chi Minh, Nguyen Trai, Nguyen Du, Chu Van An, Nguyen Dinh Chieu, Ho Xuan Huong, and many others.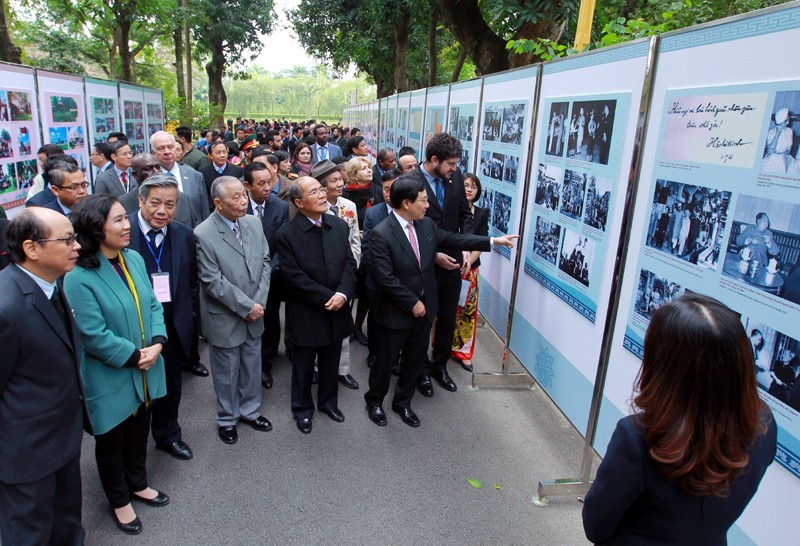 Delegates visited a photo exhibition about President Ho Chi Minh on the occasion of the 30th anniversary of UNESCO's Resolution honoring the President. (Photo: Hai Minh)
In 1987, at its 24th meeting session, UNESCO issued a Resolution commemorating the 100th birthday of President Ho Chi Minh, the national hero and great man of culture of Vietnam. The resolution affirms that President Ho Chi Minh is one of the outstanding people who have contributed to the development of mankind. It also calls on all countries to honor President Ho Chi Minh through various memorial activities.
Amadou Mahtar M'bow, UNESCO Director General at that time, affirmed: "There are only a few people in history who became part of the legend during their lifetime and Ho Chi Minh was clearly one of them. He will be remembered not only as a liberator for the Fatherland and the colonized people but also as a modern sage who brought a new perspective and hope to those who fought uncompromisingly to eliminate injustice and inequality from this earth".
Ministry of Foreign Affairs of Vietnam said that the adoption of this Resolution by UNESCO showed international recognition of the human values ​​of Vietnam crystallized in President Ho Chi Minh, the great man who carries within himself the noble ideas that humanity shares and goes toward which is peace, national independence, equality among nations, and the liberation of all nations from oppression and injustice.
"Activities in honoring President Ho Chi Minh have promoted the similarities between Vietnam and friends and partners from the values ​​and ideas that President Ho Chi Minh pursued, helping to enhance mutual understanding, strive for common goals and interests, strengthen trust and friendship, thereby contributing to relationship between Vietnam and other countries", said Deputy Prime Minister Pham Binh Minh at the Conference summarizing ten years of carrying out activities honoring President Ho Chi Minh, the national hero and great man of culture, in foreign countries in 2020.
Most recently, on June 30, on the 200th anniversary of the birth of Nguyen Dinh Chieu (1/7/1822 - 1/7/2022), the representative of UNESCO in Vietnam presented the UNESCO Resolution honoring Vietnamese celebrity Nguyen Dinh Chieu in the list of cultural celebrities and historical events for the 2022 – 2023 period.
It is stated in the Resolution that: "Nguyen Dinh Chieu is a great poet and cultural activist of the Vietnamese nation; an example of overcoming adversity and pursuing the ideal of lifelong learning. In addition to composing poetry, he is also a teacher who is loved by the world for his talent and virtue. He devoted his whole life to teaching and imparting to students the way of being human and the traditional morality of the nation. It is also admirable that when he was blind, Nguyen Dinh Chieu learned about health care and medicine and became a good doctor, an expert in Eastern and Vietnamese medicine. It can be said that in the world, there are few famous people who have achieved many accomplishments in all three fields like Nguyen Dinh Chieu: poetry, literature, teachers, and doctors."
Speaking at the event, Christian Manhart, Representative of UNESCO in Vietnam said: "Nguyen Dinh Chieu is an outstanding figure and one of the most honored Vietnamese poets, whose works have been translated into most languages. His philosophies about peace, love among people, as well as tolerance, patriotism, and resistance to foreign invaders are consistent with the philosophy and goals of UNESCO".
The adoption of a resolution by UNESCO and its member countries to honor Vietnamese celebrities shows the global recognition of the ideals of peace, social equality, and lifelong learning that Vietnam shares with the world. These are also in line with the common goals of the organization and the beauty in the soul and minds of Vietnamese people.
Celebration activities to honor and recognize the achievements of cultural celebrities honored by UNESCO also contribute to promoting the image of Vietnamese people and culture to international friends, enriching the spiritual life, and spreading the values ​​of love, compassion, justice, and equality in Vietnamese society.
Vietnamese cultural celebrities are typical in the society, bearing the wind of the times, in which the good values ​​of personality and cultural values ​​that they build are linked. They worked in connecting and promoting human culture in general and Vietnamese culture in particular. Vietnam's history and development are put aligned with the development of mankind, thereby creating values ​​of global connection and friendship.
Ceramic Walls - Message to Promote Cultures

Through works that harmoniously combine Vietnamese and foreign art, cultural imprints of many countries are introduced to the public in Hanoi. These works have inspired ...
Preserving Vietnamese Language Abroad

For more than 5.3 million overseas Vietnamese, Vietnamese is the soul and pride of the nation. Teaching and learning Vietnamese helps the overseas Vietnamese community ...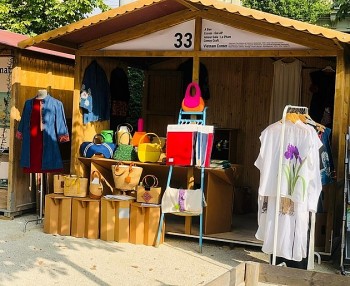 World
Vietnam's GDP grew by 8.83% in the first nine months of 2022, the highest increase in the period of 2011-2022.