Vietnamese culture promoted at international fair in Mexico
Vietnamese culture has impressed international friends at the 2019 International Cultures Fair, which took place in Mexico from May 31 to June 16.
International visitors impressed by Vietnamese conical hat. Photo: VNA
Through the photos on the landscapes and people, as well traditional foods and unique handicraft products such as Ao Dai and non la (conical hats), Vietnam's pavilion has attracted thousands of visitors.
Many visitors expressed their hope that Vietnamese culture will be present more often in Mexico.
Customers were delighted with traditional foods such as coffee, nem ran (fried spring roll), com rang (fried rice), banh gio ((rice dough dumpling containing minced pork and wood ear mushrooms), thit xien (grilled meat by stick) and banh my (bread).
FICA 2019 featured the participation of 89 countries around the world with hundreds of various cultural activities.
The event was expected to attract a total of three million people.
VNF ( NDO )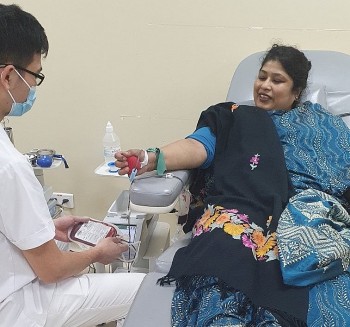 Focus
Blood donation campaigns launched by embassies amid shortages due to Covid-19