Vietnamese Drivers Lend a Helping Hand to An Indian Couple
A few hours after forgetting their phone in a taxi, an Indian couple was overjoyed when they got their property back thanks to the help of two kind-hearted drivers.
Vu Van Manh, a 32-year-old taxi driver, from Bac Tu Liem district, Hanoi picked up an Indian couple from Nha Chung Street (Hoan Kiem district) to the flagpole monument located on the grounds of the Vietnam Military History Museum, located on Dien Bien Phu Street (Ba Dinh District) on the morning of October 28.
Due to the language barrier, the two sides simply greeted each other, then the driver picked up and dropped off the passengers, as normal. After this ride, Manh picked up another 4-5 passengers before discovering that the two foreign guests had left their phones in the car.
At the same time, Tran Ngoc Thanh, a 35-year-old driver, was carrying passengers past the flagpole monument when he saw the same foreign couple calling for a car in a state of panic.
He stopped the car and asked about the situation, but because he did not understand English, he continued to pick up and drop off his guests.
"Later, I thought they might need help, so as soon as I finished the ride, I went back to look for them," Thanh said.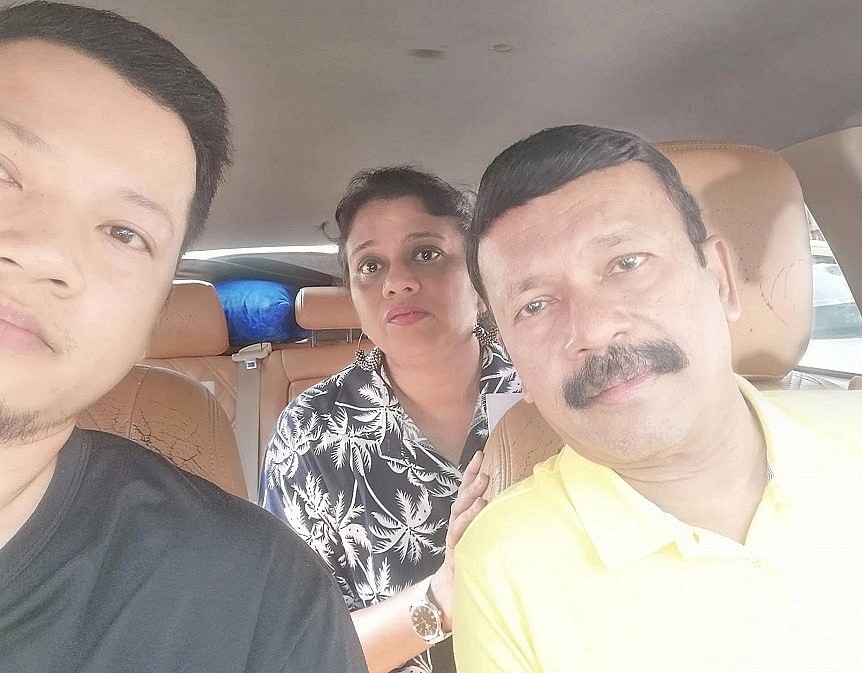 Driver Tran Ngoc Thanh took a photo with the Indian couple who forgot their phone in a taxi. Photo: NVCC
Thanks to the language assistance tool on his smartphone, Thanh learned that an Indian couple forgot their phone in a taxi. He took a photo with the above information and posted it to a group of taxi drivers, calling for help from his colleagues. Later, when a member of the group read Thanh's post online, he saw many similarities so he messaged Manh. The two drivers contacted and arranged to meet at Cau Giay Park to return the phone to foreign passengers.
"Because the phone was in silent mode, it fell between the driver's seat and the side seat, so the passengers who got on the back did not know," Manh recalled.
When the Indian couple got their property back, they were overjoyed. They said that the phone was very important to them because there was a lot of data inside. They also did not forget to thank the two Vietnamese drivers who enthusiastically helped them.
Within 4 years of practice, Manh shared that it is not uncommon for customers to forget their belongings in the car. Today's rare event is a memorable story for him because he was able to spread good deeds to the community.
As for Thanh, although he did not have much hope when he posted on groups, he did not expect to witness such a happy ending after only a few hours.
Photo: NVCC
On social networks, many netizens have been thanking the two drivers.
"When traveling, the phone is an extremely important and necessary object. These two drivers are so wonderful, I wish them both peace and happiness," wrote Nguyen Nga, a netizen.
"A beautiful image in the eyes of international tourists. They will help us introduce the beauty of tourism and the people of Vietnam - an extremely safe country with many beautiful scenes," commented Mai Hoa.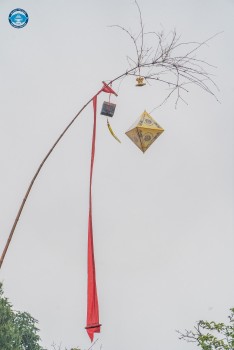 Viet's Home
In the past, the Neu pole (a tall bamboo pole with red garment strips used to ward off evil spirits during the lunar New Year) lowering ceremony at the royal palace of the Nguyen Dynasty was performed to mark the end of the New Year holiday and prepare to enter a new working year.