Mexican Tourist: 'Vietnam is Famous in My Country'
Tourists Pablo and Soifia said that to Mexicans, Vietnam is a popular honeymoon destination. A lot of couples want to come to Vietnam after having their wedding, because this is a completely different destination.
Pablo and Sofia in Ha Long. Photo: Sofia
From Mexico to the US, transiting in Japan and then Singapore, Pablo and Sofia finally realized their Vietnam travel plan after nearly 2 years of waiting.
The couple plan to honeymoon in Vietnam after the wedding ceremony in August 2020. However, the Covid-19 pandemic caused them to postpone their plans. Unable to go to Vietnam, the couple did not choose any other place.
"In Mexico, Vietnam is a popular honeymoon destination. Everyone is excited to hear that someone is coming to Vietnam after the wedding. My friends also recommend going to Vietnam, because this place is unlike anything people have ever known. We chose Vietnam because we wanted to do something special in a faraway land, for a great occasion in our lives," said Sofia.
Vietnam is Pablo and Sofia's first trip since their wedding, and their first trip to Asia. In Vietnam, the Mexican couple spent a lot of time relaxing in Da Nang, then went to Hanoi, visited Ha Long and Ho Chi Minh City before going to Thailand and the Maldives.
"The best thing is that we were well received while in Vietnam. Da Nang and Hoi An have a beauty that blends the past and the modern. Ba Na Hill makes a strong impression because it is built on a high mountain.
Our experience in Ha Long was also excellent. The places we have been to are clean, beautiful, with many trees, no garbage on the street. Vietnam has many delicious dishes and travel costs are also cheap. Those things are much better than Mexico City, which is an expensive place with dirty streets because of garbage," said Sofia.
Photo: Sofia
Pablo is interested in the different cultures and lifestyles of the Vietnamese people. When they arrived in Hanoi, they sat on cyclos, amidst the crowded traffic and the loud honking of car horns on the streets.
The two experienced flower making at a local house, where they understood more about the Vietnamese ancestor worship. These are quite strange things for two Mexican tourists.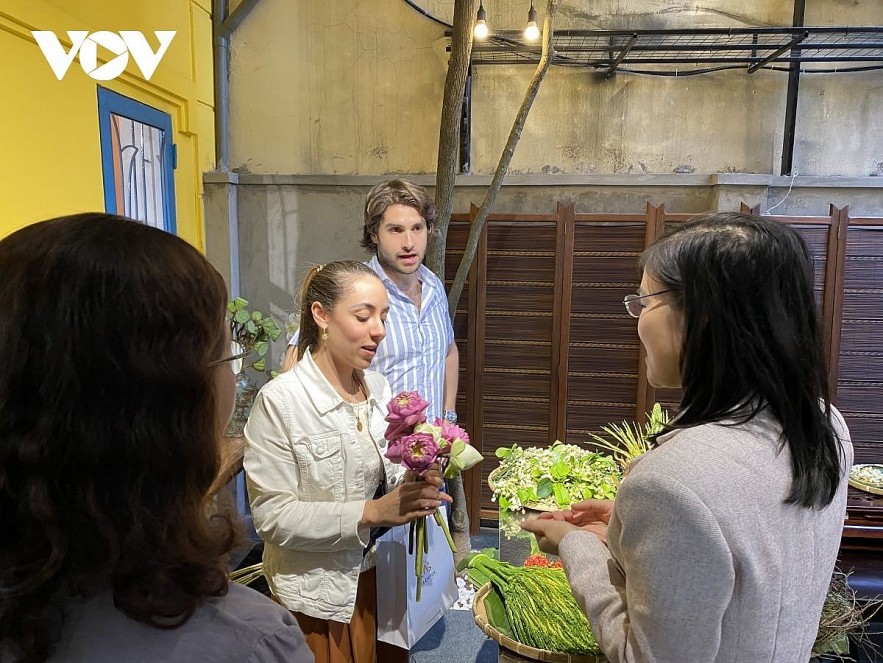 Two Mexican tourists experience flower making in Hanoi. Photo: VOV
Pablo and Sofia said that Vietnam's tourist entry regulations are quite favorable compared to other destinations in the region. It is also a "plus point" for international tourists to prioritize Vietnam.
The Mexican couple said that the relics or ancient houses in Hoi An and Hanoi are valuable assets of Vietnam and need to be preserved. However, the "negative point" is that English needs to be used more at tourist attractions, restaurants, and airports.
"At Da Nang airport, the flight changed its gate but we did not hear the announcement clearly. When I saw people standing up and moving, I was confused but couldn't ask anyone.
Restaurants in the capital should have English menus, staff need to speak foreign languages ​​well because we had a lot of trouble communicating with them. Luckily, we can speak English. Many Mexicans only speak Spanish, it will be difficult for them to come to Vietnam," said Sofia.
Pablo said he would tell his family and friends that they should definitely come to Vietnam at least once in their life. He said Mexicans would love Vietnam, just like the experiences and memories he and his wife had.
The couple still want to return to Vietnam because there are many places in Hoi An, Da Nang and other lands that have not been discovered yet.
The visit to Vietnam is not only meaningful for two tourists Pablo and Sofia, but also brings great joy to the tour operator.
Bui Bang Giang, head of Asia Exotica Company said that Mexico is a distant market. Therefore, Mexican visitors to Vietnam often belong to the high-paying segment, wanting new experiences and learning about the local culture.
These are the first international guests the company serves after 2 years of the Covid-19 pandemic. However, although the number of international visitors is gradually increasing again, this company is forecasted to recover in the late 2023 and early 2024 period.