Vietnamese, Dutch PMs attend sustainable fashion show in Hanoi
Prime Minister Nguyen Xuan Phuc and his Dutch counterpart Mark Rutte attended a sustainable fashion show themed "Walk the Talk" in Hanoi on April 9 evening.
Prime Minister Nguyen Xuan Phuc (second from left) and his Dutch counterpart Mark Rutte (first from left) at the event. (Source: Bao quoc te)
Speaking at the event, Chairman of the municipal People's Committee Nguyen Duc Chung said Hanoi city always considers Dutch firms as important partners in the fields of education-training, environment, planning, urban infrastructure, construction materials, investment, trade and tourism.
He added that Hanoi has become a friendly destination for foreign tourists, including those from the Netherlands. Last year, Dutch tourist arrival to Vietnam hit 73,000, up 10 percent annually, ranking 15th out of top 20 markets.
Chung suggested further enhancing exchanges and trade and tourism promotion activities between the European country and Vietnam as well as Hanoi in particular.
The fashion show, co-hosted by the municipal People's Committee and the Dutch embassy, aims to introduce Dutch fashion styles towards sustainable fashion to the public, thus contributing to achieving sustainable development goals, he said.
The Hanoi leader added that the event not only raises mutual understanding but also offers visitors an insight into joint work in the fields of culture, fashion and environment.
Rutte, for his part, lauded textile and garment as one of Vietnam's key economic sectors, which he said, has generated jobs to many people, including women.
According to him, innovations will help reduce wastes and save water in the industry. He stressed the need to fully grasp the process in the fashion supply chain from plants in Ho Chi Minh City to Amsterdam shops.
He said the event will help step up responsible business behaviours in the apparel industry.
VNF/VNA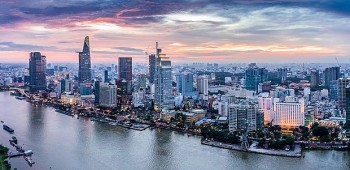 Economy
Japanese investors have been interested in the property market in Vietnam.