Vietnamese economic growth in 2020 among world's highest
Vietnam has achieved a GDP growth rate of 2.91%, which is considered a great success in the context of the COVID-19 pandemic, said the General Statistics Office (GSO) at a press briefing in Hanoi on December 27.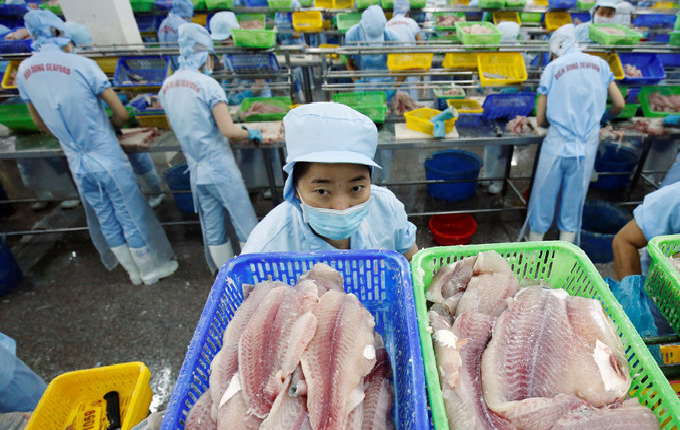 Workers make fillets of catfish at a factory in the southern city of Can Tho. Photo by Reuters/Kham.
"This is the lowest GDP growth level in the 2011-2020 period. However, given the negative impacts of the Covid-19 pandemic, it is considered a success for Vietnam, with the growth rate among the world's highest," said Nguyen Thi Huong, head of the GSO.
Vietnam's growth rate in 2020 testifies to the absolute determination of the entire political system, the Government, the Prime Minister, as well as all-out efforts by the people and the business community to effectively realize the dual goal of epidemic prevention and economic recovery.
A GSO report says agriculture, forestry and aquaculture grew 2.68 percent, manufacturing and construction 3.98 percent, and the services sector 2.34 percent.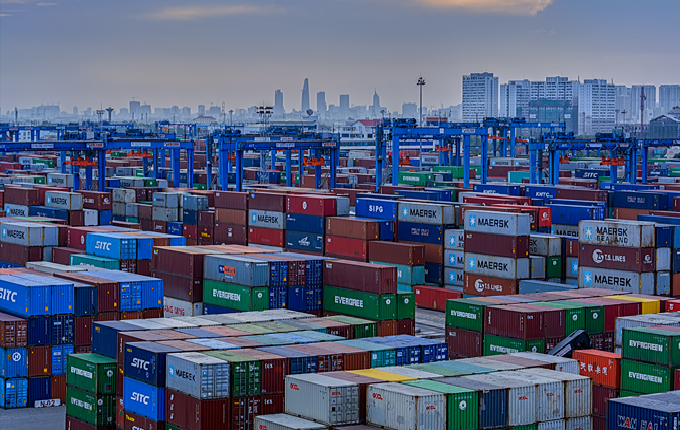 Shipping containers at a port in Ho Chi Minh City. Photo by Shutterstock/Igor Grochev.
While the Covid-19 pandemic wreaked socio-economic havoc, the services sector has tanked, several commercial and consumer services enjoyed growth in the last months of 2020. Domestic transportation is recovering, while international transportation and tourism services are still in the doldrums.
The value of imported and exported goods this year rose 5.1 percent year-on-year to $543.9 billion. In this, exports and import values rose 6.5 percent and 3.6 percent year-on-year to $281.5 billion and $262.4 billion, respectively. This helped the country compile a trade surplus of $19.1 billion, the highest since 2016, VNExpress reported.
The country has also succeeded in keeping inflation in check, increasing 3.23% compared to 2019, a figure which is lower than the 4% estimate.
Labor productivity rose from $290 over 2019 to VND117.9 million ($5,081) per worker, and the consumer price index (CPI) rose 3.23 percent.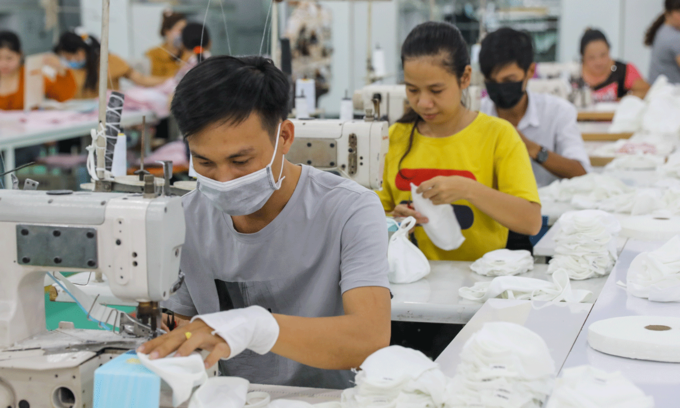 Workers produce masks at a garment factory in the southern province of Long An in February 2020.
Photo: VNExpress/Quynh Tran.
The Government has set a target of securing a GDP growth rate of approximately 6% in 2021. It is a challenging task for Vietnam, according to the GSO, as the Vietnamese economy's openness is comparatively big, making it vulnerable to any market fluctuations, alongside drastic changes in the regional and global geopolitical landscape, said VOV.
Last year, Vietnam's GDP growth of 7.02 percent was the second-highest growth figure in the last decade, after the record 7.08 percent in 2018.
Previously this month, a World Bank report said that with a GDP growth of 2.8 percent, Vietnam will be among the fastest-growing economies in a Covid-19-ravaged world this year. The country will be one of only three nations in Asia that will post positive growth this year, the others being China and Myanmar.
Although its 2.8 percent growth is lower than last year's over 7 percent, Vietnam is still a bright spot as the global economy is set to contract 4.4 percent, the report says.
ADB raised its forecast for Vietnam's economic growth from 1.8% to 2.3% in 2020, thanks to the promotion of public investment, the revival of domestic consumption, the increase in trade exchanges, and the rapid recovery of neighboring countries.
Vietnam's economy grew rapidly from the rate of 0.4% in the second quarter of 2020 to 2.6% in the third quarter, expanding the average growth rate in the January to September period to 2.1%. Hence, ADB adjusted its forecast for Vietnam's economic growth from 1.8% to 2.3% in 2020,. Meanwhile, Vietnam's economic growth in 2021 is predicted to decline to 6.1%, Nhan Dan reported.
In November, the International Monetary Fund (IMF) also revised upward its forecast for Vietnam's 2020 GDP growth by 0.8 percentage points to 2.4 percent.
Vietnam's growth would be among the highest in the world, thanks to its successful containment of the Covid-19 pandemic, Era Dabla Norris, mission chief to Vietnam and division chief in the IMF's Asia and Pacific Department, had said.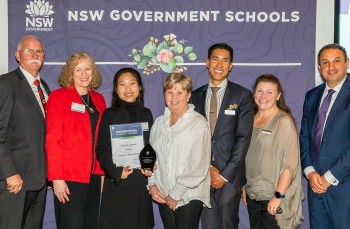 Overseas Vietnamese
The award for international students studying at New South Wales state schools (Australia) honors excellent ones from many countries, including a Vietnamese female student.