Vietnamese Embassy in China welcomes New Year 2018
Ambassador Dang Minh Khoi and overseas Vietnamese students in China (Photo: vtv.vn)
(VNF) - The Vietnamese Embassy in China recently held a New Year gathering for the Vietnamese community in Beijing capital.
Vietnamese Ambassador to China Dang Minh Khoi attended the event.
Speaking at the celebration, the diplomat extended New Year wishes to officials and staff of the embassy and representative agencies, and overseas Vietnamese community in China.
The ambassador also took the occasion to encourage the participants to put more efforts their works and study, contributing to the development of home country and the friendship between Vietnam and China.
At the event, participants also enjoyed special arts performance by overseas Vietnamese students.
New Year celebration is an annual program organized by the Vietnamese Embassy in China. It is considered a meaningful bonding activity for the overseas Vietnamese community in the country./.
( VNF )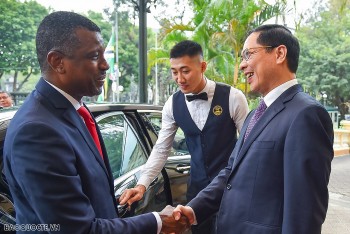 National
Dominican Minister for Foreign Affairs, International Business, Trade and Energy Vince Henderson is currently on a five day official visit to Vietnam. The five day visit is at the invitation of Vietnam's Foreign Minister Bui Thanh Son, and comes as Vietnam and Dominica are celebrating the 10th anniversary of the establishment of diplomatic relations between the two countries.