Vietnamese female awarded lecturer devoting whole life to science & education
Truong Thanh Huong has made considerable contributions to the national health sector thanks to her research projects aimed at improving treatment methods for cardiovascular- diseases.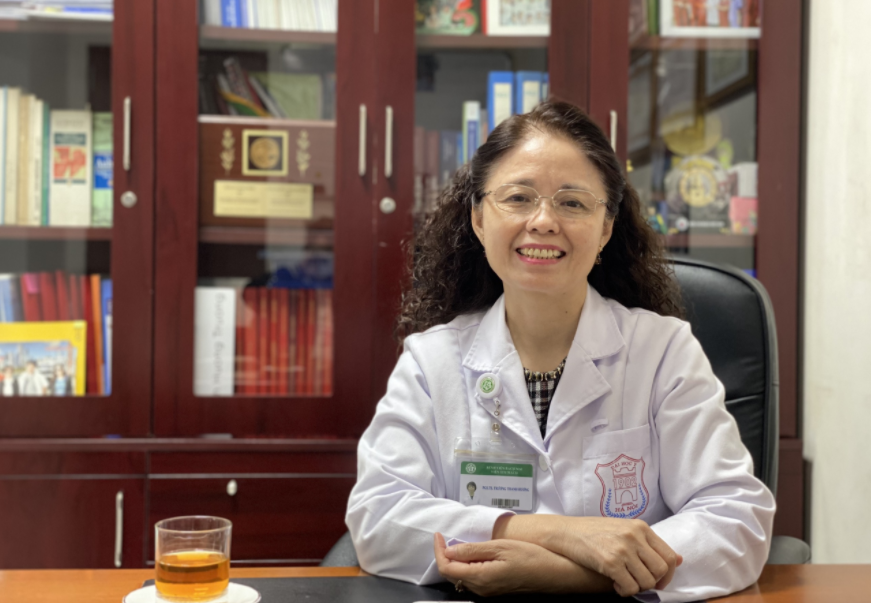 Associate Professor Truong Thanh Huong (Photo: VTC)
A woman in science
Associate Professor Truong Thanh Huong, senior lecturer at the Hanoi Medical University and expert at the Vietnam National Heart Institute under Bach Mai Hospital, has been given Vietnam's 2020 Kovalevskaya Award for her contribution to helping thousands of people with cardiovascular diseases over many years.
Huong is one of the country's leading medical experts, with many scientific works published. Huong has conducted many studies related to congenital and genetic cardiovascular diseases, genetic pharmacology in individualizing treatment of cardiovascular disease, and the development of new technologies in echocardiography. She has also chaired 19 scientific studies and published 75 scientific articles in domestic and international journals so far.
Huong is also the editor of 20 medical textbooks and documents. Her two most outstanding scientific studies consist of the project "Building genetic mutation map of familial hypercholesterolemia and proposing a disease management model in Vietnam" and the project "Surveying some common polymorphisms of CYP2C19 gene related to Clopidogrel medicine's response in people with coronary artery disease in Vietnam".
According to medical experts, the first project is a process of screening, diagnosis, genetic testing, genetic counseling, and setting up a managing model of familial hypercholesterolemia in Vietnam. The project's results have been transferred to medical facilities to serve healthcare. The other project has already been transferred to producers to make a chip that could quickly diagnose the polymorphism of the CYP2C19 gene. It had helped hundreds of thousands of patients with coronary artery disease minimize complications and the risk of death as well as save annual medical expenses for the country, according to VN Express.
Thanks to Huong's studies, patients and their families had the opportunity to access optimal diagnosis and treatment, limiting the occurrence of cardiovascular complications, especially in adolescents, thereby helping to protect people's health.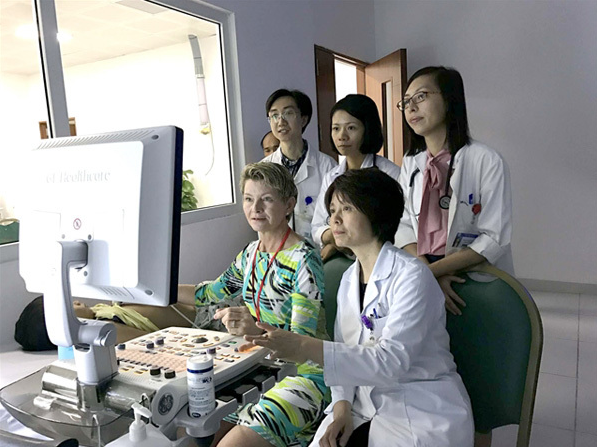 Associate Professor Truong Thanh Huong speak with a foreign colleague at work. (Photo: Vietnamnet)
Truong Thanh Huong - Doctor & Teacher
Huong's father and mother worked for the military. When she was a child, she went with her father and saw many soldiers with injuries treated in poor conditions. She studied hard and became one of the first two cardiologists to graduate from Hanoi Medical University with excellent results. After graduation in 1987, she started to work as a lecturer at the university and a doctor at the Vietnam National Heart Institute.
She was soon sent to Paris, France, to study Clinical Cardiology and Doppler echocardiography at the University of Paris and the Saint-Antoine Hospital and learn about congenital heart disease at the Robert Debré Hospital. She returned to Vietnam in 1997 and continued working at the institute and the university. Huong was given Vietnam's Scientific and Technological Innovation Award in 2012 for her tireless efforts in scientific research.
As a senior lecturer at the university, she always renews her teaching methods. She applied modern teaching methods such as the Objective Structured Clinical Examination (OSCE) and Mini-Clinical Evaluation Exercise (Mini-CEX) for medical students, contributing to improving the quality of teaching and learning at the university. She also actively participated in training high-quality human resources for the national health sector. She has directly trained more than 40 Ph.D., MBA, and resident doctors and instructed and transferred advanced technologies to hundreds of doctors and medical staff at medical facilities across the country, said Vietnam News.
Huong works as a bridge for many young doctors and scientists to have the opportunity to access international scientific environments to study and improve their capacity, contributing to raising the quality of scientific research of Vietnam. She was given the title of "Excellent Teacher" in 2014.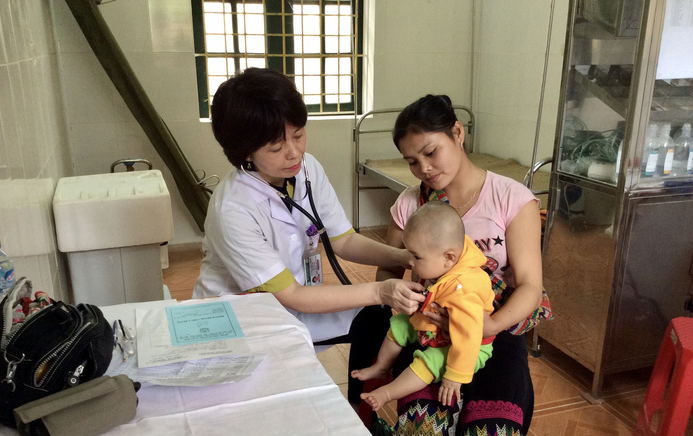 Ms. Truong Thanh Huong in a previous voluntary campaign. (Photo: Suc Khoe & Doi Song)
The Vietnam Women's Union Central Committee and the Vietnam Academy of Science and Technology held a ceremony on March 5 to mark the 35th founding anniversary of the Kovalevskaia Awards and present the 2020 awards to outstanding female scientists, according to Nhan Dan.
This is an international award dedicated to female scientists in recognition of their significant contribution to scientific research and in the application of science and technology, especially the natural sciences, an area playing a key role in the knowledge economy. Over the past 35 years, the Kovalevskaia Award has been presented to 20 female collectives and 49 individuals in the areas of mathematics, physics, chemistry, biology, agriculture, medicine, information technology, and others.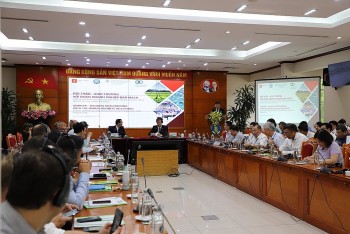 National
A Danish agriculture and food delegation visited Hanoi and Ho Chi Minh City on August 16-19 to exchange opportunities for cooperation and making business with their Vietnamese potential partners.