Vietnamese golfer runner-up at South Africa golf tourney
Scores tied after the final playoff, Nguyen Duc Ninh lost the title on countback at the Volvo World Challenge Final 2019.
Nguyen Duc Ninh (R) with the tournament champion Lukáš Broda. Photo by Van Phat
The 31st Volvo World Challenge Final finished last week with Vietnamese golf taking big strides on the international map.
A tight playoff for the championship title between the top two golfers of the tournament saw Vietnam's Nguyen Duc Ninh pitted against Lukáš Broda of the Czech Republic.
Ninh was in an advantageous position by playing his 17 holes 3-under.
However, on the 18th hole, he dunked a ball in the water with his third shot. He finished with a double bogey, but his opponent took command by winning the hole with a birdie.
With both golfers earning 223 points after three rounds, the final result was decided on countback and the Czech was chosen victor.
Alongside Ninh, five other Vietnamese golfers finished in the top 20.
The Volvo World Challenge is a global golf series that has attracted more than 1.5 million golfers from 24 countries and territories around the world since its first edition in 1988.
The Volvo World Challenge Final 2019 is held from March 25 to 28 at the Fancourt's Montagu golf course in South Africa.
In February this year, the Volvo World Golf Challenge - Vietnam 2019 selected six golfers to play the final in South Africa.
VNF ( Vnexpress )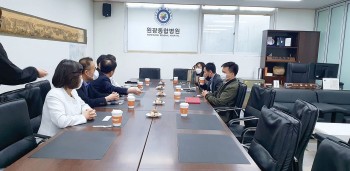 Overseas Vietnamese
A meeting was organized at the Wonkwang Hospital on the provision of medical support for the Vietnamese community in Korea in accordance with the signed cooperation agreement.