Vietnamese in Romania - small community with great will
600 Vietnamese contribution was not small as their community in Romania. On the occasion of Prime Minister Nguyen Xuan Phuc's visit to Romania, we reviewed the history of establishment and impressed expansion of "Lac Hong bloodstream" in this country.
Vietnamese students in Romania in the 70s. Photo: Vietnamese graduates of the Romanian Universities
The first day in Romania
After Vietnam and Romania had established the diplomatic relation, the Vietnamese community in Romania was formed in 50s of the last century by students who gained scholarship of Romanian government.
Being sympathetic with the hardship of Vietnamese army and people in the Resistance War Against America, Romania opened to Vietnamese excellent young people to come and study. In 1970, Romanian government gave 1,000 scholarships to Vietnamese students which were the greatest number compared with other Socialist countries.
To reciprocate the loss and sorrows of Vietnam as well as present an admiration of the marvelous spirit of Vietnamese students, leaders in Ministry of Education, lecturers in universities along with Romanian people supported and treated Vietnamese students as their relatives.
Responding to the caring and hospitalities of Romanian, hardworking Vietnamese students made all effort to achieve excellent studying results and gave the good impression in the host country.
Some of those Vietnamese alumni in Romania came back and took their knowledge which learned from this host country to the development of the motherland, while some other chose to stay in Romania as their second beloved homeland.
A Vietnamese shop in Romania. Photo: Huong Giang/Vietnam+
How many Vietnamese in Romania?
After settling in the new land, many Vietnamese brought their relatives to live in Romania, some of Vietnamese families had nearly 20 members.
Nowadays, there are nearly 600 Vietnamese living in Romania. Because of being from knowledge-class, 100% member of Vietnamese Community are the permanent resident card holders. Their living are stable, are protected by laws and got legal right and interest. Over a half of Vietnamese in the community live in Bucharest capital, most of them worked in business and service sector. Especially, the Dragonul Rosu (Red Dragon) mega shopping mall, located 10km from Bucharest, contained many overseas Vietnamese kiosks which included mostly clothes, shoes and toys.
The Dragonul Rosu mega shopping mall opened from 7am to 4pm from Monday to Saturday, tranquilized overseas Vietnamese for trading activities because it was always secured that had no place for maladies such as drug addiction, scams and debt collectors… Thus, the belief between the sellers and the customers were firmly and voluntarily constructed.
Vietnamese not only successes in business, but also in other fields. Many of them were doctors, engineers, lawyers and teachers. In other case, some of people after having commercial experience, expanded to new careers, such as: computer, real estate, building industry, nails or restaurant. With studios tradition, Vietnamese, no matter what job they do, always concerned to fund their child's studying by their own efforts.
Vietnamese community celerates Tet (Lunar New Year). Photo: Vietnamese Embassy in Romania.
The warm communal home
September, 11th 1993 was a mark of Vietnamese in Romania. In the Embassy of Vietnam at 15 Austrului, District 3, Bucharest, the Vietnamese Association in Romania was established with 15 members.
After 26 years, the Association became the representative office which protect the right and interest of Vietnamese in this Eastern country. Particularly, it was also a warm home of Vietnamese and support to preserve the traditional identities in the host country.
The Vietnamese Association in Romania was a reference of cultural and sport activities, for example: Tet (Lunar New Year) celebration, Vietnamese national day, uncle Ho's birthday concert, World childhood musical performance, Ao dai show, meeting of 500 Vietnamese shipbuilders in Mangalinga shipbuilding factory in Bucharest, etc.
Together with the extension of the community, some new organizations were born which refreshed the overseas Vietnamese's living, especially, the Vietnamese Women club in Romania. This club contribute to the progressive development of Vietnamese women's equality in the host country.
Overseas Vietnamese donate for flood victims in homeland. Photo: Thanh Nam
Moreover, the brightest point in the Vietnamese community's activities in Romania was maintaining and expansion of the national tradition of mutual affection. Beyond the support of fellow Vietnamese, overseas Vietnamese in Romania had charity's actions, e.g. money donations to Japanese to overcome the tsunami and earthquake or helping Romanian people in flood regions
Not satisfying with the achievements, in the 17th conference of Vietnamese in Romania in early April, the community had plans to expand, which included the improvement of organizing unions to attract more Vietnamese people to join in, ensuring the pert contents and interesting forms and finding the new trading directions, opening new fields and creating the professional companies that had strategy for effectiveness.
Particularly, the community continue to concentrate on education the young generation with the intention of 100% of them enroll in universities, lead them to integrate and have a worthy position in the native society and, furthermore, to the powerful countries when remaining to support to the homeland.
Translated by Thanh Van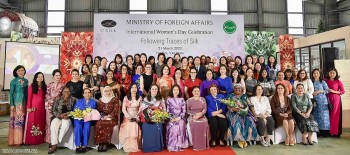 Friendship
Female ambassadors, representatives from diplomatic corps and international organizations, along with spouses of diplomats in Vietnam gathered together to find about more about silk weaving and silk products in Vietnam.