Vietnamese Influential Zen Thich Nhat Hanh Dies at 95
The master of meditation "passed away peacefully" at the Tu Hieu Temple in Hue – where his spiritual journey began and Vietnam's Buddhist heartland, the Plum Village Community of Engaged Buddhism said.
Thich Nhat Hanh, a monk with global influence, passed away at Tu Hieu Temple in his birthplace Hue at midnight Saturday aged 95. The death was announced by Plum Village, his organization of monasteries on Jan. 22.
Photo: VN Express
Who is Zen Thich Nhat Hanh?
Zen Master Thich Nhat Hanh is a global spiritual leader, poet, and peace activist, renowned for his powerful teachings and bestselling writings on mindfulness and peace.
Thich Nhat Hanh, who spoke seven languages, lectured at Princeton and Columbia universities in the United States in the early 1960s. The Zen Master, considered the second most influential Buddhist leader in the world after the Dalai Lama, studied and practiced Zen Buddhism from 1942, according to VN Express.
He became a monk at the age of 23 after studying Buddhism for seven years.
As a pioneer of Buddhism in the west, he formed the Plum Village monastery in France and spoke regularly on the practice of mindfulness – identifying and distancing oneself from certain thoughts without judgement – to the corporate world and his international followers, according to Guardian.
Photo: VN Express
Under Thich Nhat Hanh's spiritual leadership Plum Village has grown from a small rural farmstead to what is now the West's largest and most active Buddhist monastery, with over 200 resident monastics and over 10,000 visitors every year, who come from around the world to learn "the art of mindful living."
More recently, Thich Nhat Hanh has founded Wake Up, a worldwide movement of thousands of young people training in these practices of mindful living, and he has launched an international Wake Up Schools program training teachers to teach mindfulness in schools in Europe, America and Asia.
"You learn how to suffer. If you know how to suffer, you suffer much, much less. And then you know how to make good use of suffering to create joy and happiness," he said in a 2013 lecture.
Photo: Plum Village
Surviving a stroke in 2014 that left him unable to speak, he returned to Vietnam in October 2018, spending his final years at the Tu Hieu Pagoda, the monastery where he was ordained nearly 80 years earlier. Although he is still unable to speak, and is mostly paralyzed on the right side, he has continued to offer the Dharma and inspiration through his peaceful, serene and valiant presence. He comes out regularly in his wheelchair to visit the temple altars and to lead the sangha on walking meditation around the ponds and ancestral stupas.
Also a poet and peace activist, he was nominated for the Nobel Prize by Martin Luther King, Jr., in 1967, and is the author of more than 100 books, including the bestselling 'The Miracle of Mindfulness'. His unique and popular works of calligraphy – short phrases and words capturing the essence of his mindfulness teachings – have since 2010 been exhibited in Hong Kong, Taiwan, Canada, Germany, France, and New York.
On returning to Tu Hieu, he left instructions on what should be done with his body after his death: "If one day I die, don't build me any tomb or tower. It'll cost money, it'll cost people's land, and our people are still very poor. Cremate me. Bring my ashes to Plum Village monasteries around the world and scatter them on the roads of your walking meditation. So that every day I am still with you on our walking meditation."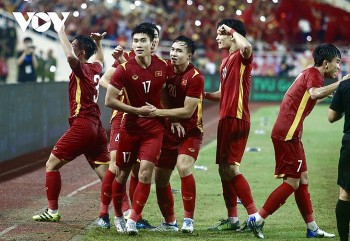 Viet's Home
The Vietnamese football team, both male and female, played their best, devoted themselves, united, and promoted the collective spirit, successfully defending their SEA Games champion title.