Vietnamese inventor blazing a trail in the land of the rising sun
To make a name for oneself in a foreign country is no mean feat, but to do that in Japan, that too in the early seventies and eighties, takes extraordinary resolve and perseverance, qualities that Tran Ngoc Phuc has displayed in ample measure.
To make a name for oneself in a foreign country is no mean feat, but to do that in Japan, that too in the early seventies and eighties, takes extraordinary resolve and perseverance, qualities that Tran Ngoc Phuc has displayed in ample measure.
The recently elected chairman of the Overseas Vietnamese Association in Japan has charted a course barely walked in the country of the rising sun.
Among all the indelible memories he has gathered over decades of living and working in Japan are the first days of disorientation and the struggle to set up a company of his own, Phuc told the Vietnam News Agency.
Tran Ngoc Phuc, the founder of the medical equipment company, Metran, based in Japan, checks up on the ventilators. — VNA/VNS Photos Thanh Huu
With the 50s and 60s of the 20th century being a tumultuous era in Vietnamese history, Phuc's family endured their fair share of hardship like most of their brethren. And one thing that remained in his mind was that amidst the toughest times, his family never abandoned the virtues of kindness, resilience and self-respect.
In 1968, at the age of 21, Tran Ngoc Phuc left Vietnam to begin studies in industrial chemistry in the Japanese university, Tokai. The choice of Japan was straightforward. Phuc's family were devout Buddhists in the old capital city of Hue, also the hometown of noted scholar Phan Boi Chau, who pioneered the Dong Du movement (Visiting the East) in early 20th century, and Japan was recommended by the monks there.
Phuc and other Vietnamese students in Japan faced a formidable language barrier, but his determination did not waver. Moreover, he considered himself lucky to receive all the support from his family back home. But this changed after Vietnam's unification in 1975, followed by Cold War tensions and the long-standing economic sanctions imposed by the US, which rendered communications between overseas students and their families in Vietnam almost impossible.
Phuc, no longer a "coddled prince" was cut off from his parents and the 'guaranteed future' that had awaited him. He was on his own, and had to find his own way.
Square one
Emerging from a period of disorientation, Phuc decided to return and continue working with the Senko Medical Instrument Manufacturing Company, where he'd interned while at university. Thus began a new, testing phase of his life.
Initially, Phuc had difficulties navigating his way around the Japanese society's infamous 'insular culture.' While there were many friendly Japanese, there were just as many not so enthusiastic about foreigners like him. He was allowed to continue to work and conduct research at the company, but as he was not Japanese, he had to do everything on his own.
This cool, wary reception, however, didn't make him any less cordial and open, and this gradually earned him lots of close Japanese friends who have since accompanied him on the path of enterprise and innovation.
The root of his subsequent success lay in his ability to spot opportunities and willingness to take the risks involved in exploiting them. He noticed that medical ventilators were not being produced in Japan, given the uncertainties involved in their use and efficacy. Phuc decided to take this relatively untrodden path, which meant a daunting workload involving bringing together specialised knowledge in various areas. But he was not daunted, and had the motivation of wanting to do something to help babies live. As an intern at hospitals, he had seen premature infants die of respiratory failures. He wanted to make machines that could help save their lives.
At that time, a ventilator would help increase the flow of oxygen for premature babies, but an excess could lead to several acute complications, including brain damage, blindness, as well as respiratory difficulties later.
In 1984, 10 years after his graduation, Phuc established the Metran Co Ltd, based in Saitma prefecture's Kawaguchi City (about 30km from the capital city of Tokyo), to develop a high frequency oscillatory ventilator (HFO), named Hummingbird. Metran's HFO would allow for diffusion of air supply at a rate thousands of times faster than machines available then. From a heavy 'mechanical beast,' the effectiveness of which recognised by the US renowned medical research centre National Institutes of Health (NIH), the device has undergone several revisions – with the latest sporting a slimmer body and a full touch control panel.
The new machine's efficiency ensured its widespread presence in Japan, with a reported 90 per cent of Japanese hospitals and medical facilities being outfitted with machines made by Phuc's company. The paediatric ventilator is also present in hospitals in 12 other countries and continues to expand its global presence.
Tran Ngoc Phuc, the founder of the Japan-based medical equipment company, Metran, in an interview with Vietnam News Agency
The story of a machine made by a company started by a Vietnamese scientist and entrepreneur that helped save the lives of thousands of premature newborns in Japan caught the attention of the revered Japanese Emperor. In 2012 July, out of several thousands of enterprises based in Japan, Metran received the rare honour of a visit from Emperor Akihito and Empress Michiko.
In December 2017, Metran was recognised by the Japanese government as one of the enterprises set to drive regional growth in the future. Phuc's company has received research funding of more than US$300,000 from automaker Suzuki and Tokyo University.
Back home
In 1986, Phuc was finally reunited with his family in HCM City.
While he was here, he visited several hospitals in Vietnam and decided he could be of help.
Returning to Japan, he sent the HFO machines made by his company to children's hospitals in Vietnam.
But he wants to do more.
When Phuc was an overseas student, the overseas Vietnamese community in Japan numbered a few dozens. As a renowned scientist and entrepreneur now, he does not want any Vietnamese youth to endure the "solitary path" he had to walk on, so he is always looking for ways to support those with clear ambitions and a strong will to realise their dreams.
He created clubs for both recreational activities and gathering of like-minded people that give budding scientists, entrepreneurs and other professionals the opportunity to connect and support each other as a community. Phuc said he sees these communities as "incubators" to nurture the "talents and virtues" of the Vietnamese community in Japan.
In May last year, he was elected chairman of the Overseas Vietnamese Association in Japan for the 2017-2020 term. He has since dedicated himself to mobilising Vietnamese youth in Japan to support those struggling to adapt to the Japanese way of life.
For Phuc, innovation or business are not just ways to make a monetary profits. The primary aim is that actions and products should ultimately be of benefits to human beings. His motto and philosophy is defined by his pursuit of what he calls "the humanitarian science."/.
( VNF/VNA )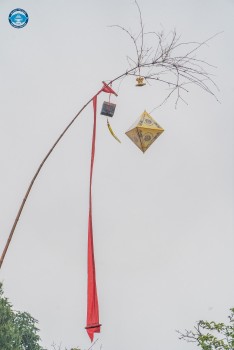 Viet's Home
In the past, the Neu pole (a tall bamboo pole with red garment strips used to ward off evil spirits during the lunar New Year) lowering ceremony at the royal palace of the Nguyen Dynasty was performed to mark the end of the New Year holiday and prepare to enter a new working year.