Vietnamese Landscape Photography Spotlighted at US Exhibition
World reknowned photograher Tran Minh Dung recently exhibited his photos of Vietnamese landscapes in the US to raise money for a good cause.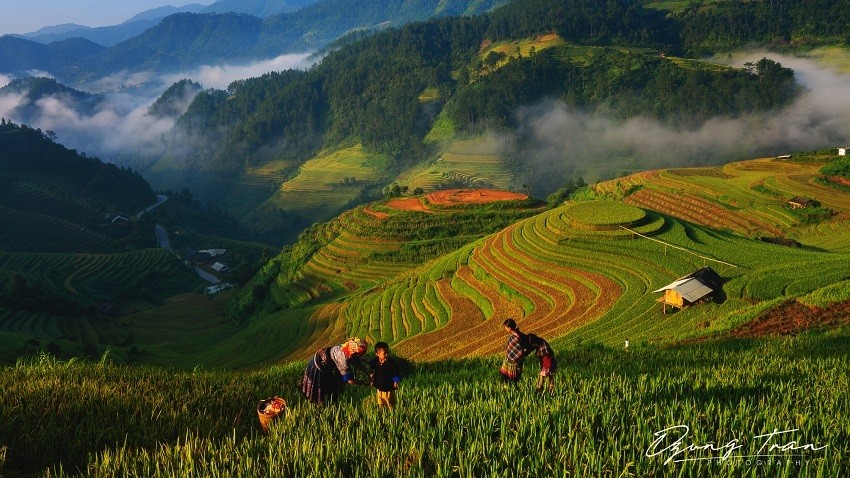 Vietnamese photograher Tran Minh Dung recently exhibited his photos of the country's landscapes in the US to raise money for a good cause. Photo: Dung Tran Photography
Tran Minh Dung, 32, is currently working in Ho Chi Minh City as a professional photographer. He recently exhibited many of his Vietnamese landscape photos at Hamon Hall Center, Dallas, Texas, USA.
There are also four other artists on show: photographer Chu Viet Ha, painter Xuan Lam, Phung Banh and Duy Vo joined Tran Minh Dung to make this special charity a success.
The exhibition was organized by the Vietnam Youth and Students Association in the US from Nov. 27 to Dec.18 to raise money for charity It has raised more than US$3,000 to help Vietnamese orphans and children affected by the Covid-19 pandemic, and concluded another successful overseas exhibition for Dung.
Beauty of the motherland
Dung started his career in photography in 2015, mostly focused on taking photos of landscape and architecture. In those first days, he was blown away by Vietnamese beauty.
In 2016, while traveling in Mu Cang Chai, Yen Bai, he captured a Mong woman on raspberry-shaped rice terraces. It was a fascinating moment of the highland in the golden hour that stuns the artist to this day.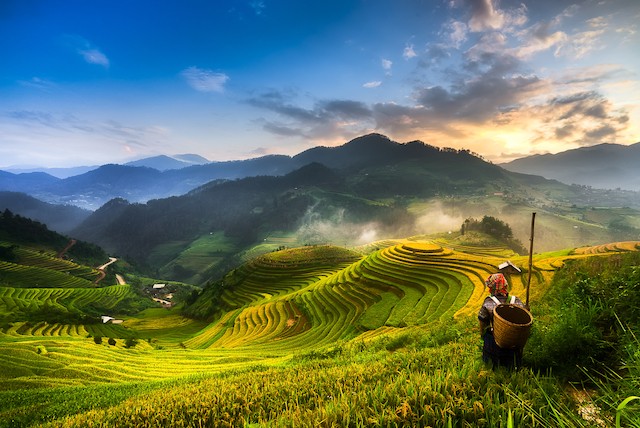 Sunset on the Mu Cang Chai terrace brought Dung his first achievement - third prize at the international photo contest Sony World Photography Awards 2017. Photo: VnExpress
The photographer saud: "These landscape photos represented my journey of photography in Vietnam and I am proud to have earned high achievements at international photo awards in recent years. I would like to introduce to everyone the beauty and the diversity of famous tourist destinations in my country. I want to welcome international tourists back to beautiful and hospitable Vietnam."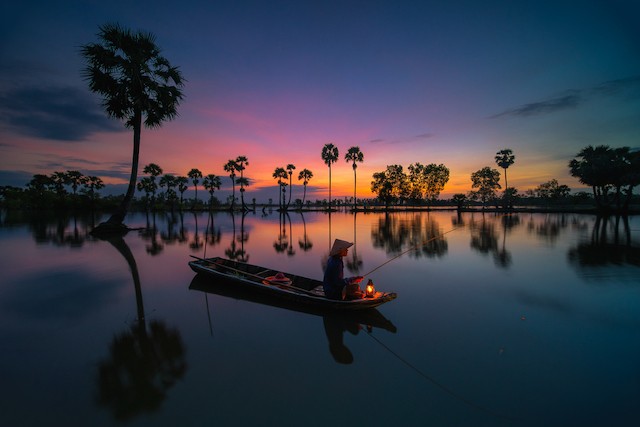 A picture of dawn at high tide taken in An Giang. Photo: VnExpress
His photo in Mu Cang Chai brought him his first achievement - third prize at the international photo contest, the Sony World Photography Awards 2017. It was a neck-to-neck competition for Dung since it had more than 220,000 other photographers.
In the following years, his career took off. Dung received various international awards such as EPSON International Pano Awards 2018, Chromatic Photography Awards 2018, 2019, abd the EPSON International Pano Awards 2019.
Dung likes to travel and photograph unfamiliar scenic locations in Vietnam but he said that taking photos of his city brings him so much joy. He still discovers new aspects of Ho Chi Minh City even though he has lived here his whole life.
In the past, Dung would take advantage of weekends, holidays or day-off from work to take pictures, patiently waiting to capture sunrise and sunsets.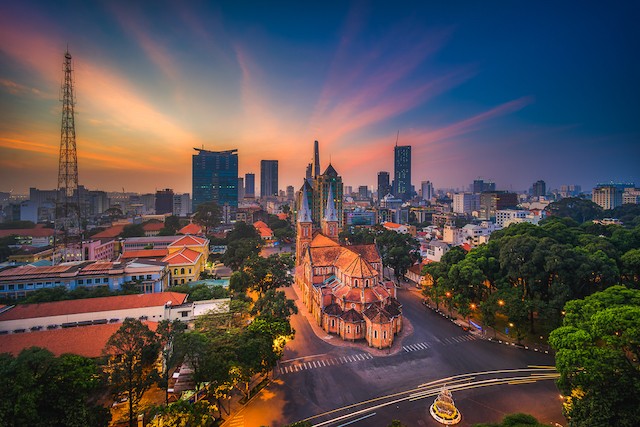 Saigon greeting a new day, Dung captured the beautiful sunrise on Notre Dame Cathedral before it was restored. Photo: VnExpress
When Dung decided to quit his office job to pursue a professional photography career, he faced a lot of challenges. The young professional did not give up on his passion.
His hard work paid off now that he is a world renowned artist. At the end of 2018, Dung opened his own photo studio in Ho Chi Minh City, displaying landscape photos, architecture and selling camera accessories.
Photography for a good cause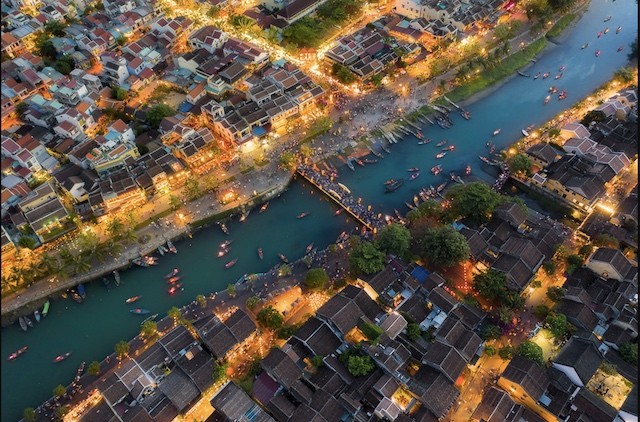 Hoi An night lights, a photo of the Covid-19 fundraising exhibition, which won the silver award at the EPSON International Pano Awards 2019. Photo: VnExpress
Dung's most memorable trip was to Hang En Waterall in K'bang district, Gia Lai.
He entered the waterfall for the first time on April 1, 2019, when it rained, some equipment got wet and damaged, si the first trip was a failure.
A month later, he returned to the falls twice on April 10 and April 19, 2019. He got luckier now and managed to find the perfect time to capture moments both day and night, from above and below.
"When I got out of the waterfall, I was exhausted from the heat, I was dehydrated and experienced terrible insomnia. All that troubles went away and I only felt one thing: happiness when I finished the set of photos," said Dung.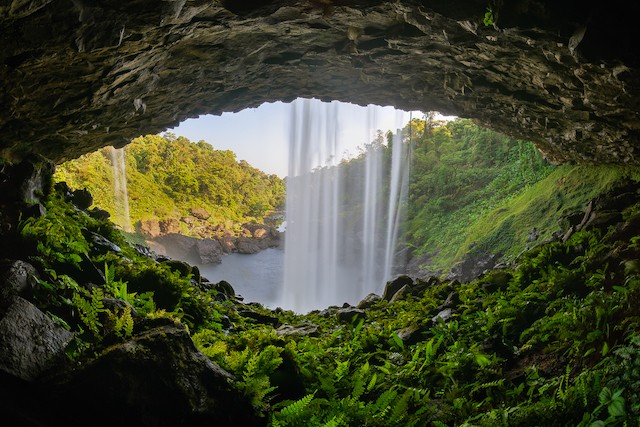 Dung's most memorable trip was to Hang En Waterall in K'bang district, Gia Lai. Photo: VnExpress
For this special US exhibition, Dung was more than happy to put his works up for charity auction. During the two years of the outbreak, Dung could not make as many photography trips as he used to but when there is a will, there is way.
He found different way to stay actives and let people know about his works.
He began collaborating with camera companies to organize workshops to share his knowledge and experience in landscape photography.
According to Dung, the collaborations were a great learning experiences.
He says it is great that he gets to inspire young people who want to pursue a career in photography.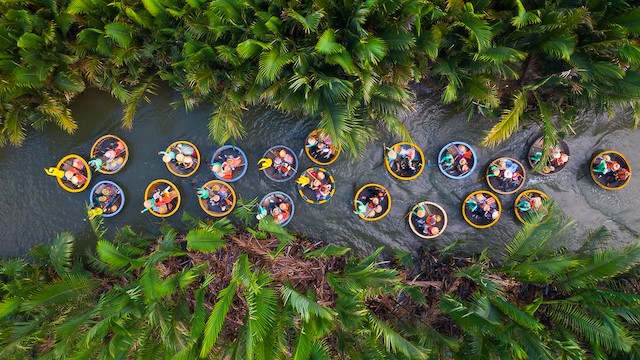 Photo of Ecotourism in the middle of the nipa palm forest in Cam Thanh, Quang Nam won first prize at the Chromatic Photography Awards 2019, tourism category. Photo: VnExpress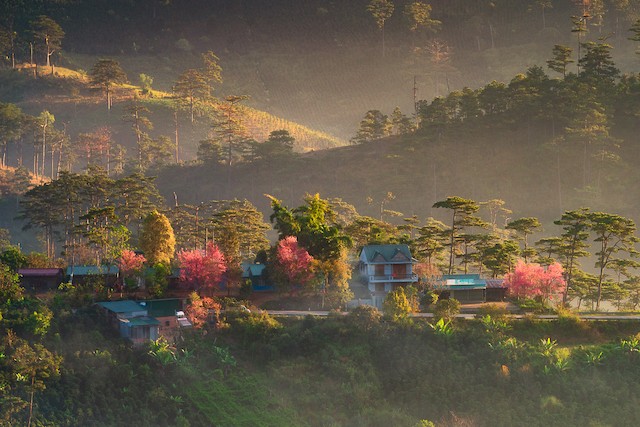 K'Long K'Lanh, Lam Dong in the cherry apricot blossom season taken by Dung in January 2021. Photo; VnExpress
"Photography is my journey to capture, connect and interact with indigenous people, helping others understand more about the culture and landscape in different regions. It is my passion, and now that I am a professional, I feel responsible to cover the values in life in my work," Dung said.
Dung is currently working on two projects: Landscape photos of Vietnam and Urban architecture photos taken in both Vietnam and a number of Asian countries.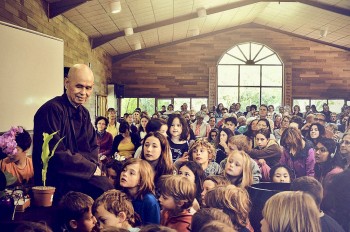 Viet's Home
The master of meditation "passed away peacefully" at the Tu Hieu Temple in Hue – where his spiritual journey began and Vietnam's Buddhist heartland, the Plum Village Community of Engaged Buddhism said.