East Meets West: Vietnamese Folktales Appear in Belgium Comics
Meet Vink, an overseas Vietnamese, dedicated to showcasing homeland tales from his youth to European audiences.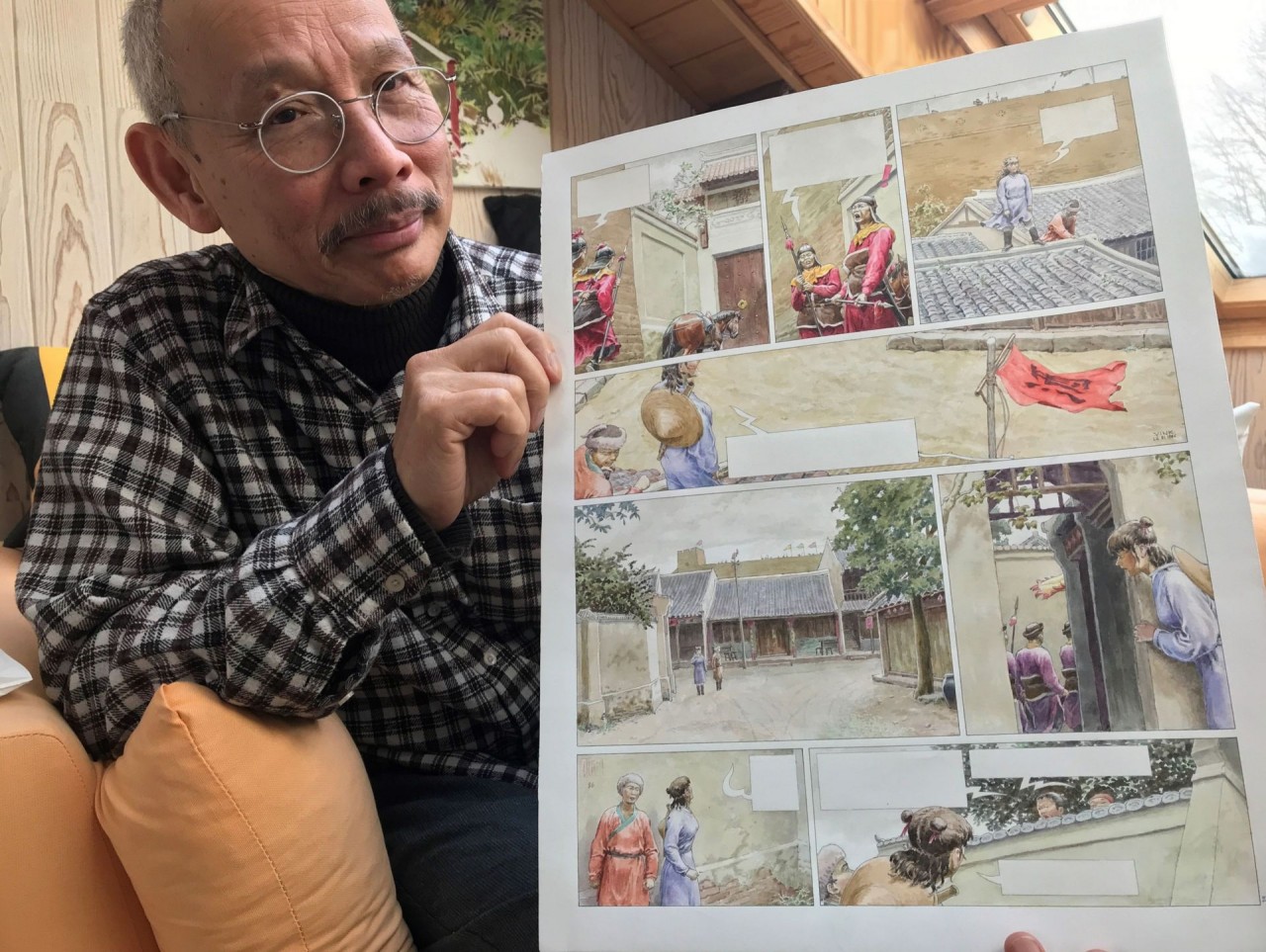 Painter & comics artist Vink (Vinh Khoa) has retired for 5 years. Photo: RTBF
With a career spanning 50 years, a comic artist known as Vink has created 600 artworks in Liège, Belgium. In 2021, donated his impressive work to Da Nang and Liège, his two homes.
First one to bring Vietnamese folktales to Belgium comics
Known abroad as Vink, Vinh Khoa was born in 1950 in Da Nang City. He inherited his good taste in art from being descendants of Hue's Royal family. Vink studied journalism at Van Hanh University in Ho Chi Minh. In 1969, he went study abroad in Belgium and has been living in Liege, Belgium ever since.
From 1969 - 1975, he went to medical school and studied to become doctor upon his parents' expectation. Although he is qualified to practice, Vink knew his true passion was pursuing arts.
He came to art at the age of 30, Vink made his debut with Vietnamese fairy tales Derrière la haie de bambou (After the green bamboo wall) for Tintin newspaper. In 1985, Vink won Belgium's biggest comic award with the series Le Moine Fou (Mad Monk).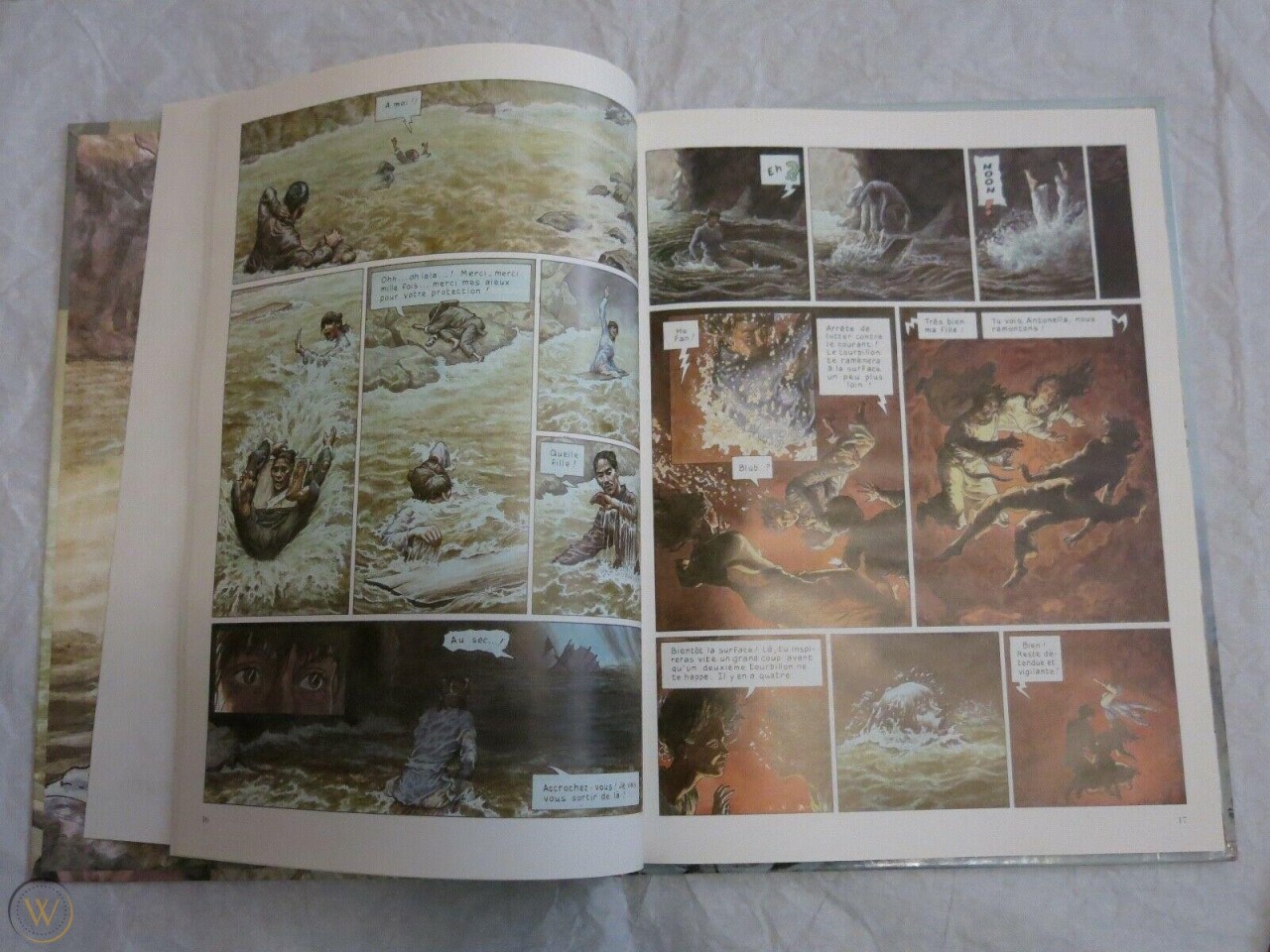 Vink's most famous work - Le Moine Fou (Mad Monk). Photo: WorthPoint
Vink is one of the rare artists who use watercolors and oil paints in comics work.
In 2021, Vink decided to donate some of his works to the city of Liège, where he has worked for 50 years, and the city of Da Nang, where he was born and raised. they decided to donate it to the Da Nang Fine Arts Museum, expressing their earnest contribution to diversifying the artistic heritage of Danang city and Vietnamese fine arts.
Patriotism inspires arts
Vink brings Asian characteristics into Belgium comics in storyline and visual. Photo: RFI
Vink started painting as a childhood hobby, starting when he was 12 years old. At Liège School of Fine Arts, he met Claudine (also known as Cine) who is now his loving wife, co-author, and biggest supporter.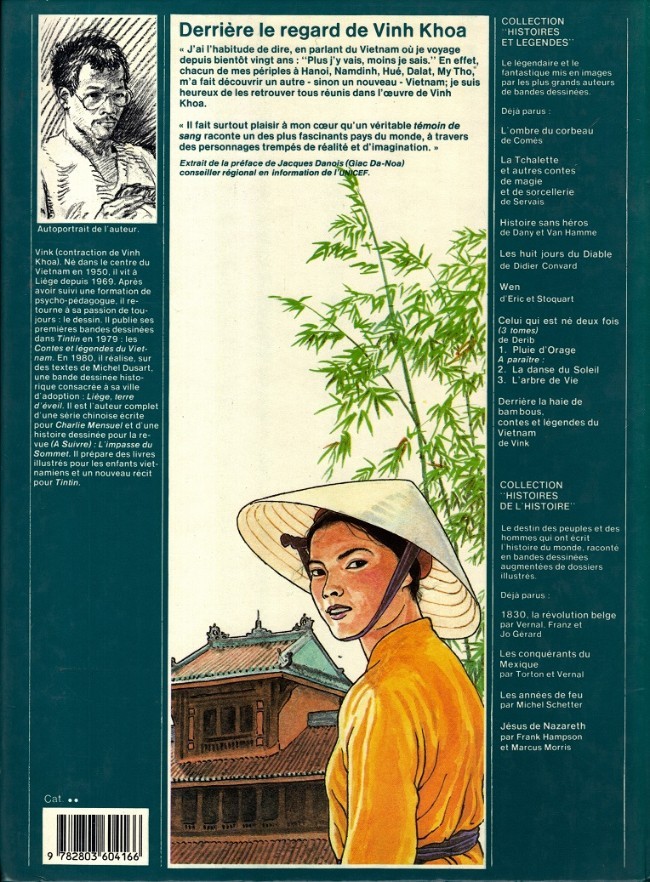 His debut work - Derrière la haie de bambou. Photo: Bedetheque
Vink decided to build a life and a career as comics artist together with Cine in Liege, Belgium. His parents were very upset he did not become a doctor and not returning to Vietnam. However, his dreams would eventually bring a bit of Vietnam to Belgium.
Inspiration did not come easy at the beginning. Vink originally wanted to portrait modern Belgium from the perspective of a foreigner. Jean-Luc Vernal, editor-in-chief of Tintin Journal, had a different idea. Vink worked on his very first comics for Tintin Journal when he took Venrnal's idea of portraying Asian characteristics.
Vink started retold Vietnamese fairytales in Derrière la haie de bambou (After the bamboo rampart) and received lots of positive responses. It was a breath of fresh air for Western readers. He continued creating in this direction and started getting recognition. His bold move to draw direct with colors give the pages more liberal and vivid impression, like ones you see in Hong Kong martial art television shows.
"My drawing style and writing style has a lot of 'Eurasian' elements that comes naturally for me. But it must be because I studied at a French school in Da Nang," Vink shared. French, Belgian books, textbooks, illustrations have greatly influenced him.
Some of Vink's comics have some hidden meanings. In some comics, he described the problems he had living in Belgium although the story was set in 11th century in China.
Vink currently has a rich collection of stories like Le Moine Fou (Mad Monk) with mystifying topics of leaving the country, the fear of going crazy and the fear of war, etc. His two other series of long-running stories, a number of short stories, like Une luciole dans la ville (City Fireflies), Le Passager (Passengers) and especially the sketch of 1,000 year-old history of Liège are reputed for its fresh expression.
On January 2021, most of his works was given to the Heritage Fund of the City of Liege as Vink's gratitude to the city. Hundreds of comics pages donated by Vink is now a symbol of Vietnam-Belgium culture that art lovers of both nations can enjoy.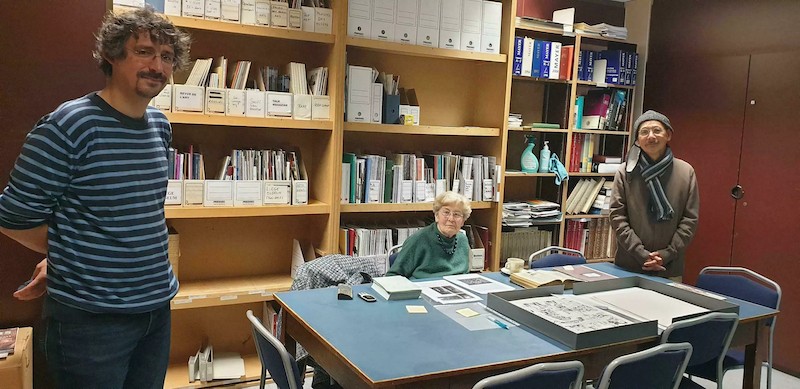 Vink worked with the Heritage Fund of the City of Liege to take care of his collection. Photo: RFI
Celebrating Vietnamese comics
On Nov. 19, Da Nang Museum of Fine Arts received original comics pages collection by comics artist Vinh Khoa - Vink. artifacts and opened the exhibition of the original page collection of comics by artist Vinh Khoa - Vink. On the afternoon of the same day, the museum held the opening ceremony of the exhibition for this collection.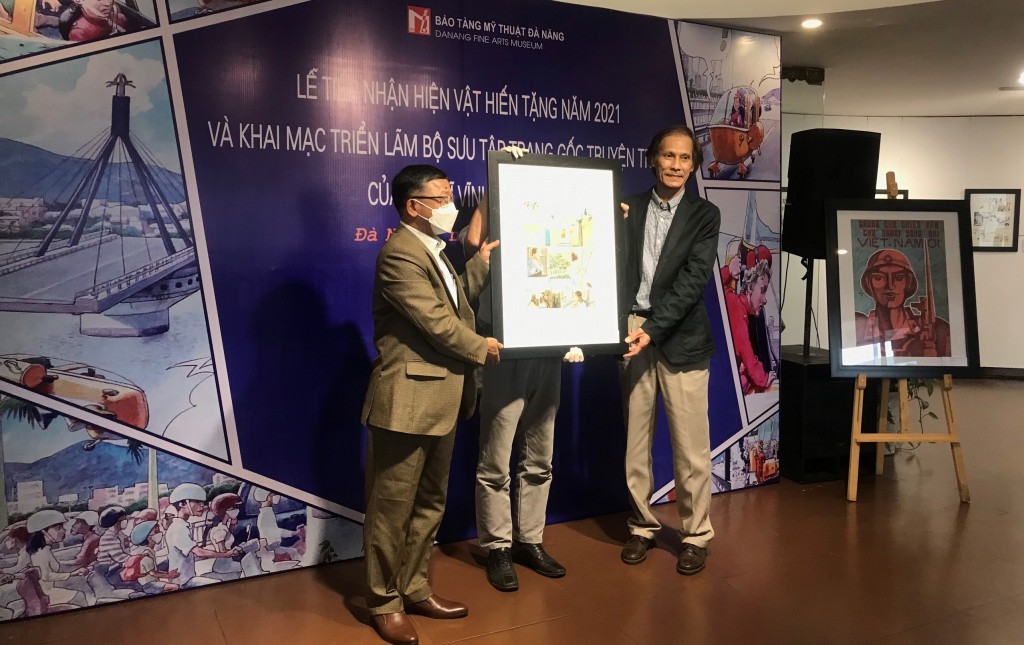 Tuoi Tre Thu Do
At the ceremony, the Director of the Da Nang Museum of Fine Arts received precious artifacts including 61 original comic pages, 20 related documents and 14 comic books published in Belgium and Thailand by Vink and his wife/partner Cine.
Deputy Director of Da Nang Fine Arts Museum Nguyen Thi Trinh shared that a total of more than 100 artifacts have been treasured by painter Vinh Khoa and painter Le Huy Hanh over the past decades, some of which are more than 50 years old. five years old.
"This special event is to celebrate Vietnam Cultural Heritage Day on November 23rd, in which we encourage artists and the public to actively participate in conserving and promoting cultural heritage values", said Deputy Director Nguyen Thi Trinh.
On the other hand, the exhibition is to show gratitude to individuals who have given their works to the Da Nang Museum of Fine Arts. She hopes it helps introduce to the public how interesting and unique Vietnamese comics has become.
In addition, artist and sculptor Le Huy Hanh, Vice Chairman of the Da Nang Fine Arts Association also made a generate contribution of more than 100 artifacts, some of which are more than 50 years old. They are original drawings of famous propaganda posters.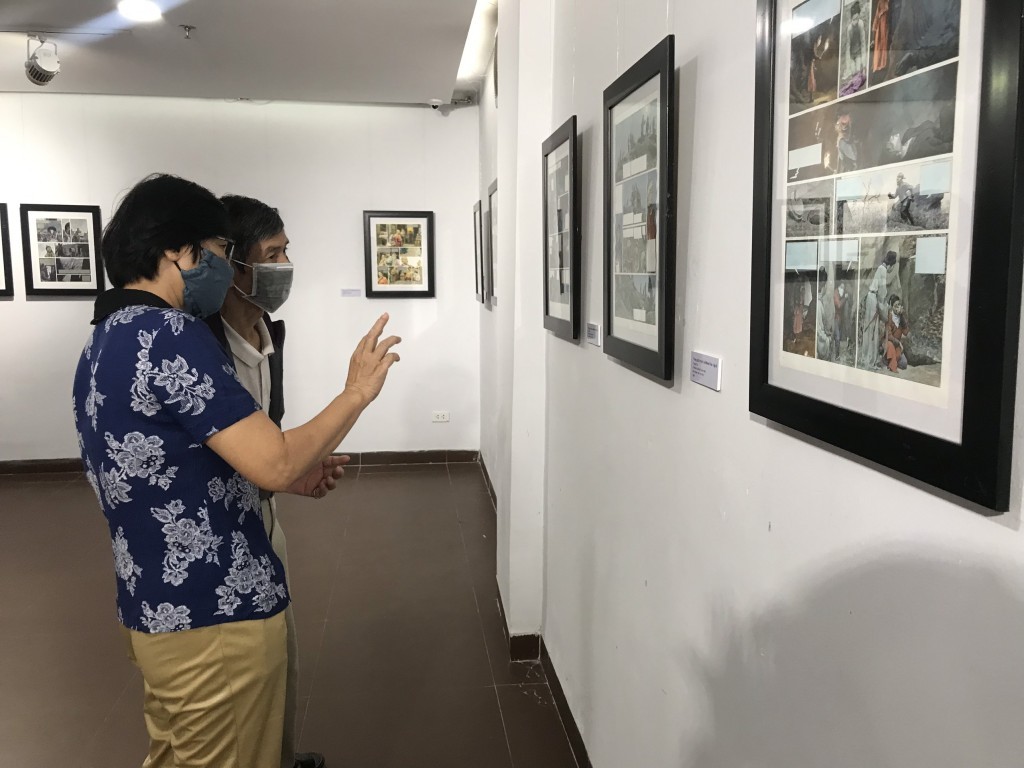 Viewers at the exhibition in Da Nang Museum of Fine Arts. Photo: Tuoi Tre Thu Do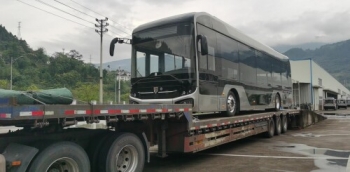 Economy
Ev Dynamics (Holdings) Limited is a pioneer and a prominent player in China's new energy commercial vehicles market, as well as a whole-vehicle manufacturer of specialty passenger vehicles and new energy passenger vehicles.