Vietnamese MC joins NGO in sustainable forest management
PROSPER project just receives a grant of VND 850 million (EUR 33,000) from the An Vui Fund by Mr. Dai Nghia, a celebrity in Vietnamese showbiz who is well-known for both of his talent and strong commitment to helping disadvantaged communities.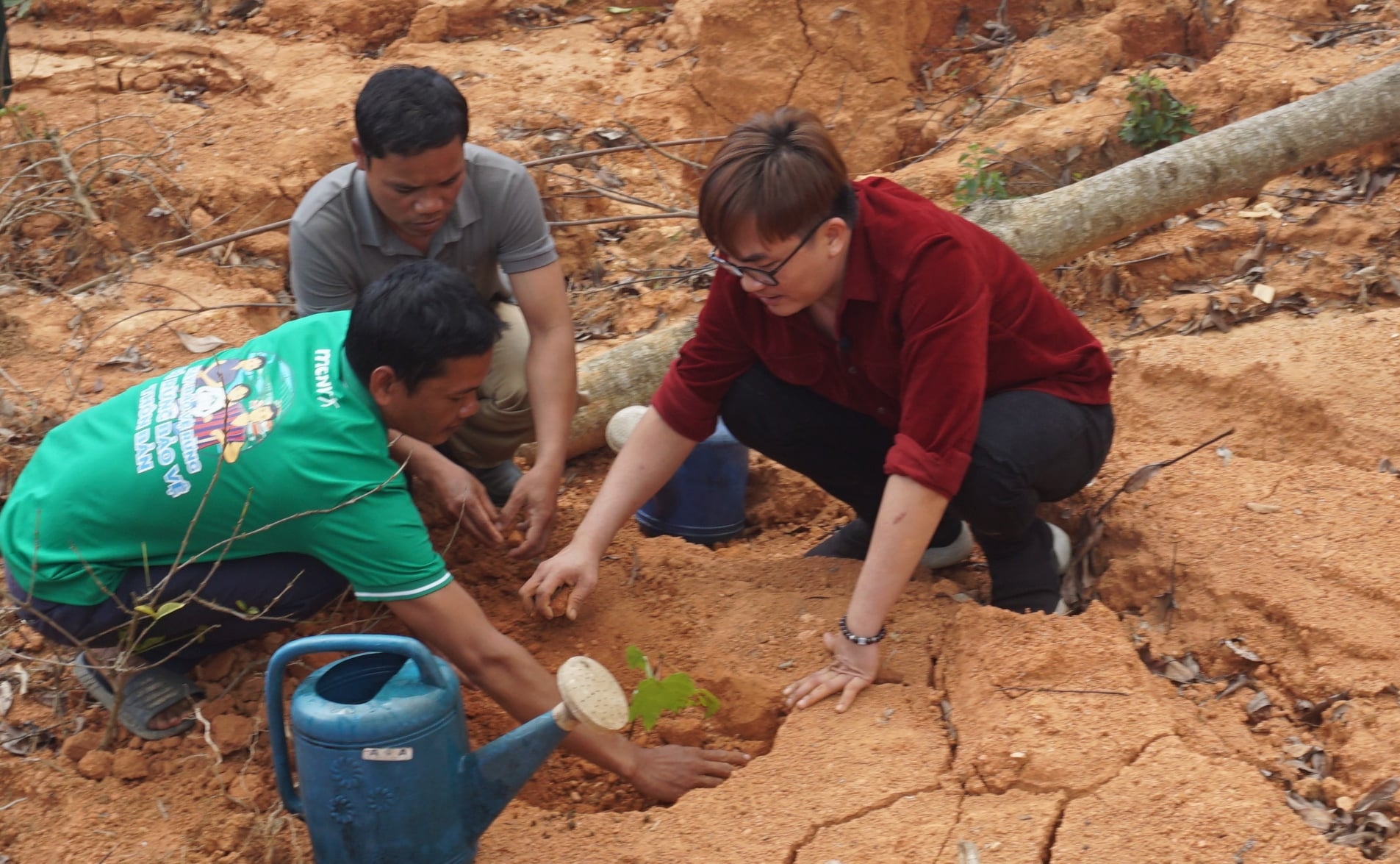 Mr. Dai Nghia (red shirt) joins the tree planting event with MCNV's staff. Source: MCNV
Accordingly, the project 'Promoting sustainable partnership between CSOs and enterprises for sustainable forest management in the context of climate change' (PROSPER) is co-funded by the European Union (EU) and the Medical Committee Netherlands-Vietnam (MCNV) with total value of EUR 800,000 (USD 898,000), 2020-2023 period, aiming to promote sustainable partnership between CSOs and enterprises for sustainable forest management in the context of climate change.
The cash, donated by Mr. Dai Nghia, his fellow artists and friends, will be used to plant 128,500 trees, contributing to healing 15 'wounds' Quang Tri forests are struggling with after the flashfloods and landslides last October and November.
Together with a team of more than 20 fellow artists, Mr. Dai Nghia traveled to Chenh Venh village, Huong Hoa district, Quang Tri province to hand over the donation to MCNV.
Speaking at the ceremony, Mr. Dai Nghia said, "For the recent few years, I've been feeling the pain of the loss of forests caused by deforestation, fire and disaster. That's why I decided to do something to help the nature heal its pains. I know, I cannot do it alone. I've spent several years to search for a companion on this journey".
"When I was introduced to MCNV during a business trip to Quang Tri, I felt like I have found the trust-worthy companion that I've been looking for. MCNV, as I know, is a Dutch NGO with lots of projects contributing to supporting disadvantaged communites."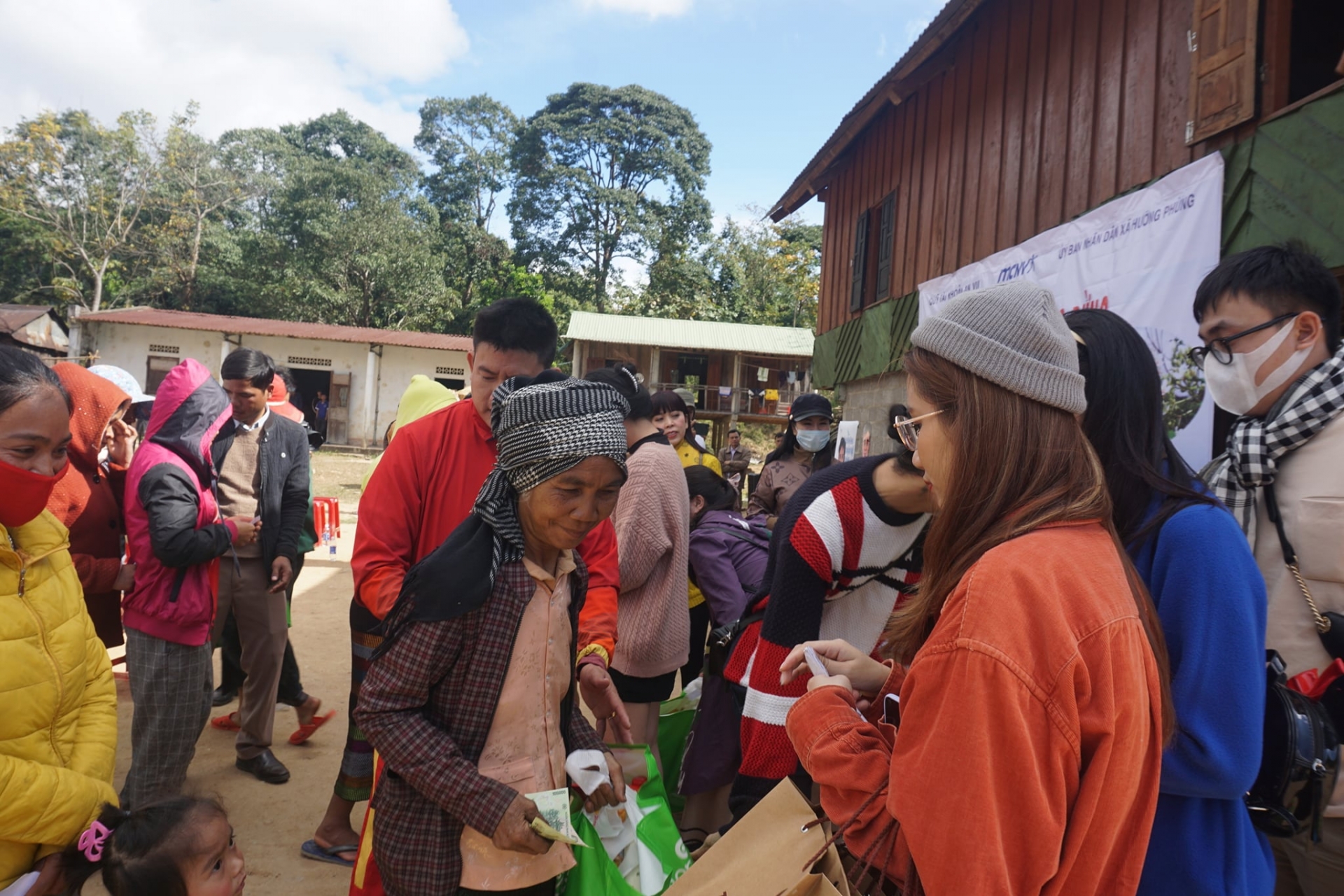 As part of the tree planting trip, the group of artists presented 1,000 packs of gifts to 1,000 ethnic minority households in Huong Hoa district, Quang Tri province. Source: MCNV
In response to the MC's meaningful speech, Mr. Nguyen Dinh Dai, MCNV Chief of Central Vietnam Office expressed his heartfelt thank to Mr. Dai Nghia and all donors.
"We've been used to receive donation from overseas donors, mostly from Europe, in particular, the Netherlands. Nowadays, we begin to receive more support from Vietnamese individual and business donors. In the last several years, our donors have shifted the model of support from giving the 'fish' to giving the 'fishing rod' to the beneficiaries."
"Today, instead of 'giving fishing rod', our sponsors focuses on the partnership with beneficiaries, like the partnership between businesses and farmers, or the collaboration between sponsors and organizations. The grant from Mr. Dai Nghia signifies this new trend of sponsorship, which will generate long-term and sustainable results," he noted.
As part of the trip, they also presented 1,000 packs of gifts (rice, cooking oil, dried food) to 1,000 ethnic minority resident households in Huong Hoa district.
Founded on November 18, 1968 by a team of dedicated Dutch doctors, MCNV's initial mission was to deliver the aid from the Netherlands to Vietnam to support the country's resistant war. Most of the sponsorship was made through medical supplies, hospital building, the prevention of tuberculosis, malaria, etc.
In later years, MCNV has diversified its fields of operation, joining hands with Vietnam in the cause of development, with various projects in livelihood improvement, gender equality, rehabilitation, response to climate change, etc.
Quang Tri is MCNV's key beneficiary locality, where the organization started its supports for Vietnam in 1968.
The 1,000th person rescued from slavery

In December of 2005, the Blue Dragon Children's Foundation rescued a child from human trafficking for the first time. This week, fifteen years later, the ...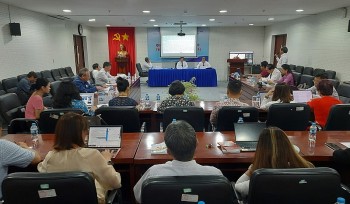 Friendship
The Vietnam - India Friendship Association's Ho Chi Minh City branch, the Ho Chi Minh City Union of Friendship Organizations (HUFO) and the Southern Institute of Social Sciences on March 21 held a scientific seminar themed "Vietnam - India relationship: tradition and present".