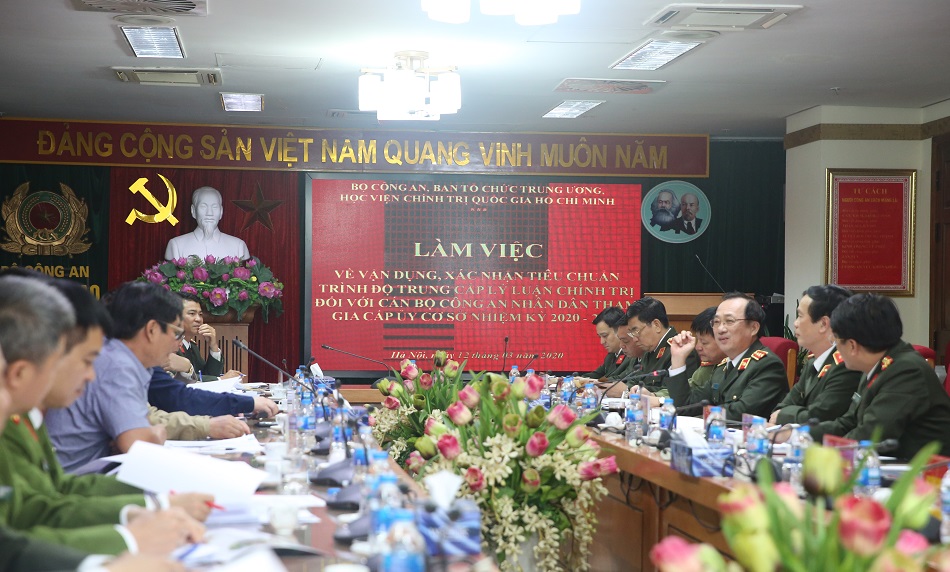 Overview of the meeting
The meeting saw the presence of Senior Lieutenant General, Assoc. Prof., Dr. Nguyen Van Thanh, Member of the Party Central Committee and Deputy Minister of Public Security, Dr. Quan Minh Cuong, Deputy Head of the Central Organization Commission, and Assoc. Prof. Dr. Nguyen Duy Bac, Vice President of the HCMA.
On January 10, the Public Security Central Party Committee (PSCPC) proposed the Secretariat of the Party Central Committee to allow public security officers with their intermediate political qualifications to become candidates for basic-level Party committees of the next term. On January 11, the Secretariat adopted the proposal.
Accordingly, the HCMA will appraise and approve the list of qualified public security officers and provincial-level political schools will issue certificates in proportion to their politic qualifications.
Speaking at the meeting, Deputy Minister Nguyen Van Thanh requested the Department of Education and Training under the Ministry of Public Security to guide local police units to urgently send profiles of candidates for basic-level Party committees, with a focus on to-be communal police chiefs who were trained in full-time training courses at public security schools. He also urged public security educational institutions to review results after three years piloting a high-level political theory training program.
The Deputy Minister asked the Central Organization Commission and the HCMA to support the Ministry of Public Security in verifying political qualifications of public security officers.
Public Security Minister visits Cambodia

On May 12th, Cambodian Prime Minister Hun Sen received a delegation from the Vietnamese Ministry of Public Security led by senior Lieutenant-General To Lam, Politburo ...
MPS