Mongolian Wins Special Prize in Vietnam's Song-Composing Contest
Special prize was given to a song by D. Ariunbold from Mongolia.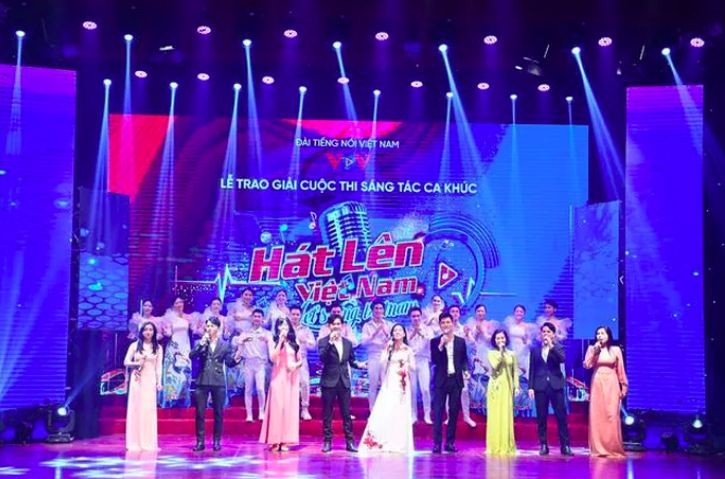 The winning entries staged, recorded and broadcast on the radio and television channels of VOV. Source: VOV
The Voice of Vietnam (VOV) held a program on Dec. 18 in Hanoi to award winners of the songwriting contest promoting images of Vietnam.
"Hat len Viet Nam - Let's Sing Vietnam" is a songwriting contest launched in 2021 for both professional and amateur Vietnamese songwriters in and outside the country and foreigners, who are living and working in Vietnam.
The contest aims to celebrate the success of the 13th National Party Congress, publicize Vietnam and its people, and praise the country's achievements.
It is the biggest ever songwriting contest open to both professional and amateur Vietnamese composers in and outside the nation and foreigners, who want to express their love for Vietnam.
Since the competition was launched in early February, nearly 900 songs have been sent to the organizing board. Of the entries, the jury board selected 45 outstanding songs with good content for the final round.
The entries focus on praising the Communist Party of Vietnam, President Ho Chi Minh, and the image of Vietnam and its people. Many songs have also expressed gratitude for frontline forces in the fight against the Covid-19 pandemic, said meritorious artist, musician Doan Truong Nguyen, Director of VOV's Music Department, adding, "The campaign has been successful in regards to the quantity and quality of entries."
In addition to domestic authors, the contest has received articles from foreign authors living in Vietnam, Vietnamese expatriates living in countries around the world, and well-known foreign authors. Spanish author Leo Fernandez with the song "Lily Del Valle"; The Thanh, a Vietnamese in Japan submitted the work "Vietnam in my heart"; Ivy Thu Nguyen, living and working in the US with "My soul"; the work "Fly high, mother's seagulls" by Thi Doan Hai Sam, living in Germany, among others.
The organizing board presented a special prize to the song titled "Moi ban den tham chon nay, Viet Nam luon don chao" (Come to this place, Vietnam always welcomes you), by D. Ariunbold from Mongolia.
The first prize belonged to "Que huong Viet Nam toi" (My homeland Vietnam) by Tuan Phuong, while two second prizes went to "Hung vi trai tim Viet Nam" (Great heart of Vietnam) by Nhu Thang and "To quoc co bay" (Nation with flying flag) by Nguyen Cuong.
In addition to that, the organizers granted three third, eight consolation, and one promising prizes to other songwriters.
Prizes included a special prize of VND 100 million (USD 4,330) in cash, one first prize of VND 50 million (USD 2,100), two second prizes of VND 25 million each (USD 1,090), three third prizes of 15 million VND each (USD 654), and eight consolation prizes of 5 million VND each (USD 218).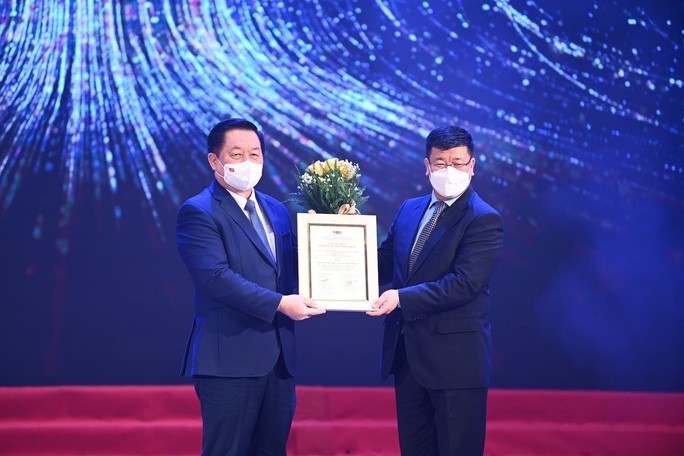 Jigjee Sereejav, Ambassador of Mongolia to Vietnam, on behalf of musician Ariunbold Dashdor, received the Special Award from Head of the Party Central Committee's Commission for Information and Education Nguyen Trong Nghia. Source: VOV
"In 2017, I had the opportunity to come to Vietnam, meet Vietnamese people, see the beautiful nature of Vietnam, discover Vietnamese culture. That trip left memories in my life for me to write this song. On behalf of all Mongolians and many living and working in Vietnam, once again, I would like to thank Vietnam. Vietnam and Mongolia have a long-standing and good relationship. We are very pleased to have participated and achieved good results in this contest," Dashdor shared virtually from Mongolia.
Jigjee Sereejav, Ambassador of Mongolia in Vietnam received the award on behalf of Ariunbold Dashdor.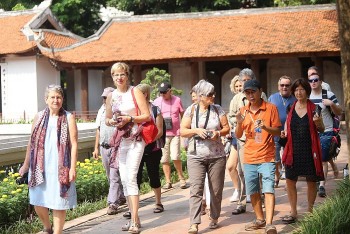 National
Vietnam News Today (May 24): Covid-19: Vietnam records 1,179 new cases, 3,862 recoveries on May 23; Foreign arrivals soar two months after border reopening; Vietnam, Cambodia boost defense ties; Heavy rain floods parts of northern Vietnam.