Vietnamese Monochord Featured on Middle East Traditional Music Show
Dan bau (Vietnamese monochord) was used in an orchestra of Middle East countries' traditional music instruments. The performance featured Arab famous singer Aseel Abu Baker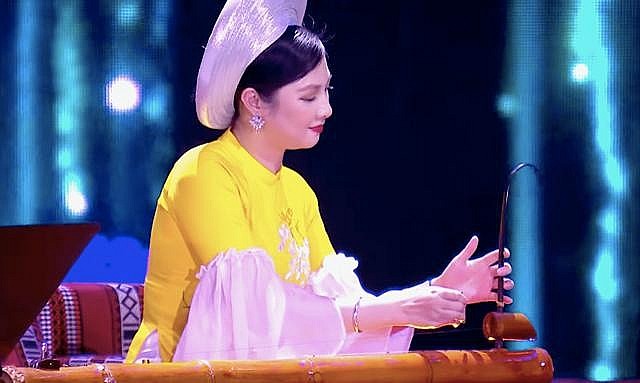 Le Giang performs at the event. (Photo: Thanh Nien)
The first show of Jalsat Night, a music series, took place on Oct. 12 on the biggest outdoor stage of the EXPO 2020 Dubai complex (United Arab Empires). The performance was started with merited artist Le Giang playing the dan bau, leading audiences to the energetic Gedar Gedar sung by famous singer Aseel Abu Baker.
Aseel Abu Baker is loved by audiences of the Gulf. His father, the late artist Abu Bakr Salem Balfaqih, is considered the "father of contemporary Arabic music".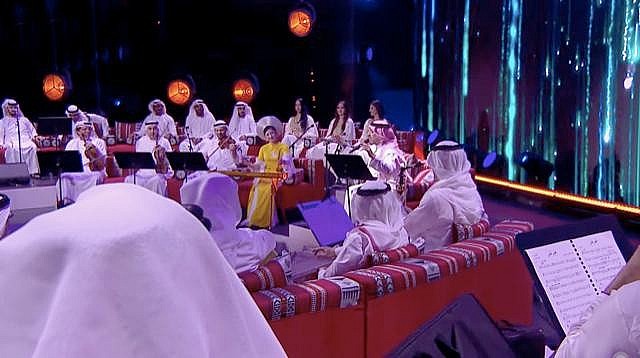 Vietnamese dan bau played with the Middle East traditional instruments. (Photo: Thanh Nien)
Vietnamese merited artist Le Giang has played the dan bau for more than 30 years. She is a lecturer in Vietnam National Academy of Music and one of a few artists who accompany the Vietnam Exhibition House at previous EXPOs such as Shanghai, China (2010); Yeosu, Korea (2012); Milano, Italy (2015), Astana, Kazakhstan (2017) and EXPO 2020 Dubai. Giang said artists joining the performance brought their countries' signature instruments to harmonize a music piece of friendship.
Jalsat night is a monthly music series held from Oct 2021 to March 2022 in the framework of EXPO 2020. The program receives attention both from the press and the people of the Gulf.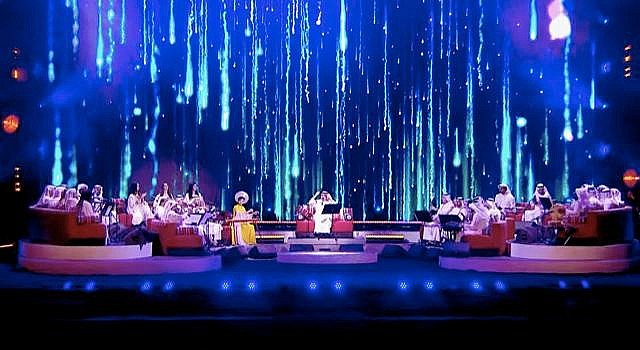 The show took place on Oct. 12 on the biggest outdoor stage of the EXPO 2020 Dubai complex. (Photo: Thanh Nien)
Organizers hope that the series will not only introduce the legacy of UAE music but also bring audiences one-of-a-kind experiences when inviting traditional instruments from different countries to play with the Middle East famous artists and orchestras.
The event welcomes well-known bands coming from different countries in the Gulf, who regularly perform on major television channels, participate in top music events in the region. Most of these artists are given 10-year cultural visas by the UAE because of their reputation and dedication to the traditional arts.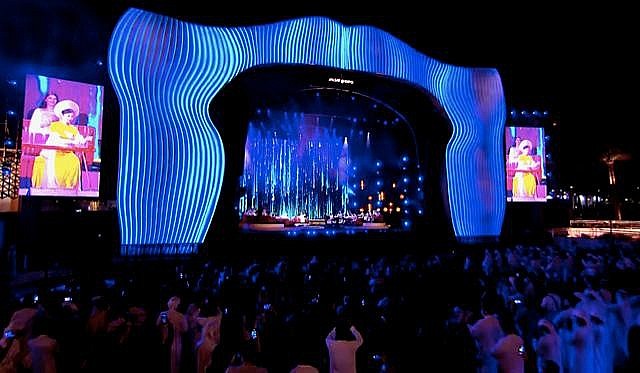 Dan bau is introduced to international friends through the performance. (Photo: Thanh Nien)
As one of the world's largest non-commercial exhibition events, EXPO 2020 Dubai took place in the Middle East for the first time, attracting the participation of more than 190 countries and international organizations.
The Vietnam Exhibition House officially opened to welcome guests on Oct 1, marking the seventh time Vietnam joins the World Exhibition. This year, in addition to continuing to promote and honor the cultural and traditional quintessence of the nation, the house introduced advances in Vietnamese science and technology towards sustainable, environmentally friendly goals.
The Vietnam Exhibition House will hold and participate in many activities in different fields during six months at EXPO 2020. The most expected event is Vietnam Day (December 30, 2021) when Vietnam becomes the focus of the whole event.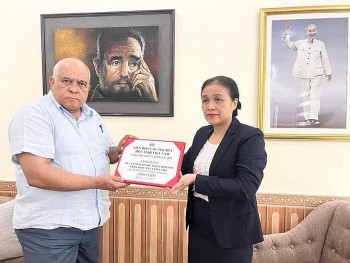 Focus
According to Cuba's News Agency Prensa Latina, on August 16, President of Vietnam Union of Friendship Organizations Nguyen Phuong Nga said that Vietnamese people will always stand by and support Cuba no matter what difficulties our friend is facing.