Vietnamese Pagoda Donates 100 Tons of Rice to Cuba
A Vietnam's pagoda donated rice to the Cuban people and government.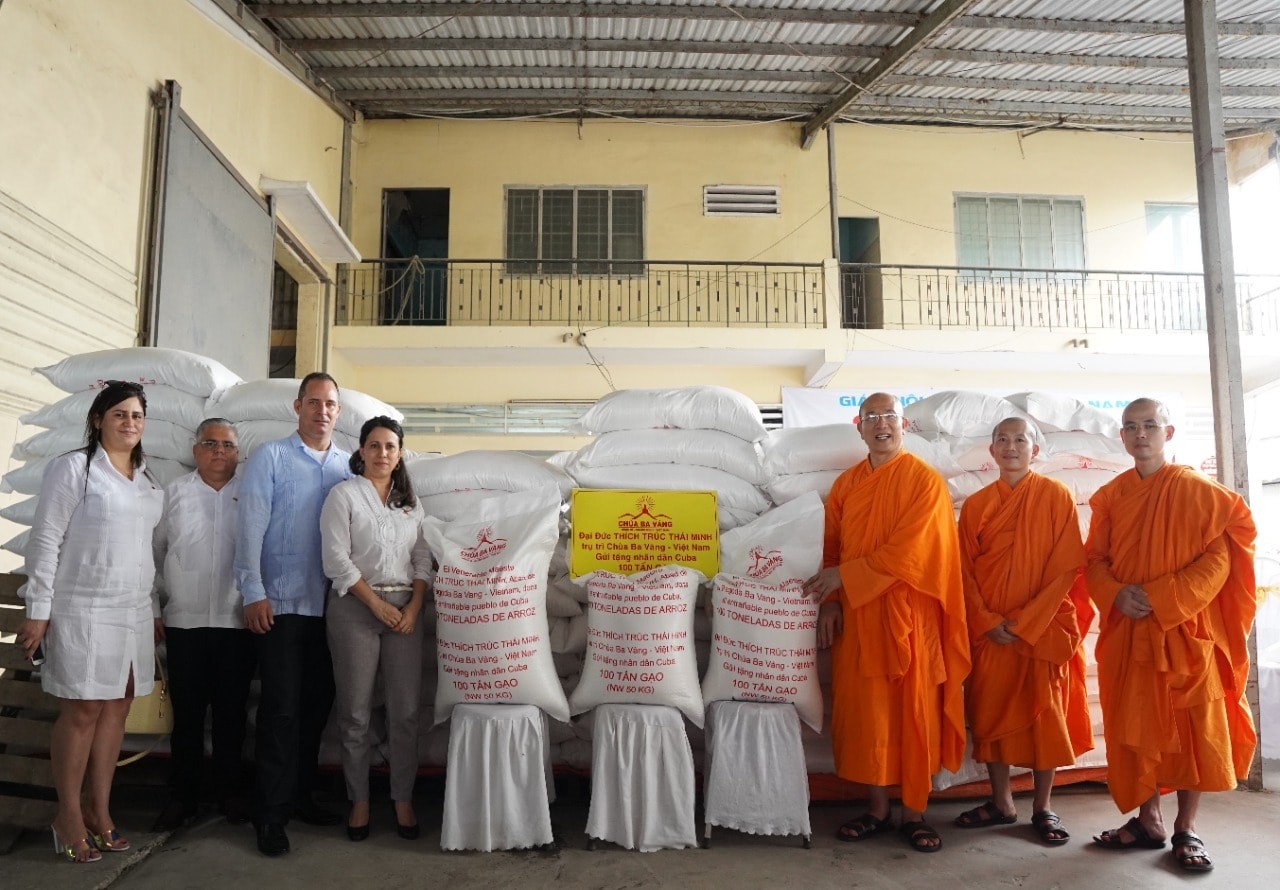 "100 tons of rice is not of big quantity," added Venerable Monk Thich Truc Thai Minh, "but this comes from the heart of the Ba Vang Pagoda community." Hopefully, this will help Cuba overcome tough time. May the relationship between the two countries be stronger and tighter. Photo: Cuban Embassy in Hanoi
Venerable Monk Thich Truc Thai Minh, on behalf of the fourfold assembly of Ba Vang Pagoda, delivered a donation of 100 tons of rice to Cuba as a token of love and sharing for its people, at the symbolic hand-over ceremony in Ho Chi Minh City on July 11, according to Cuban embassy's post in their Facebook's page.
Speaking at the ceremony, Minh said that it was a small contribution, but this comes from the heart of the Ba Vang Pagoda community. He recalled all the support that Cuba gave to Vietnam in difficult times, the donations made by Fidel Castro Ruz and the people despite the country's economic difficulties.
"Peoples must remember the actions and fraternal ties that bind them to fraternal and united nations, like the Cuban people's affection to Vietnam. That's why today, with great humility, we help our Cuban brothers," said Minh.
For her part, Consulate General of Cuba in HCM City Ariadne Feo Labrada, thanked the beautiful gesture on behalf of the Cuban State, government and people.
She recalled that the revered leader of the Cuban Revolution, Fidel Castro Ruz, taught us to love Vietnam and when he said, "For Vietnam, Cuba is willing to shed its blood," speaking to its friendship with a fellow Communist nation.
The relations between Cuba and Vietnam are historic and special, they have always been characterized by political trust, brotherhood and solidarity between our Parties, governments and peoples, she stressed.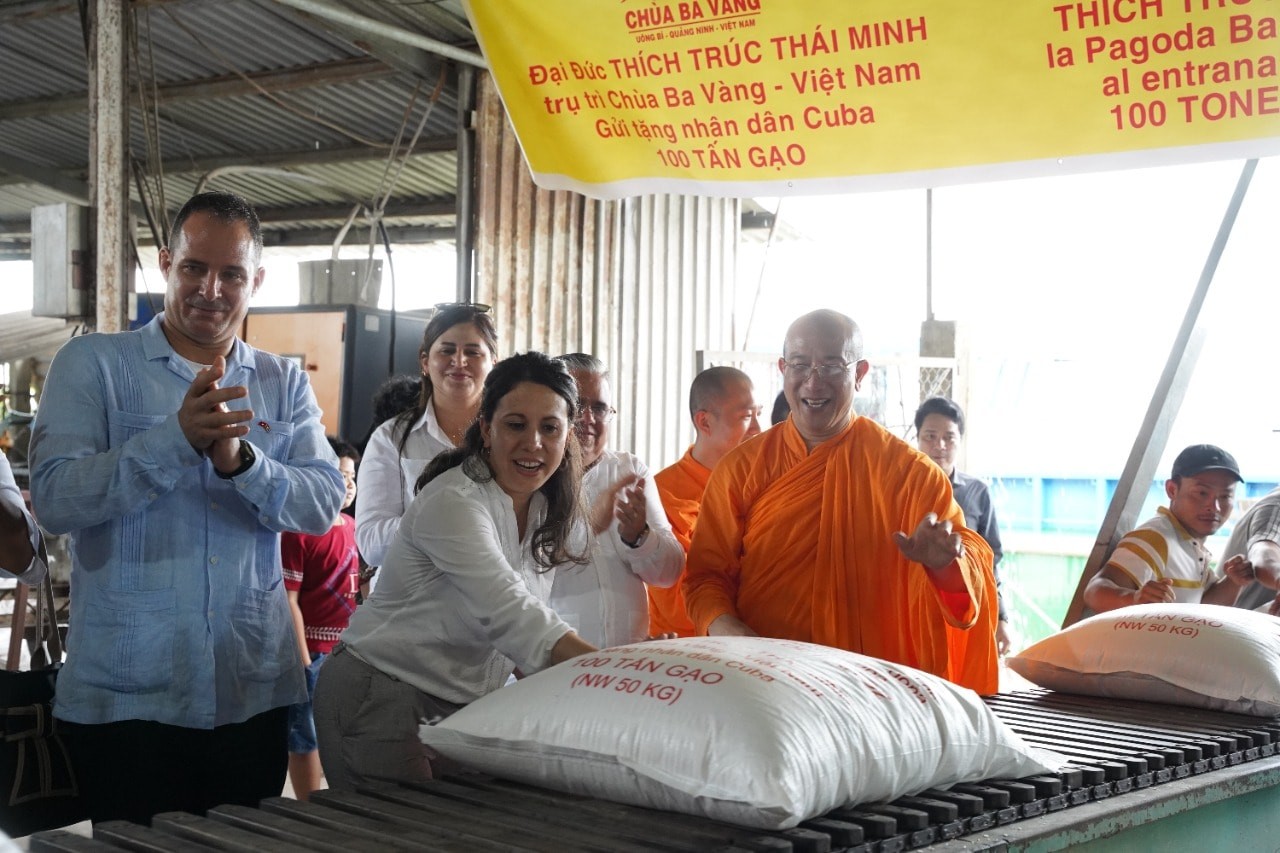 Consulate General of Cuba in HCM City Ariadne Feo Labrada thanks Venerable Thich Truc Thai Minh and the community of Ba Vang Pagoda for donating us 100 tons of rice. (Photo: Cuban embassy in Hanoi)
In 2021, Vietnam gifted of 5,000 tons of rice and medical supplies to Cuba. Several Vietnamese ministries and agencies also presented 1,000 tons of rice, 100 tons of maize seed, as well as medical supplies.
These donations, said Prime Minister Pham Minh Chinh, demonstrate the special ties of fraternity and solidarity that unite us with Cuba.
Vietnam also had donated 5,000 tons of rice to Cuba to help it overcome the consequences caused by Hurricane Irma in September 2017.
Vietnam and Cuba established diplomatic relations on December 2, 1960. Despite the far geographic distance as well as ups and downs of the history over the past six decades, Vietnam and Cuba have accompanied each other and given each other warm sentiments, loyal solidarity as well as generous, whole-hearted and pure spiritual and material support, especially at the most difficult times in the revolutionary cause of each country.
President Nguyen Xuan Phuc's official visit to Cuba in 2021, was the first visit to Cuba of a head of state since the outbreak of the Covid-19 pandemic, and also the first high-level visit between the two countries since the two countries' Party congresses, and on the occasion of the 61st anniversary of establishment of diplomatic ties.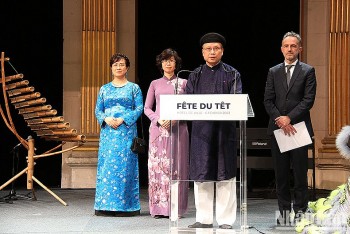 Friendship
Speaking at the celebration on the occasion of Lunar New Year for the overseas Vietnamese in France on February 6, Ambassador Extraordinary and Plenipotentiary of Vietnam in France Dinh Toan Thang emphasized that 2023 is an important milestone to promote the friendship and cooperation between Vietnam and France to the next level.