Vietnamese PM: Country Always Creates Favourable Environment to Women's Advancement
Prime Minister Pham Minh Chinh has affirmed that Vietnam has created an environment conducive to women's advancement in society.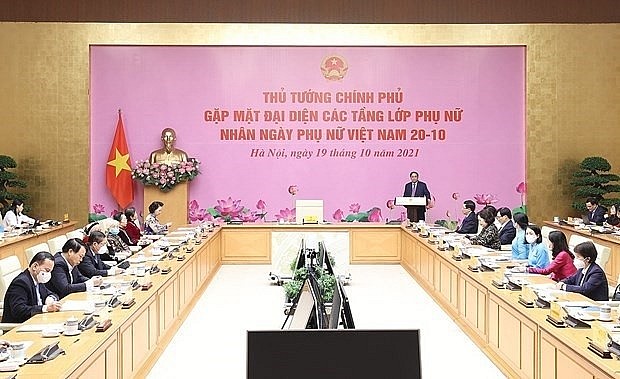 PM Pham Minh Chinh speaks at the event (Photo: VNA)
He made the statement during a meeting with women delegates from all walks of life on the occasion of the 91st anniversary of the Vietnam Women's Union (VWU) and Vietnamese Women's Day (October 20).
In his speech, PM Chinh affirmed that throughout history, Vietnamese women have always played special roles. They not only fulfilled their natural functions but also made many feats in the fight for national liberation.
The Vietnamese Party and State always pay attention to policies toward women, he said. The Government leader affirmed that the country has created a favourable environment for women to prove their position and contribute to society, according to the VNA.
The Government leader asked the VWU to continue building a plan to effectively realise the Resolution adopted by the 13th National Party Congress, as well as the directives, resolutions and conclusions on family building in the new context and sustainable poverty reduction by the Politburo, the Party Central Committee and its Secretariat, and encourage women to actively join nationwide emulation campaigns on COVID-19 prevention and control.
Speaking at the meeting, Chairwoman of the Vietnam Women's Union Ha Thi Nga said 2021 was a special year for Vietnamese women. This is the first time since the country carried out the Đổi mới "Renewal" process, that the rate of female NA deputies reached over 30 per cent. The Government adopted a resolution to issue the national strategy for gender equality during 2021-2030.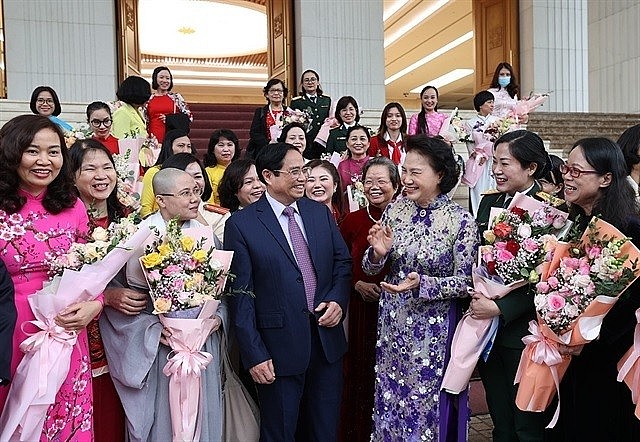 Prime Minister Pham Minh Chinh meets women representatives in Ha Noi on Tuesday on Vietnamese Women's Day (October 20). Photo: VNA
The COVID-19 pandemic has ravaged the globe, affecting every aspect of life and leaving serious consequences for each country, each family and each individual. Vietnam has temporarily put the pandemic under control but challenges remained, he said. "Throughout the pandemic prevention and control process, we have witnessed many bright examples of women who joined the frontline forces to fight against COVID-19. They had to face many risks and leave behind their own happiness. Many of them have gone forever," the PM said.
He stressed that the Party and State always acknowledged the dedication and great roles of Vietnamese women through different periods as well as paid great attention to policies for women such as gender equality, healthcare and job generation in order to create an environment for women to have more opportunities to contribute to society. The United Nations and the international community have acknowledged and appreciated the country's efforts in implementing gender equality and for women's advancement, said the VNS.
However, the Government leader admitted that challenges remained. Some cultural and policy barriers have affected the development of women, many women working in industrial zones still face many difficulties, healthcare for women, particularly those in remote, mountainous and rural areas was limited, some women still suffered domestic violence while others faced difficulties in access to knowledge, vocational training and loans to develop production.
Women's initiatives in Vietnam ensuring no one is left behind in the fight against COVID-19
Women's Union officers handing over Labobo Handwashing device to local households in Ha Tinh. Photo: WOBA Vietnam
In an effort to alleviate the combined impacts of the pandemic and the drought, our partner, Thrive Networks - East Meets West in collaboration with the Vietnamese Women's Union has instigated a VND 2.4 billion program called "Women's initiatives in ensuring no one is left behind in the fight against COVID-19."
In any crisis, it is the most vulnerable - women, children and people with disabilities - who are among those worst affected. With support from Australia, through their established Water for Women project, Women-led Output Based Aid (WOBA) project, the program targets the most vulnerable communities in five provinces, including Hoa Binh, Thanh Hoa, Nghe An, Ha Tinh and Ben Tre, reported the WOBA.
As part of the nationwide response initiated by the Vietnamese government, "Joining hands in the fight against COVID-19 towards the goal of leaving no one behind", the program has conducted multiple activities across 173 communes in the project provinces.
"In the fight against COVID-19, the Government of Viet Nam has put the lives of the people, including children and women first and foremost. When it comes to those in special circumstances such as in quarantine centres, the Ministry of Labour, Invalids and Social Affairs, UNICEF and UN WOMEN and other international organisations in Viet Nam have timely taken measures to meet specific needs of these groups," stated Dang Hoa Nam, Director of the Children's Affairs, Ministry of Labour, Invalids and Social Affairs (MOLISA). In these situations, he stressed, children and women need to be provided with information, skills, encouragement and full support.
Elisa Fernandez Saenz, UN Women Head of Office in Viet Nam reiterated, "The impact of the COVID-19 pandemic is not gender neutral, as it affects men and women differently. Therefore, we cannot be gender blind in our responses to the pandemic. We strongly encourage Ministry of Health, Ministry of Defense and local governments who are running quarantine facilities to make use of this guideline and put in place measures to ensure each quarantine centre is a safe place for women and children." She adds that paying attention to women's needs and leadership will strengthen COVID-19 response in Viet Nam.
According to MOLISA, during the social distancing period, the risks of violence and abuse towards children and women have remarkably increased nation-wide as they are both victims and witnesses of domestic violence. In April 2020 alone, the national child protection hotline 111 has received over 750 calls for assistance, of which over 200 needed interventions on domestic violence, abuse of children and trauma-related issues. In many countries around the globe, domestic violence has increased by at least 30 per cent, said the Unicef.
The guidelines and communication materials have also been made available online on UNICEF, UN WOMEN and MOLISA's websites and social media. There have been also numerous communication interventions on social media targeting children, adolescents and women to raise awareness and provide solutions since beginning of the pandemic. On mass media, the Government and these UN agencies have held various talks to draw public attention to protect the most vulnerable groups.