Warriors, Poets, and Radio Hosts: The Amazing Lives of Vietnamese Women
Vietnamese women have always been paramount in shaping culture and protecting the homeland. To honour their sacrifices and celebrate Vietnam's Women's Day, Vietnam Times has complied a brief list of several amazing Vietnamese throughout the country's lengthy history in an American journalist's eyes.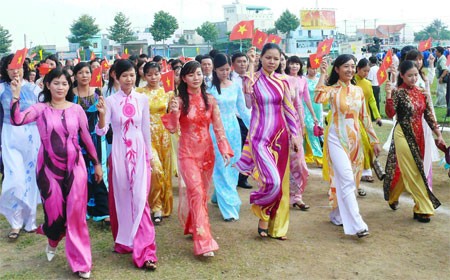 The Viet Nam Women's Union celebrating their homeland.
Upon first arriving to Vietnam, foreigners are enchanted by the kindness, beauty, and hospitality of Vietnamese women. However, many foreigners may not know of the epic tales of Vietnamese women fighting for independence, creating inspired literary works, or demanding social justice. In celebration of Vietnam's Women Day (October 20th), read about Vietnam's rich history of strong, accomplished women, from ancient times to today.
Ba Trieu (225 - 248)
Ba Trieu was one of the most beloved warriors from Vietnam's early days, during Chinese occupation. Although most of her story lies in myth, Ba Trieu left a mighty impact on the perception of Vietnamese women. In some legends, Ba Trieu is nine-feet tall, her breasts are three feet long, her beauty is enough to shake a man's soul, and she rides a battle-ready white elephant towards an army of Chinese invaders. While many modern women don't exactly match that description (nor ride elephants) the fiery spirit of Ba Trieu still inspires them to be adventurous free spirits.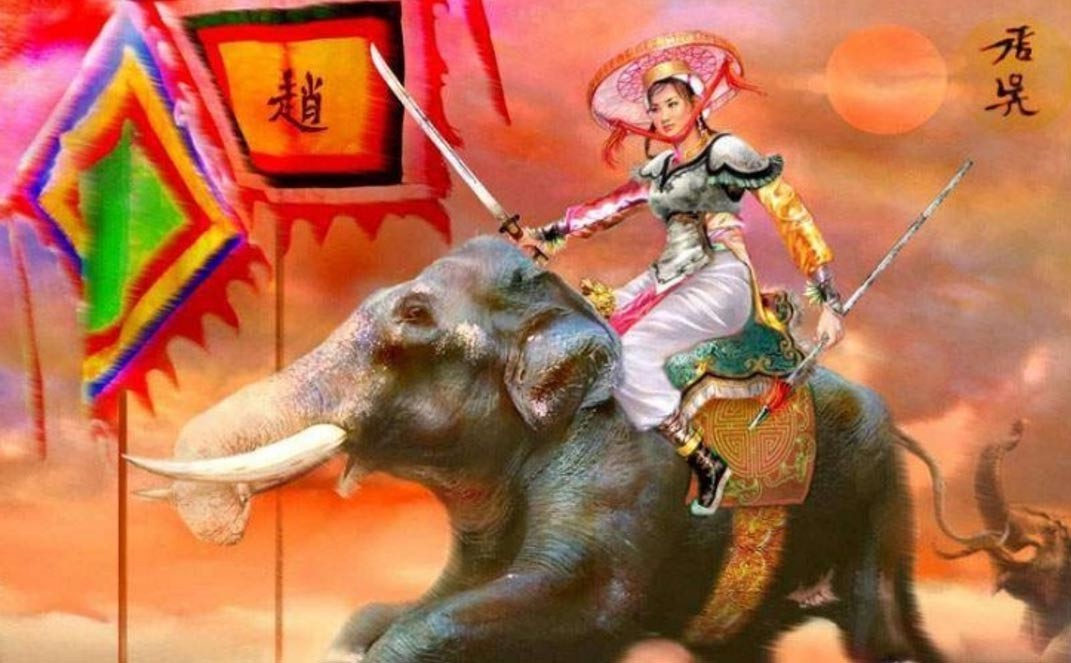 Ba Trieu riding into battle with her trusty elephant.
Ba Trieu and her brother were born under the Eastern Wu, an Chinese force that occupied most of northern Vietnam. The exploitation and butchering of the Vietnamese people deeply affected Ba Trieu, causing her to take refuge in a mountain forest and practice her combat skills. Her battle prowess, charisma, and love of Vietnam made her quite popular among her fellow Vietnamese. She was able to amass a loyal following of passionate countrymen to join her on her crusade.
Before leading her rebellion, Ba Trieu's relatives tried to dissuade her from fighting, believing a woman had no place on the battlefield. Her response was legendary; "I only want to ride the wind and walk the waves, slay the big whales of the Eastern sea, clean up frontiers and save the people from drowning. Why should I imitate others, bend my back to men, stoop over and be a slave? Why resign myself to menial housework?"
The fierce female fighter went on to push the Chinese forces around what is now called Thanh Hoa province. Despite having fewer resources than the Chinese, Ba Trieu's army was well organized and constantly humiliated the Chinese emperor, Sun Quan.
Tired of losing, Sun Quan ultimately sent 8,000 troops to crush the Vietnamese rebellion and capture Ba Trieu. After a bloody campaign lasting for over a year, Ba Trieu took her own life instead of giving Sun Quan the satisfaction of her capture. Even centuries after her death, her legend continues to inspire Vietnamese revolutionaries and women.
Ho Xuan Huong (1772 - 1822)
Another Vietnamese woman challenged also gender norms, however, with a simple pen instead of a sword. Ho Xuan Huong is a celebrated Vietnamese poet born during the Lê dynasty. She wrote her poetry in Nôm script, Vietnam's former writing style inspired by Chinese characters. Years after her death, acclaimed poet Xuan Dieu dubbed Ho Xuan Huong as the "Queen of Nôm Poetry."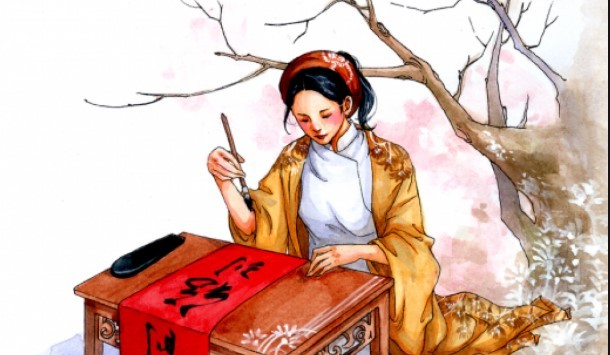 Ho Xuan Huong writing another masterpiece.
Although written hundreds of years ago, Ho Xuan Huong's poetry can still make readers blush with her intimate subject matter. Her writing breathes eroticisim into inanimate objects such as paper fans or Vietnamese fruits. Her more conservative critics appreciated her heartfelt sincerity but were put off by her sexual humor, labelling her work as "pure yet vulgar." Today, her poetry reads as quite sex-positive. To see for yourself, seek out her poem named "The Jackfruit."
Another, less explicit, poem is taught to 7th graders in Vietnam. Entitled "The Floating Cake," the revered poem honors a woman's true sense of self;
My body is both white and round/
In water I may sink or swim/
The hand the kneads me may be rough/
But I still shall keep my true-red heart.
The poem has inspired generations of Vietnamese artists, most notably pop singer Hoang Thuy Linh. In 2016, she released a music video inspired by the centuries-old poem. The final product is a collaborative effort of two Vietnamese women, separated by centuries, championing the same message of female empowerment.
Trịnh Thị Ngọ (1931 - 2016)
American veterans know Trịnh Thị Ngọ by a different name; Hanoi Hannah. During the war, Ngọ would directly confront the invading Americans via her radio broadcast in hauntingly perfect English.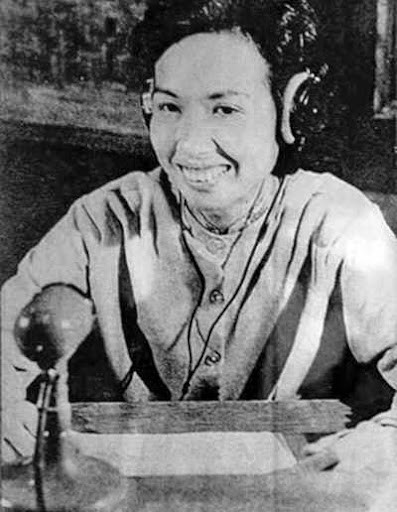 "Hanoi Hannah" speaking to American soldiers via her patriotic radio broadcast.
The daughter of a successful businessman, Ngọ's schooling gave her an appreciation for Western culture. It was her desire to watch American films, such as Gone with the Wind, without subtitles that made her excel at learning English. Her skills landed her a job with the Voice of Vietnam radio station in 1955. At only 24 years old, she was expected to broadcast the Vietnam's news to English listeners in Asia.
When the Americans arrived, she used her talents and radio waves to deliver powerful propaganda. She believed the U.S. had no reason to invade Vietnam and she made her complaints known to the American soldiers. She would broadcast multiple times a day, alongside American anti-war songs.
As the war raged on, the American soldiers developed a strange respect for "Hanoi Hannah," particularly African-Americans. Ngọ would consistently highlight the racism and inequality in American society. This struggle was later explored in the American film, "Da 5 Bloods," with Vietnamese actress Veronica Ngô playing the iconic radio personality.
In 2000, prisoner of war and American senator John McCain, told the New York Times about Ngọ; "I heard her every day. She's a marvelous entertainer. I'm surprised she didn't get into Hollywood."
Trịnh Thị Ngọ is emblematic of the countless Vietnamese woman who also contributed in the long fight for Vietnam's independence.
Tran To Nga (1942 - )
Vietnam has been at peace for many years but Tran To Nga has kept fighting. Like many in her homeland, Tran To Nga suffers from Agent Orange poisoning. The brutal American war tactic has poisoned many people, leading to numerous health problems. The toxic chemicals have the ability to warp DNA, meaning this issue affects people over generations. There are Vietnamese children born with birth defects today because of decisions made by invaders from half a century ago. Even at 79 years old, Tran To Nga seeks justice for victims of Agent Orange.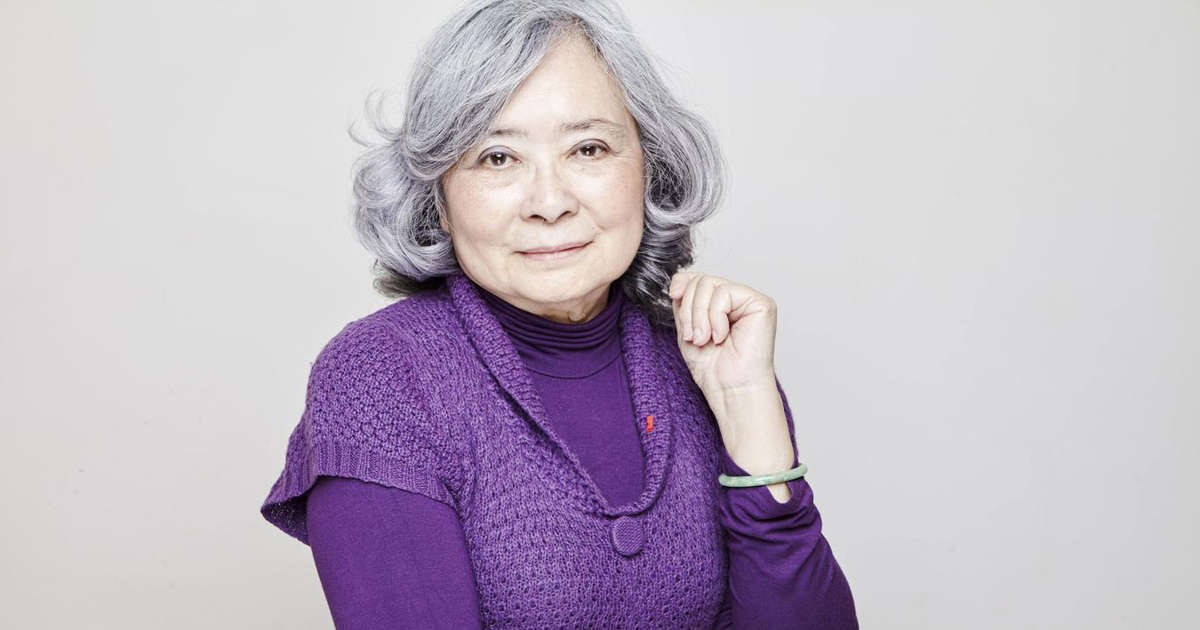 Once a solider, now an activist, Tran To Nga has never stopped fighting for justice.
In the mid-1960s, Tran To Nga, then a guerrilla fighter, was doused in Agent Orange by a passing US plane. Although she quickly washed it off, it was no use. Her life was changed forever. Two years later, she lost a child to mysterious heart defect. Later on, she gave birth to two daughters who also have severe health problems. Tran is dealing with cancer and diabetes. All of these terrible diseases are a result of Agent Orange.
As an activist, Nga wants to her people to be treated with dignity. While she is visibly unaffected by the disease, she knows far to many who are forever scarred or disfigured by the chemicals. With them in mind, Nga has taken on some of the most powerful companies, such as Monsanto, in order to get compensation for the millions victims.
In the beginning of 2021, Nga and her international team comprised of activists and lawyers began a lawsuit against the nineteen companies responsible for Agent Orange. While the French courts have thrown out the case back in May, Nga already plans to appeal it.
Even though her story is tragic, her determination is deeply moving. She explained her mission to the French press, "My objective in this fight, is to demand justice for me and my family, and after, to have legal precedent so that all victims of agent orange - not only in Vietnam, in other countries too - have a path in front of them to get justice for themselves."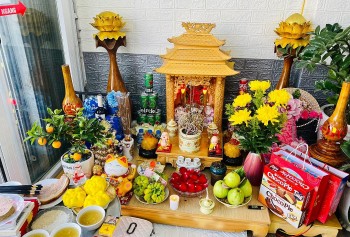 Handbook
Learn more about an ancient Vietnamese tradition that may bring you good fortune!