Vietnamese PM Meets Japanese Groups and Vietnamese Intellectuals for Relationship Strengthening
Prime Minister Pham Minh Chinh and his entourage held working sessions with leaders of several major Japanese groups and meeting with Vietnamese intellectuals and scientists in Japan to call for strengthening the friendship and cooperation between Vietnam and Japan.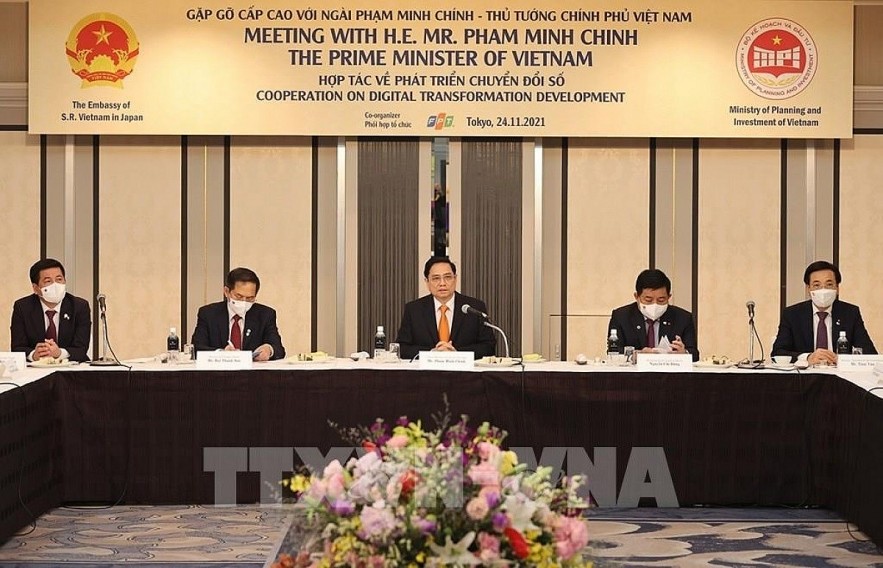 Prime Minister Pham Minh Chinh holds a working session with leaders of major digital transformation groups of Japan (Photo:VNA)
PM Chinh meets leaders of major Japanese digital transformation groups
Prime Minister Pham Minh Chinh and his entourage held a working session on November 24 with leaders of several major Japanese groups involving in digital transformation as part of his ongoing trip to Japan.
Upon addressing the meeting, PM Chinh said that along with responding to climate change and achieving green growth, digital transformation is a big global trend, with the COVID-19 pandemic further promoting digital transformation in many countries.
The nation is conducting digital transformation as a way of promoting interconnected approach and public-private partnership.
The country boasts several advantages in terms of economic development and digital transformation, most notably having a fast-growing and highly open economy. This can be seen by the fact that the nation has signed 17 free trade agreements (FTAs) with more than 60 economies, including major markets such as the United States, the EU, Japan, China, the Republic of Korea (RoK), and ASEAN.
"Vietnam's ability to adapt and embrace major development trends in the world, including digital technology and digital transformation, is very obvious. International friends and partners all support the digital transformation process in Vietnam, thereby creating plenty of opportunities and motivation for Vietnam to conduct digital transformation in a faster fashion," the Vietnamese Government leader said.
PM Chinh went on to stated that the country has come up with a national digital transformation programme ahead to 2025 and beyond to 2030, with three pillars: digital government, digital economy, and digital society.
The contribution of the digital economy as part of the overall national economy has witnessed a sharp increase, with the digital economy set to contribute 20% of GDP by 2025 and 30% by 2030.
This digital transformation scheme is therefore closely linked with green growth and climate change response towards the ultimate goal of bringing a prosperous life to people, in accordance with the global trend.
Moving forward the country will therefore continue to fine-tune the digital transformation institution in line with reality. Along with these efforts, the nation has also devised a human resource training scheme, first of all to raise public awareness regarding the importance of digital transformation, he said.
"Digital transformation is not only led by the Government but also requires the participation of people and businesses, taking people as the center, as the subject, and all policies must be towards people, and businesses," PM Chinh emphasised.
With regard to specific issues of shared concern, PM Chinh shared that the Vietnamese policy is to rapidly modernise the financial and banking sectors so that these fields can take the lead in relation to digital transformation.
"Like other countries, Vietnam has its own approach, suitable to its conditions and circumstances, but not separate from the general approach of the world, because only then can we can only co-operate," PM Chinh stressed.
According to Deputy Minister of Information and Communications Nguyen Huy Dung, the COVID-19 pandemic has served to strongly promote digital transformation locally, with the proportion of online public service users doubling to 24% from a mere 12% in just one quarter due to the COVID-19 pandemic, reported the VOV.
Government chief meets Vietnamese intellectuals in Japan
Prime Minister Pham Minh Chinh had a meeting with Vietnamese intellectuals and scientists in Japan on November 23 night as part of his official visit to the East Asian nation.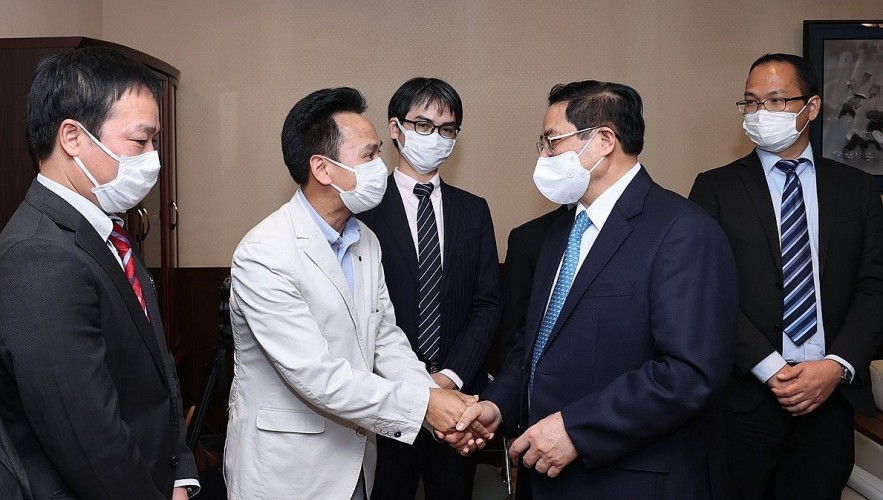 Prime Minister Pham Minh Chinh meets with Vietnamese intellectuals and scientists in Japan. Photo: VOV
During the meeting, intellectuals and scientists introduced the PM new products and research results in a number of fields such as electronics, renewable energy, health care, and artificial intelligence.
The Vietnamese cabinet leader emphasized the need to promote the values of Vietnamese people and wisdom, while suggesting a number of research topics in line with reality, accoording to the VOV.
Chinh wished that Vietnamese intellectuals and scientists in Japan would continue to make greater research efforts in order to record more outstanding achievements in the coming time.
He also urged them to make the most of their connection with a network of scientists and scientific organizations in the world so as to devote their intelligence to the homeland, and contribute to strengthening the friendship and cooperation between Vietnam and Japan.
The PM assigned competent agencies to summarize recommendations, suggestions and proposals at the meeting, and said that there will be specific working mechanisms with scientists and intellectuals according to each topic group. This will be conducted in many different forms, including the online format to promote the highest efficiency, Chinh added.
PM speaks with Japanese corporations, calls for more investment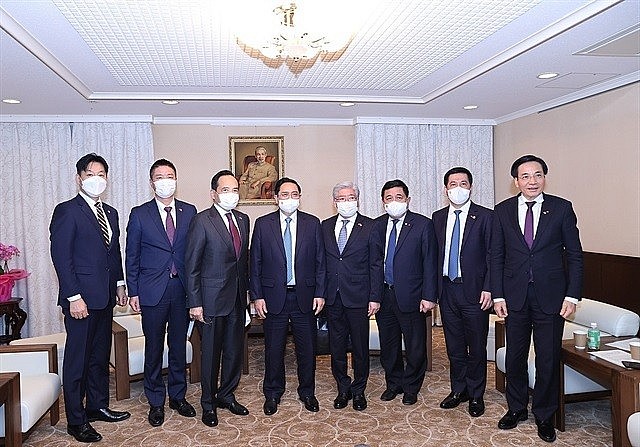 Prime Minister Phạm Minh Chính (fourth from left) meets with leaders of major Japanese corporations in Japan on Tuesday. Photo: VNA/VNS
Prime Minister Pham late on Tuesday met with leaders of major Japanese corporations as part of his official visit to Japan.
They are corporations that have invested in Vietnam in the fields of energy, textile, retail trade, consumption, and infrastructure development.
The Vietnamese PM spoke to chairmen and chief executive officers of ENEOS Group, AEON Group, Fast Retailing Co. Ltd, Marubeni Corporation, Mitsui & Co. Ltd, Mitsui Oil Exploration Co. Ltd (MOECO), Sojitz Corporation, and the Mitsui Seafood Processing Company.
He thanked the conglomerates for their work in Vietnam and congratulated them on their business success in the country, and expressed his approval of their plans to expand investment in the fields of green energy, clean energy, renewable energy, digital transformation, e-commerce, and sustainable development.
He asked the corporations to support Vietnam financially to train and improve the capability of Vietnamese staff to meet international standards, to share their management experiences, and to export made-in-Vietnam products to major international markets.
The Government leader stressed that as Vietnam is responding to the COVID-19 pandemic in a flexible manner and aiming for socio-economic recovery, the Vietnamese Government will create a healthy investment environment for businesses and corporations in the country.
It will also ask ministries, sectors and localities to make it a priority to solve problems and challenges pointed out by businesses in accordance with Vietnam's laws and regulations, he said.
Wherever there is a problem, it must be solved, PM Chinh added. "If the authorities don't solve problems that are within their authorisation, businesses can report it directly to the Prime Minister," he said.
Leaders of corporations said they highly valued the investment and business environment in Vietnam.
They thanked the Vietnamese Government and localities for their support, saying Vietnam is a strategic, important market that they would like to maintain and expand long-term investments in several fields.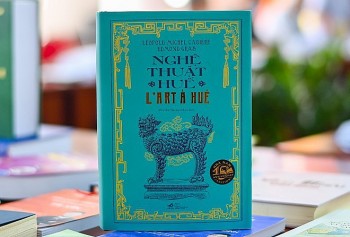 Expats in Vietnam
Inspired either by Vietnamese art or the people themselves, foreign authors often find inspiration in the S-shaped nation.