Vietnam - Japan Strategic Collaboration to New Heights
Prime Minister Pham Minh Chinh will undertake an official visit to Japan from November 22 to 25, at the invitation of his Japanese colleague Fumio Kishida according to the Ministry of Foreign Affairs, in an endeavor to elevate the two countries' comprehensive strategic alliance to new heights.
Pham Minh Chinh is making his first official visit to Japan asPrime Ministersince Kishida entered office. Vietnam's foreign policy of independence and self-reliance for peace, friendship, collaboration, and development, which was reaffirmed at the 13th National Party Congress, will be realized during the visit.
PM Pham Minh Chinh visits Japan hoping to elevate the bilateral relationship. Photo: VOV
On September 21, 1973, Vietnam and Japan established diplomatic relations. In 2009, they decided to upgrade their connection to a strategic partnership, and in 2014, to expand strategic cooperation for Asia's peace and prosperity.
Their top leaders' regular trips and contacts at international and regional forums have helped to strengthen bilateral relations throughout the years.
In 1995, Japan was the first G7 country to invite the Communist Party of Vietnam's General Secretary to visit. In 2011, it acknowledged Vietnam's market economy status and invited the country to the expanded G7 Summit in May 2016.
The Vietnam - Japan Cooperation Committee, the Vietnam - Japan Strategic Partnership Dialogue on Diplomacy, Security, and Defense, the Vietnam - Japan Defense Policy Dialogue, the Deputy Ministerial Security Dialogue, the Joint Commission on Trade, Energy, and Industry, and the Vietnam - Japan Maritime Policy Dialogue are among the important cooperation mechanisms maintained by the two countries.
Furthermore, the two countries work closely together in international and regional forums, particularly in the UN and ASEAN.
Vietnam's most important trading partner is Japan. It is Vietnam's greatest donor of official development assistance (ODA), second-largest investor, third-largest tourism partner, and fourth-largest commercial partner.
Bilateral trade reached $31 billion in the first nine months of 2021, with Vietnamese exports accounting for $14.7 billion. Japan had 4,748 valid FDI projects in Vietnam as of September 20, valued at US$63.85 billion, accounting for 15% of the country's total investment capital and ranked second among 140 nations and territories investing in Vietnam.
Since the signing of the Medium- to Long-Term Vision for Japan-Vietnam Agricultural Collaboration in 2015, progress has been achieved in agricultural cooperation. The two countries signed a revised vision in 2018 and are now working on the second phase of the vision, which will run from 2020 to 2024.
Climate change is another area where the two countries have collaborated. Vietnam has received ODA from Japan for a number of climate change response initiatives over the years.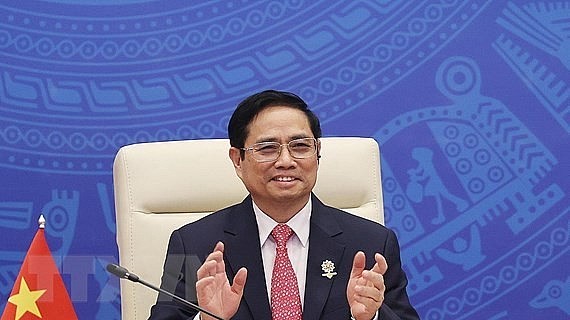 Vietnam Prime Minister Pham Minh Chinh. Photo: TTXVN
Bilateral education and training collaboration has also improved. Every year, a big number of Vietnamese trainers and students arrive in Japan. It is improving four Vietnamese universities and constructing a Vietnam-Japan University to provide Vietnam with high-quality human resources in science, technology, management, and services.
In the process of fighting against COVID-19, the two countries have backed each other up. Japan provided more than JPY4 billion in aid to strengthen Vietnam's healthcare system by providing equipment and technical assistance. It also gave Vietnam over 4 million doses of the AstraZeneca COVID-19 vaccine. In the meantime, Vietnam has given Japan around 1.2 million face masks.
The close cooperation between the two nations' localities is one of the hallmarks of Vietnam - Japan relations. More than 70 cooperation documents have been signed between Vietnam and Japan, including those between Ho Chi Minh City and Osaka and Nagano, Hanoi and Fukuoka and Tokyo, and Da Nang and Sakai and Yokohama.
Aichi, Tokyo, Osaka, Saitama, Chiba, and Fukuoka are home to almost 450,000 Vietnamese citizens who live, work, and study in 47 Japanese cities. Prime Minister Pham Minh Chinh will meet with representatives of the Vietnamese community during his tour to inquire about their living conditions and encourage them to work hard to promote the Vietnam - Japan friendship.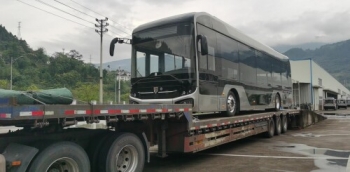 Economy
Ev Dynamics (Holdings) Limited is a pioneer and a prominent player in China's new energy commercial vehicles market, as well as a whole-vehicle manufacturer of specialty passenger vehicles and new energy passenger vehicles.