Vietnam's fresh lychees conquer international markets
Nearly a ton of fresh lychee Thanh Ha (Hai Duong) has been sent to the Netherlands to introduce to customers to the fruit. After being exported to the Netherlands and France, Vietnamese lychees have attracted attention in these markets.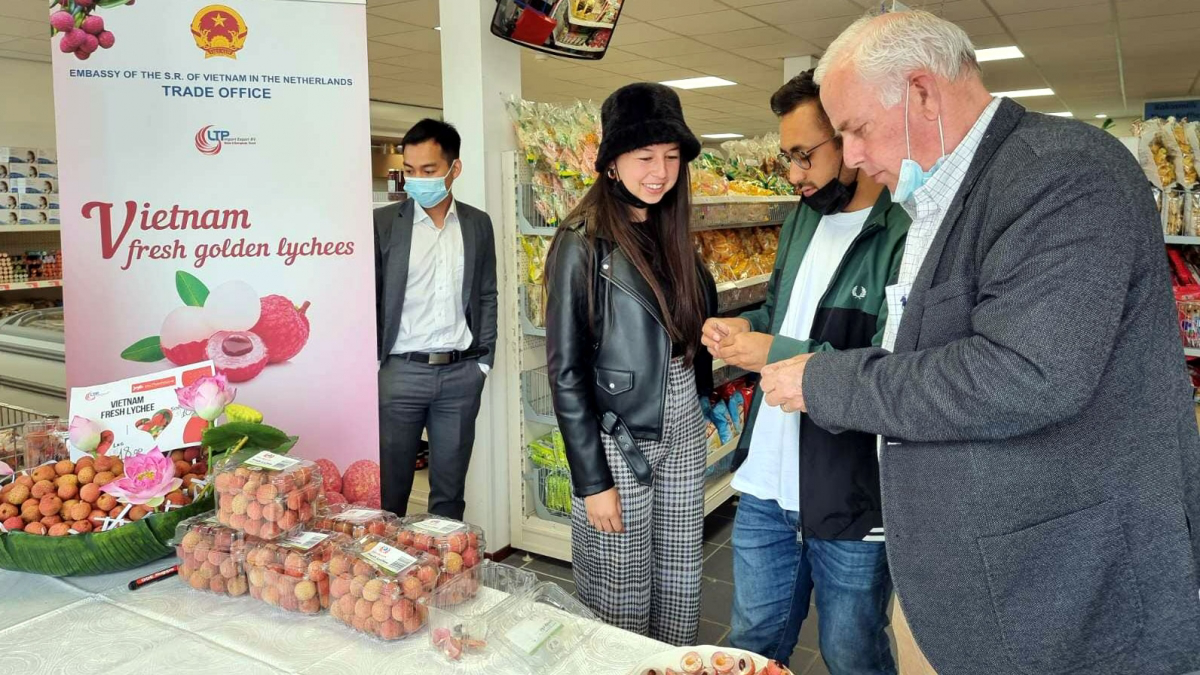 Activities to promote Vietnamese fresh lychees to the Dutch on June 19. Photo: VOV
Promoting Vietnamese fresh lychees in Netherlands
In order to promote Vietnamese fresh lychees to the Dutch, on June 19, the Vietnam Trade Office in the Netherlands cooperated with LTP Import Export BV and Thanh Hung supermarket to organize the "Vietnam fresh golden lychees – Taste it, love it" program at Thanh Hung supermarket, Spijkenisse city, southern Holland.
The guests to try fresh lychee are Dutch, Thai, Indonesian, Vietnamese citizens living in Spijkenisse. There are Thai customers who were surprised to find Vietnamese lychees were sweeter, with a thicker pulp than Thai lychees.
A Dutch business family in Amsterdam enthusiastically participated in this program. This businessman, who worked in Vietnam more than 10 years ago, said that he missed the taste of lychees in Luc Ngan, Bac Giang, and was delighted to buy Vietnamese lychees in the Netherlands.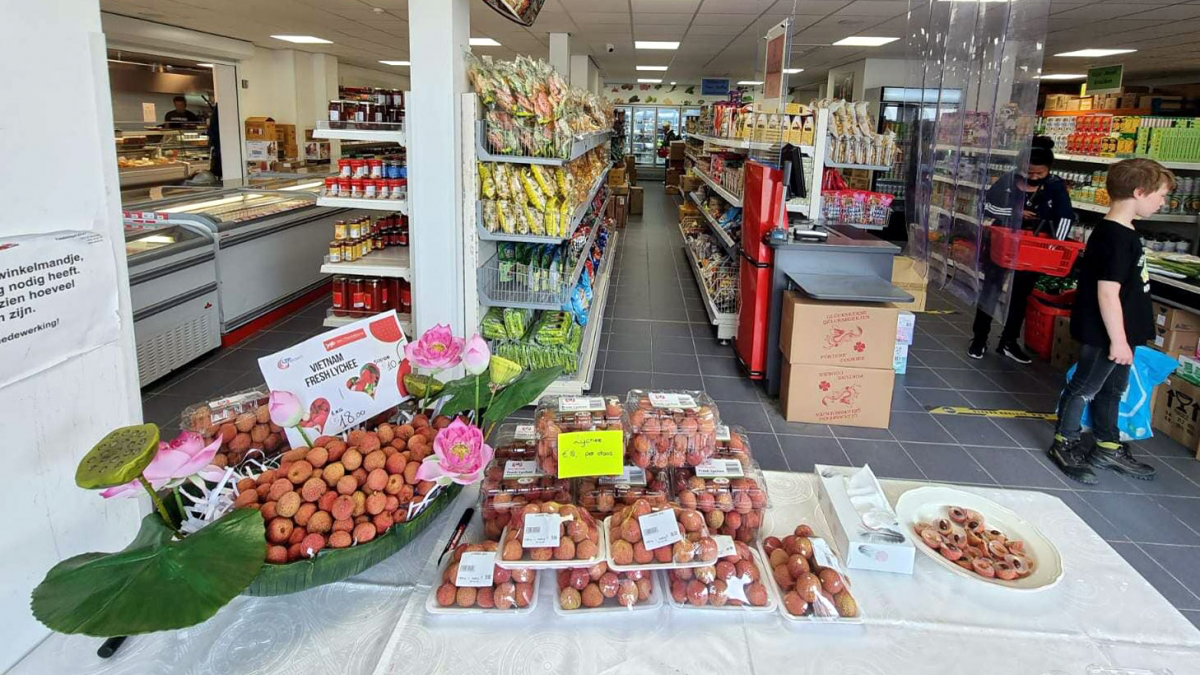 Vietnam's fresh lychees on sale in Holland. Photo: VOV
Van Anh, owner of Thanh Hung supermarket, said that she knew that ministries, branches, localities and domestic enterprises had made great efforts to bring high-quality Vietnamese lychees to the world. Van Anh said she wants to have a stable source of goods with uniform quality for each annual lychee crop to maintain this product business in the Netherlands.
Van Anh's supermarket has been trading in Chinese lychees for many years, with lesser quality to Vietnamese lychees and priced at about 22-25 euros (US$ 26- 30) per kilogram. The Vietnamese fresh lychee introduced to customers at the price of 18 euros per kilogram will surely attract many customers.
The shipment at Thanh Hung supermarket is a nearly 1 ton batch of Thanh Ha lychee (Hai Duong) that landed at Schipol airport, the Netherlands on June 17 to distribute to Asian supermarkets in the Netherlands, France and Germany.
This is the first time that Vietnamese fresh lychees have been officially imported into the Netherlands and distributed from this country to neighboring EU countries. With positive results from the market, it is expected that Vietnamese fresh lychees will continue to penetrate well into the Dutch market in the coming years.
Previously, Vietnamese lychees were exported to fastidious markets such as Japan and France, where they were warmly received.Consumers appreciate the quality of Vietnam's lychees this year, especially the innovated packaging, which provides lots of useful information on the traceability of the lychees.
Thanh Ha lychees attracts French buyers
After being put on the shelves of A Chau supermarket in Paris, the batch of Thanh Ha lychees from Vietnam with the traceability stamp were sold quickly.
The Trade Promotion Department said that lychee products with traceability stamps had created a positive effect in France.
Despite the common market price of 18 euros per 1 kilogram, many customers bought up to 5 kilograms for the whole family and as gifts for friends.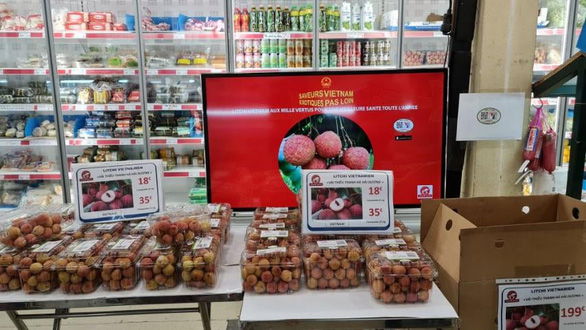 Lychees in France are selling well. Photo: Department of Trade Promotion
French enterprises have decided to accelerate their import plan to meet market demand and will import a second batch right this week.
Thus, in seven days, there were two shipments of nearly 1 ton of Vietnamese lychees that were officially imported to France via air.
Foreign customers are interested in the traceability stamp and are surprised to have access to complete information about lychees, from the growing process to the history of harvest, packaging and certificates of quality, all accessed through their phones.
Vu Anh Son, in charge of the Vietnam Trade Office in France, said that for many years, France had always emphasized knowing the origin of food in order to ensure the quality of goods, as well as improve the commitment and responsibility of the manufacturer, distributors to consumers.
To continue promoting Vietnamese lychees in France, the Trade Office and the Vietnamese Embassy in France organized a booth at the Vietnam Food Festival 2021 held in Place Monge, central Paris.
At the event, many French consumers discovered the taste of Thanh Ha lychees for the first time.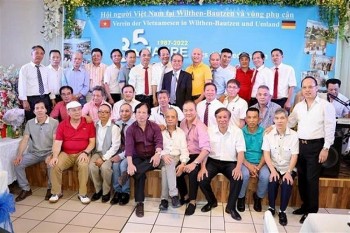 Economy
The Overseas Vietnamese Association in Wilthen - Bautzen and surrounding areas in Germany held a get-together on the occasion of the 35th anniversary of Vietnam - Germany labour cooperation.