Vietnamese Products To Be Displayed at European Craft Fair
Compared to all other Asian countries with similar agricultural strengths, only Vietnam has a free trade agreement with the European Union (EU), providing a significant advantage.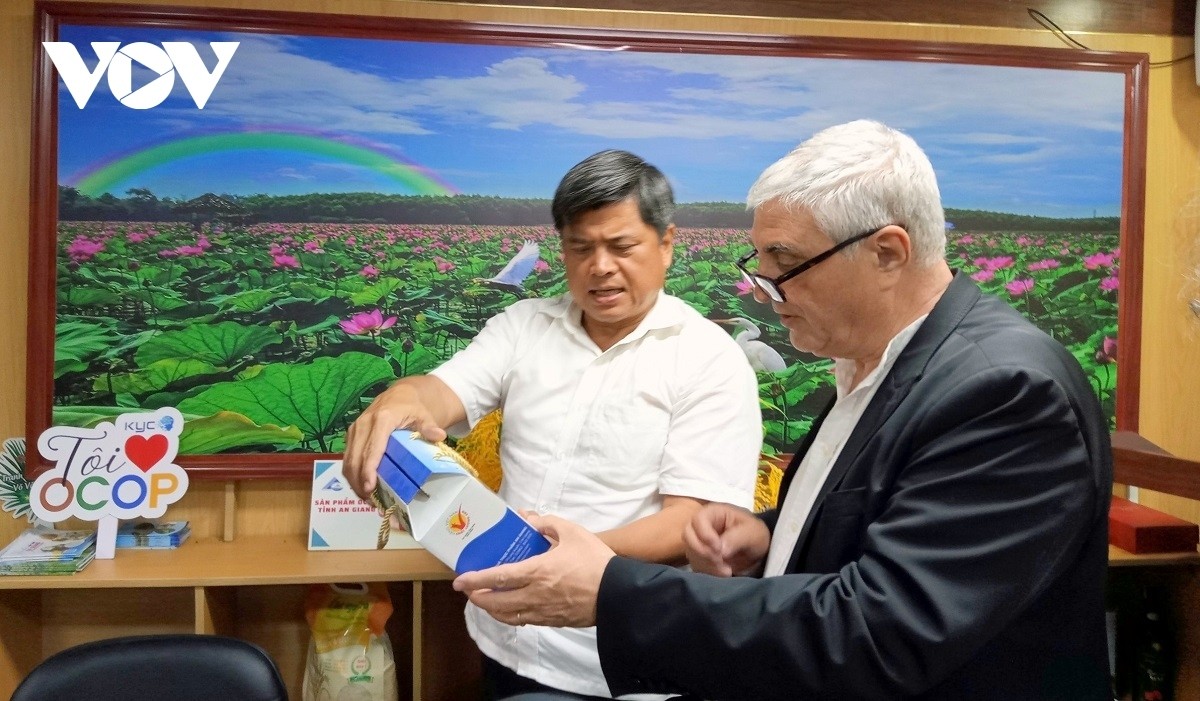 Deputy Minister of Agriculture and Rural Development Tran Thanh Nam introduces Vietnam's OCOP products. Source: VOV
Five-star One Commune One Priority Product (OCOP) products of Vietnam will go on display at the European Craft Fair which will be held in Italy in December as a contribution to promoting and introducing the country's OCOP products to international friends, VOV reported.
The contents of the scheme were touched upon at a meeting held with representatives of the European Craft Fair on May 4 in Can Tho, with the occasion chaired by Deputy Minister of Agriculture and Rural Development Tran Thanh Nam.
At the meeting, Antonio Intiglietta, president of Ge.Fi, which is the organiser of the European Craft Fair in Italy, briefly introduced some of the activities of the fair over recent times.
Most notably, the fair aims to introduce handicrafts and agricultural products whilst promoting national images and brands to international friends. Intiglietta said that the nine-day event is expected to attract millions of customers, adding that many countries attended the fair such as India, China, and Vietnam.
This is viewed as a good opportunity for the country to introduce its OCOP products, thus opening up a new customer segment and promoting these products to tens of millions of customers on social networks and supplier searchers on social media platforms.
The nation not only promotes products, but also tourist attractions at the event to allow visitors to gain even more knowledge about its agricultural tourism, he added.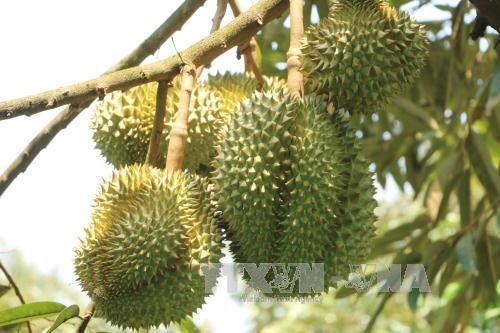 Ri6 durian, a specialty from the Mekong Delta of Vietnam, is now available in the UK market for the first time. Photo: VNA
Deputy Minister Nam said that having more booths to introduce OCOP products is necessary to promote and introduce Vietnamese products to international friends.
He also asked agencies and units of the Ministry to make thorough preparation in a bid to promote and introduce Vietnamese products to European nations.
The OCOP programme, initiated by the MARD in 2008, is based on Japan's "One Village, One Product" programme and Thailand's "One Tambon, One Product". It is an economic development programme for rural areas and also to help implement the national target programme on new-style rural area building.
OCOP products are made based on the combination of local resources, traditional culture, and advanced technology. The programme looks to provide farmers with a chance to come together to form cooperatives, enabling them to create goods with higher quality and better design and packaging that meet higher standards and market demand.
By the end of 2022, Vietnam had 8,689 OCOP products, with 65.5% of the products rated three-star, 33.6% rated four-star, and a small percentage rated five-star potential or five-star.
OCOP products are known for their diverse and environmentally friendly designs and packaging, which meet the market's demands and promote sustainable development.
The programme has also helped to increase production scale and revenue for local communities, as well as promote the development of specialty raw material areas, rural industries and the preservation of traditional craft villages.
Moreover, the OCOP programme has significantly promoted livelihood development in remote and ethnic minority areas, especially for women.
Each year, Europe imports farm produce worth over USD 160 billion, and Vietnamese farm produce have become high-value export items that raked in USD 3.34 billion in 2022.